Understanding the Turkey-Syria earthquakes with methane gas refined fault theory of tectonic earthquakes
Zhongqi Quentin YUE
Department of Civil Engineering, The University of Hong Kong
At 4:17 am (Turkey time), Feb. 6, 2023, a damaging Mw 7.8 (or 8.0) earthquake struck southern and central Turkey and western Syria and was followed by many aftershocks including an unusually powerful Mw 7.8 (or 7.5) that occurred at 13:24. The earthquakes caused widespread damage including collapsing of many buildings. So far more than 11,100 deaths were reported, including 8,500 in Turkey and 2,600 in Syria. Figures in both countries were projected to rise dramatically by World Health Organization.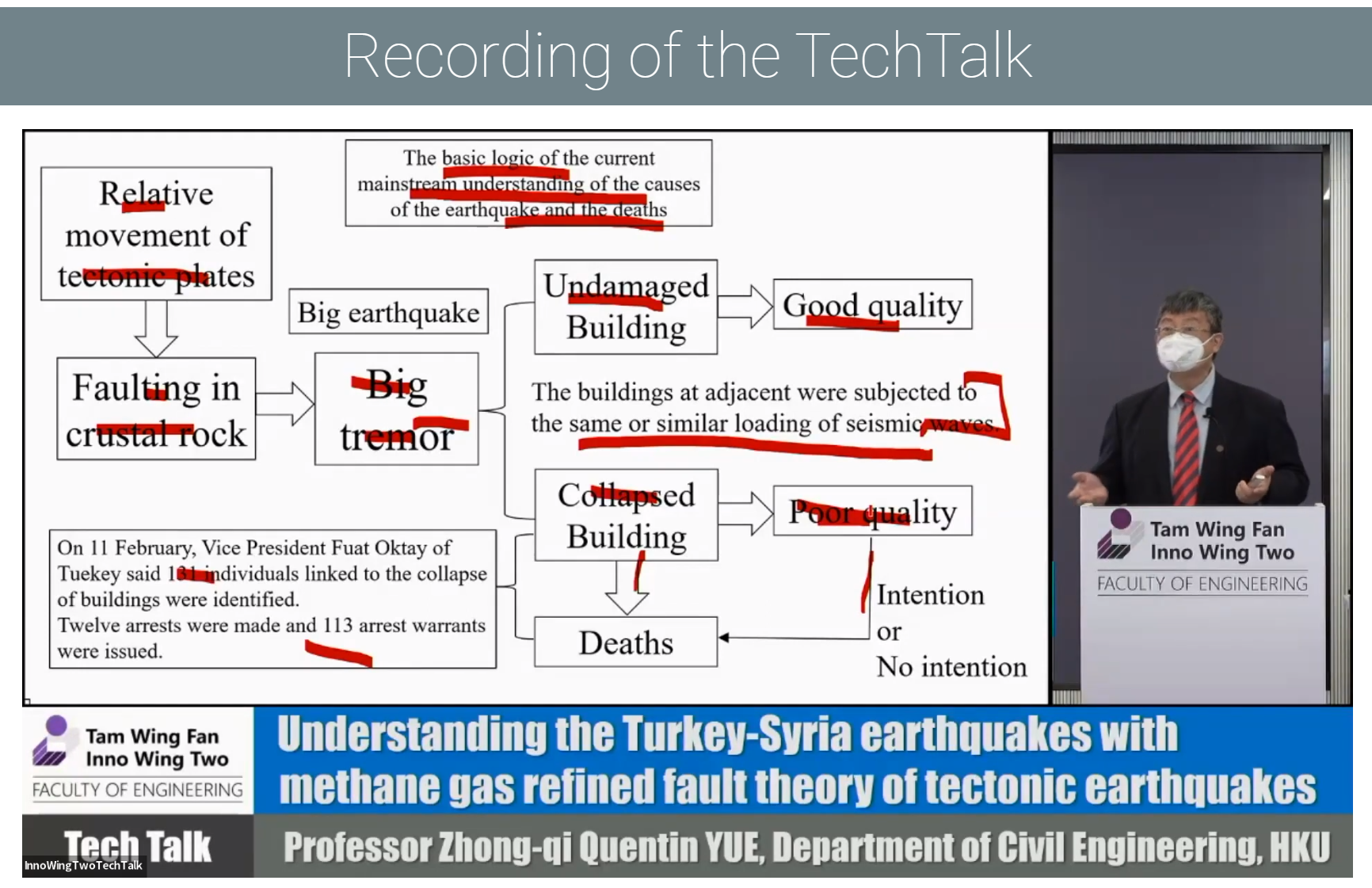 On Feb. 14, 2023, Professor Yue gave a TechTalk at The University of Hong Kong to the public. Professor Yue presented his understanding of the causes of the earthquakes and the associated building collapses using his methane gas refined fault theory of tectonic earthquakes. Each earthquake involved a rapid release of highly compressed methane gas expansion energy that was previously stored in deep aperture of rock fault zone. The highly compressed gas mass could rapidly expand, rupture, penetrate, and flow from the deep fault zone to shallow ground at a speed of 3 to 1 km/s. The rapid gas flow and expansion in fault rock zone generated massive seismic waves and induced huge concentrated damage to localized grounds and buildings. The earthquake was a cooling process since the gas expansion absorbs heat and cools the surrounding materials in the ground and sky, which caused local weather changes including the occurrence of air temperature drop-down, rainfall and/or snow.
The TechTalk video can be viewed at the following two links.
(1) https://innowings.engg.hku.hk/tectonic-earthquakes/
(2) https://youtu.be/ucISearw7VM
Completed at 9:32 of Feb. 25, 2023
https://blog.sciencenet.cn/blog-240687-1377849.html
上一篇:
土耳其和叙利亚地震的气体成因解释
下一篇:
第二场土耳其和叙利亚地震的气体成因学术报告