近日,云师大吴骏恩课题组在《Agricultural Water Management》上发表最新成果《An increase in intercropped species richness improves plant water use but weakens the nutrient status of both intercropped plants and soil in rubber–tea agroforestry systems》,阐述了在茶胶农林复合种植系统中,农作物间种(套种)可以提高植物水份利用效率,但同时也会削弱了间作植物和土壤的营养状况。这也是用数据和科学来解释日常生活常识的一个案例。作为一个地道农民人,我认为实际生活中道,套种不仅会促进水分吸收,还会提高土地利用率、促进光合作用、改善土壤结构、防止病虫害、增加微生物多样性和丰富度等等。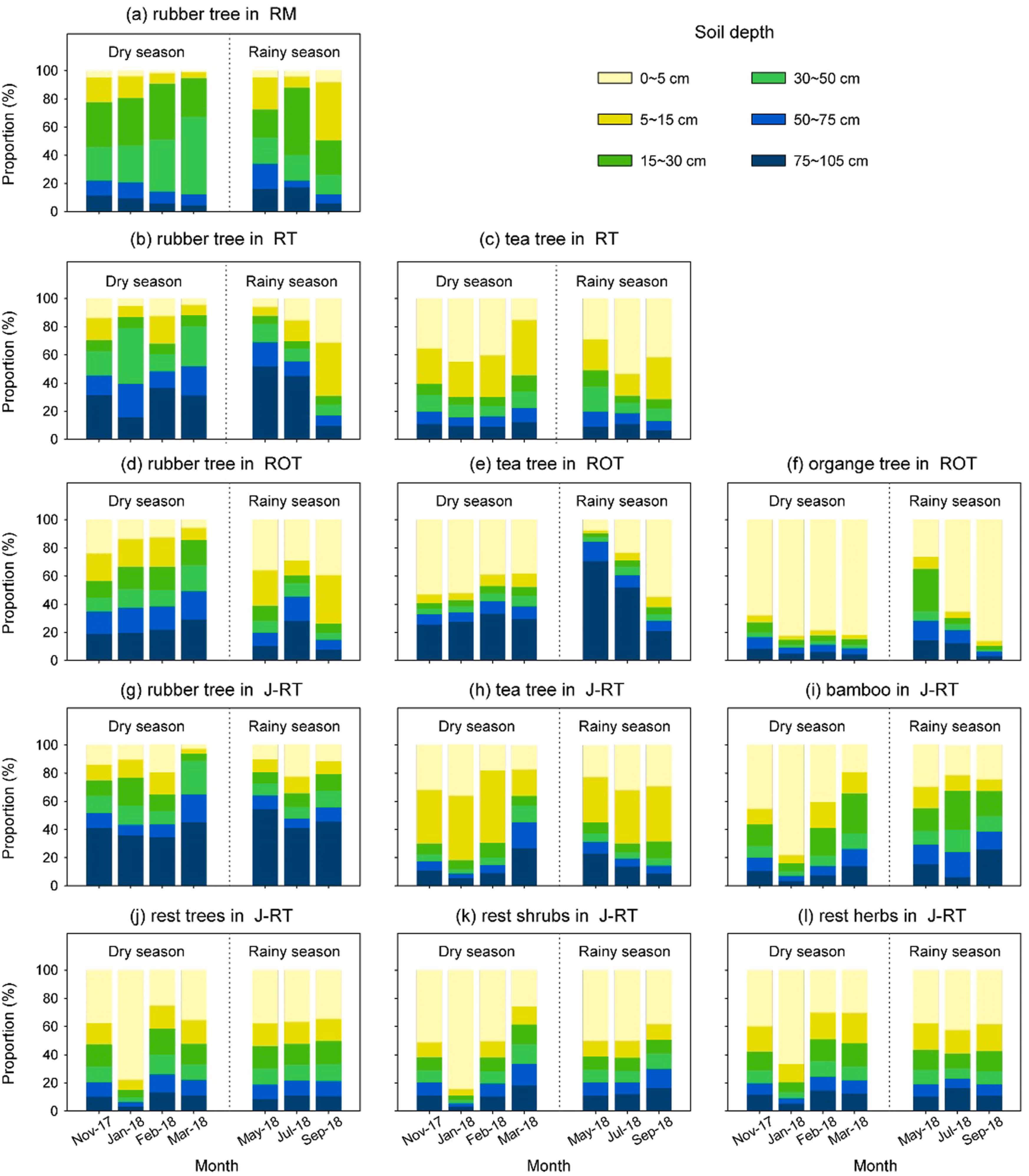 Highlights
•Rubber trees took up deeper soil water when intercropped with more species.
•Variations in plant water absorption depth formed hydrologic niche differentiation.
•Negative effects of plant competition offset the intercropping benefits for soil resources.
•Rubber trees are the most competitive species in rubber agroforestry systems.
•P shortage is a challenge for the growth of diverse intercropped plants.
Abstract
As a relatively successful agroforestry system, whether the addition of more intercropped species in the rubber–tea agroforestry system extends the benefits is still unknown but worth exploring because diverse cash crop production helps farmers resist market risks and may bring the ecological functions of rubber agroforestry systems closer to those of natural forests. Therefore, understanding the effects of plant interspecific competition on both plants and soil with the increase in intercropped species number in such agroforestry systems is vital for the improvement of rubber–tea agroforestry systems. For these reasons, we selected a monocultural rubber plantation, rubber–tea, rubber–orange–tea and jungle-like rubber–tea agroforestry systems for studying plant water absorbing patterns, plant water use efficiency, and the nutrient status of plants and soil through stable isotope (13C, 2H and 18O) techniques and nutrient diagnosis (C, N, P, K, Ca and Mg) of plant organs (leaves, stems and roots), soil and litter. We found that rubber trees primarily absorbed water from deeper soil layers with increases in their intercropped species number and the formation of increasingly obvious hydrologic niche differentiation between rubber trees and the intercropped plants. In addition, soil nutrient status first improved but then declined with an increase in the number of intercropped species. However, only a slight impact was observed on the nutrient status and water use efficiency of rubber trees, even in the complex rubber–tea agroforestry system. However, the intercropped species experienced resource shortages, especially P shortages, since their water-absorbing zones almost overlapped. Therefore, we suggest that more diverse intercropped species compositions in rubber–tea agroforestry systems would offset the intercropping benefits for both plants and soil. However, appropriate phosphate fertilizer application in complex agroforestry systems is necessary if the construction of high-species richness rubber agroforestry systems is desired.
https://blog.sciencenet.cn/blog-454141-1390738.html
上一篇:
云师大李俊青教授课题组在《Automation in Construction》杂志发表最新研究成果
下一篇:
云师大地理学部赵磊副教授在《Water Research》上发表湖泊营养相关研究最新成果