Nature Reviews Drug Discovery | Published online 28 Jun 2018; doi:10.1038/nrd.2018.103
https://www.nature.com/articles/nrd.2018.103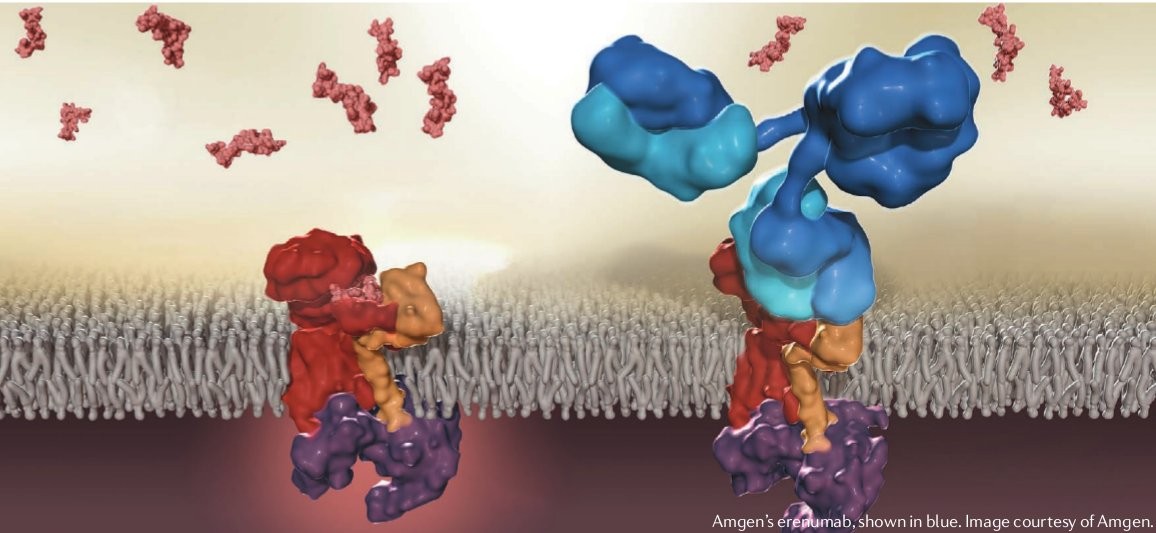 Amgen's erenumab recently secured FDA approval as the first G protein-coupled receptor-targeted
antibody. More of these biologics are on the way, despite remaining challenges.
G protein-coupled receptors (GPCRs) are the most commonly exploited therapeutic targets in all of modern medicine, with more than one-third of approved drugs directed at this family of membrane proteins. Yet, of the hundreds of GPCR-modulating agents available today, nearly all are small molecules. The rest are mainly peptides. Not a single one was a monoclonal antibody.

Until now. In mid-May, the FDA approved for the first time a GPCR-directed antibody — Amgen's erenumab, an antibody that inhibits the calcitonin gene-related peptide (CGRP) receptor, for migraine prophylaxis.

Later this year, the agency could also approve Kyowa Hakko Kirin's mogamulizumab, an antibody against CC-chemokine receptor 4 (CCR4), for the treatment of two subtypes of cutaneous T cell lymphoma. (Japanese regulators had previously approved mogamulizumab in 2012, on the basis of open-label phase II data.)

"This year marks a real milestone for GPCR antibodies," says Catherine Hutchings, an industry consultant who works closely with Heptares Therapeutics, a GPCR-focused specialty shop owned by the Sosei Group.

Antibodies aimed at GPCRs had long eluded biotech's grasp, in large part because of the challenges associated with generating sufficient This year marks a real milestone for GPCR antibodies amounts of stable and functional GPCR proteins that can be used to raise the relevant antibodies. "It's just really difficult to prepare antigen with native conformation," says Sang Taek Jung, a protein engineer at Kookmin University.

http://blog.sciencenet.cn/blog-355217-1122805.html
上一篇:
Next generation VR for molecular visualization and modelling
下一篇:
Exploring a new ligand binding site of GPCR by MD simulation