征稿主题: New Opportunities and Challenges for Green Technology Innovation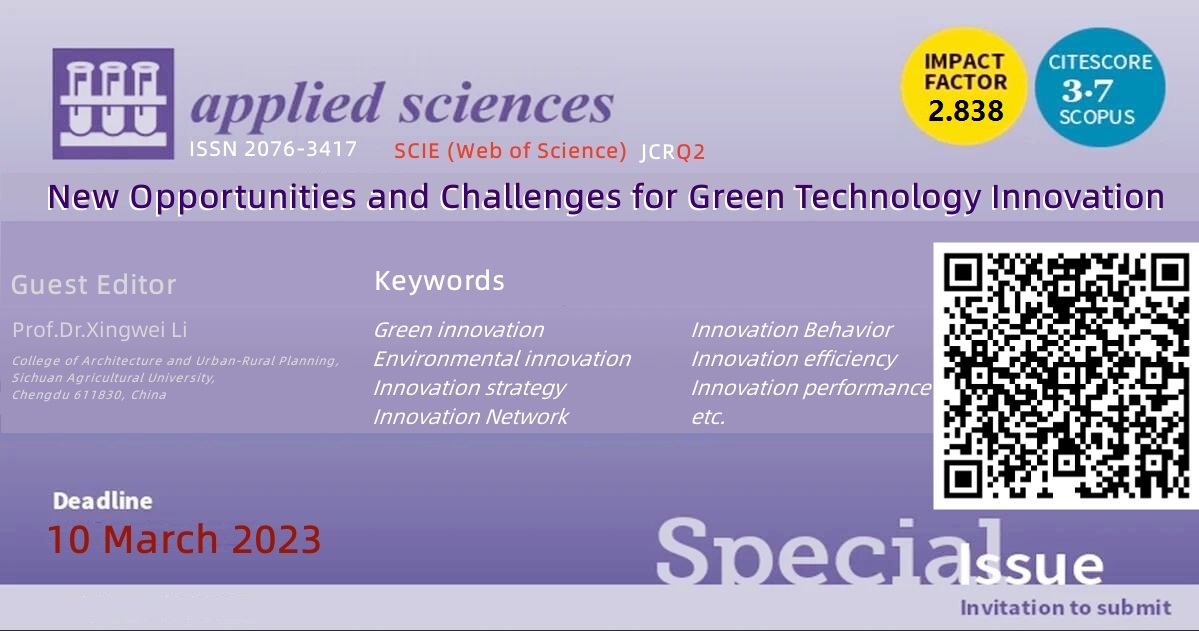 一、客座主编
Sichuan Agricultural University, China

二、支持期刊
《 Applied Sciences》(SCI源刊,JCR Q2, IF=2.838)
相关栏目:Green Sustainable Science and Technology
三、截止日期
2023年3月10日
四、关于专刊主题
Green technology innovation is very important for different countries or regions, industries, and enterprises to enhance value and achieve sustainable development. Although scholars have made progress in green technology innovation, there are still many unresolved sciences in this field. Therefore, there is an urgent need to adopt diverse theories and methods to reveal the progress of green technology innovation in different countries or regions, industries, and enterprises. This Special Issue plans to give an overview of the most recent advances in the field of green technology innovation and their applications in diverse areas. Specifically, it aims to provide new contributions to green technology innovation in different industries, e.g., construction, manufacturing, mining, transportation, and agriculture. We welcome new discoveries that reveal green technology innovation from the perspectives of policy, strategy, network, behavior, efficiency, and performance. We welcome contributions based on theoretical foundations and using quantitative and qualitative methods, and encourage authors to provide empirical and theoretical research papers, critical literature reviews, and interdisciplinary research.
Keywords:

Green innovation

Environmental innovation

Innovation strategy

Innovation Network

Innovation Behavior

Innovation efficiency

Innovation performance
etc.

Important Note: This special issue is now open for submission.
https://blog.sciencenet.cn/blog-3408278-1357105.html
上一篇:
【Nature子刊征稿】The future of work