征稿主题: The future of work: drivers, opportunities and challenges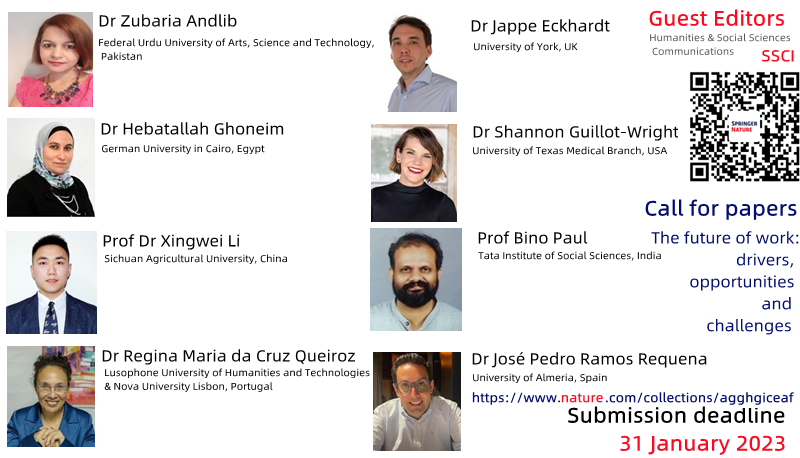 一、客座编辑

Zubaria Andlib
Federal Urdu University of Arts, Science and Technology, Pakistan

Jappe Eckhardt
University of York, UK
Hebatallah Ghoneim

German University in Cairo, Egypt
Shannon Guillot-Wright

University of Texas Medical Branch, USA
Xingwei Li

Sichuan Agricultural University, China
Bino Paul

Tata Institute of Social Sciences, India
Regina Maria da Cruz Queiro

Lusophone University of Humanities and Technologies & Nova University Lisbon, Portugal
José Pedro Ramos Requena

University of Almeria, Spain
二、支持期刊
《 Humanities & Social Sciences Communications》(Nature子刊,SSCI&AHCI源刊)

三、截止日期

2023年1月31日
四、关于专刊主题
The new technologies of the Fourth Industrial Revolution are ushering in an era of societal change, radically altering the way we live our lives,including how and where we work. High-speed mobile internet, AI and automation, big data analytics, as well as cloud technology are increasingly disrupting the status quo and reshaping the global workforce. New forms of connectivity and collaboration are already fast becoming established across many sectors,from retail, hospitality, health, education and entertainment, to banking, manufacturing, and logistics. Yet such changes also bring new challenges, all with perceived 'winners' and 'losers'. Job losses hastened by the adoption of new technologies in one sector may be complemented elsewhere by the emergence of new industries that demand different skill sets and working practices.
Concurrently, societal factors are additionally contributing to changes in how people work and companies operate. In many industries, the Covid-19 pandemic has accelerated a move to more flexible and agile working practices in a short time period. Numerous longer-term trends also catalyse this change, such as the emergence of middle classes in developing economies, increases in female labour force participation, greater reliance on specialist contractors and remote workers in some sectors, and demand for more sustainable workplace environments.
This collection is dedicated to exploring the drivers behind the changes to the nature of work as well as the resultant implications for business models, economic growth, living standards, inequality, social mobility, and mental health among other factors.
This call is intentionally broad in scope and welcomes contributions of all types, from conceptual to empirical research. Perspectives are invited from a range of disciplinary and interdisciplinary vantage points, including sociology, political science, economics, psychology, philosophy and gender studies, and beyond. Research on policymaking and comparative analyses (country, sector) are also welcomed.
Key themes
Concepts of work and capital in light of globalisation, automation, digitalisation and artificial intelligence

Remote working, virtual teamwork and algorithmic management

Obstacles and blockers to workforce and workplace transformation

Demographic, generational, socio-economic and cultural issues

Training and education, employability and career development

Collective organisation, unionism and worker advocacy

Labour regulation and standards

Human resource management and planning strategies, policies and practices

Industry innovations and 'best practice' cases

'Winners and losers', including job displacement, upskilling and reskilling

National and international income and wealth distribution, including taxation and welfare systems

Workplace sustainability including concepts of 'decent work'

Gender and minority issues

Flexible working models and working time reduction

Health and wellbeing, and job quality

Worker performance and productivity

Workplace structures and 'architectures'

Temporary and insecure employment (e.g. gig economy)Concepts of freedom, justice, dignity at work


Non-Western perspectives and comparative analyses (e.g. cross-country and -sector)

Economics of changing labour markets and industrial sectors

Utopian and dystopian imaginings of the future of work
https://blog.sciencenet.cn/blog-3408278-1348257.html
上一篇:
【SSCI专刊征稿】清洁生产与绿色运营管理:企业绿色发展的新策略
下一篇:
【SCI专刊征稿】绿色技术创新的新机遇与新挑战