解決香港和世界缺砂危機的原創科研成果
Tech Talk, Faculty of Engineering, HKU
Dear friends, colleagues and students,
We are delighted to announce that the Tech Talk will be held at the Tam Wing Fan Innovation Wing Two with details as follows:
Background
Tech Talk is a series of forums and dialogues given by engineering researchers of diverse academic backgrounds to share their insights on innovation-related topics.
Topic: Innovation of Originality for Solving Sand Shortage Crisis around the World including Hong Kong (解決香港和世界缺砂危機的原創科研成果)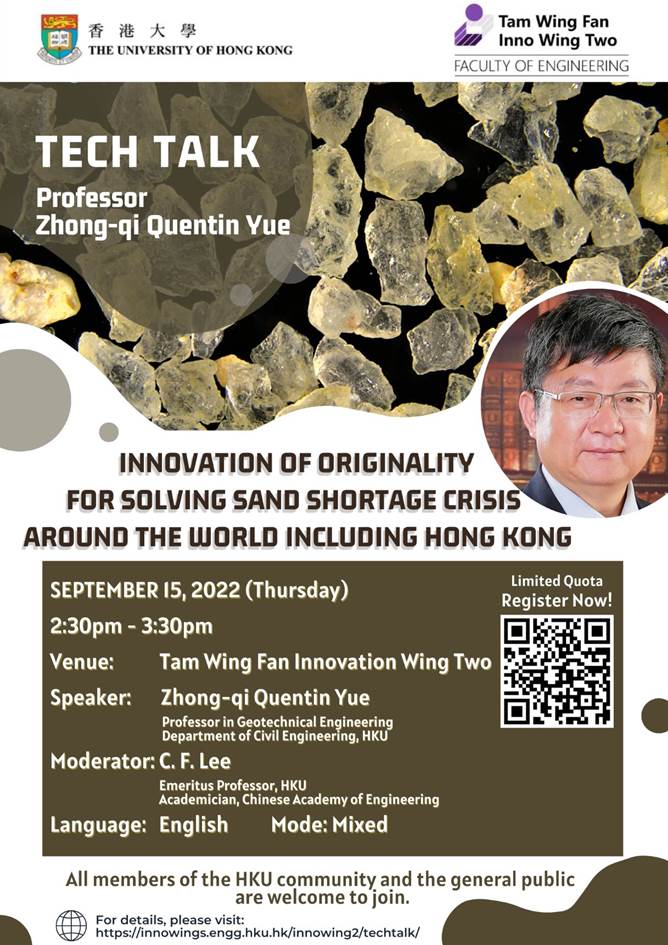 About the talk:
Sand is the most exploited raw solid material in the world and used for construction of buildings, roads, railways, bridges, tunnels and beaches. It is also used to make the glass and silicon chips. The annual consumption for use in glass, concrete and construction materials has reached 50 billion tones, which is extremely high. Consequently, according to United Nations' reports, the world is facing a shortage crisis of sand, as one of the greatest sustainability challenges of the 21st century. Such sand shortage crisis around the world has affected the use of sand in Hong Kong since Hong Kong does not produce any sand and all the sand used in Hong Kong is imported from Mainland China. In this Teck Talk, Professor Yue will present his technological innovation of originality. His innovation can solve this global sand shortage crisis. More importantly, his innovation can provide a stable supply of quality sand for construction and industry and offer new raw material resources for developing new industry in Hong Kong. Professor Yue has discovered that the local ordinary soil in Hong Kong can be converted into the materials of sand and clay. The sand is siliceous sand and mainly quartz mineral. The clay is mainly kaolinite mineral. Both materials can be used as the raw solid materials in construction and other industry. Professor Yue will demonstrate that his technical innovation is simple, environmental-friendly, sustainable and cost-effective and can be applied to many places around the world for producing quality sand materials.
About the speaker:
Zhong-qi Quentin Yue is a professor in geotechnical engineering at the Department of Civil Engineering, The University of Hong Kong (HKU). Professor Yue obtained BSc degree (1983) and MSc degree (1986) in geology and earthquake from Peking University, PhD degree (1992) in geotechnical engineering from Carleton University, and a post-doctoral fellow experience in road pavement engineering at National Research Council of Canada. He chartered as a professional engineer both in Ontario in 1995 and in Hong Kong in 1998. He had a total of 9 years industrial experience in Beijing, Ottawa and Hong Kong before joining HKU in 1999. His teaching and research interests include (a) geomechanics and applications, (b) geotechnical ground investigation, (c) landslides and debris flows, (d) caverns, tunnels, excavations and land reclamations, (e) hazard causes of earthquakes and volcanoes, and (f) geo-materials. Professor Yue has made up to 500 publications and delivered more than 600 lectures at conferences and institutions. He has received some prestigious awards from Chinese Society for Rock Mechanics and Engineering, Mao Yi-sheng Science and Technology Education Foundation, National Natural Science Foundation of China, Chinese Alliance for Simulation-Based Engineering and Science, International Association for Computer Methods and Advances in Geomechanics, Natural Science and Engineering Research Council of Canada, Peking University, as well as The University of Hong Kong.
Date: September 15, 2022 (Thursday)
Time: 2:30pm-3:30pm
Venue: Tam Wing Fan Innovation Wing Two, G/F, Run Run Shaw Building, HKU (in person) and online
Speaker: Zhong-qi Quentin YUE, Professor in Geotechnical Engineering, Department of Civil Engineering, HKU
Moderator: C.F. LEE, Emeritus Professor, HKU, Academician, Chinese Academy of Engineering
Language: English
Mode: Mixed (both face-to-face and online).
All members of the HKU community and the general public are welcome to join. Interested participants please register through the link below by September 14, 2022 noon:
https://innowings.engg.hku.hk/solving-sand-shortage/
We look forward to seeing you in the Tech Talk.
Faculty of Engineering, The University of Hong Kong
2022年9月9日9:00 改写上网于香港大学602办公室
https://blog.sciencenet.cn/blog-240687-1354584.html
上一篇:
现在大旱会有大地震吗?
下一篇:
一段提笔忘字的经历