Introduction on the cover in Vol 17 No 8 in Journal of Mountain Science
Every issue in Journal of Mountain Science has a different cover. The cover picture is provided by the authors of the current issue and has close relation with their article. Besides, the authors write a cover story to introduce the place shown in the picture and also his article. The cover story is printed in the back cover of the current issue.
---------------------------------------------------------------------
2020年Journal of Mountain Science第8期封面及封面故事:
作者从区域尺度和本地尺度研究了美国落基山国家公园内瀑布的发生及其与基岩类型、节理形态、坡度、流域面积和冰川活动(控制)过程的关系。
这是一篇由西班牙作者和美国作者共同完成的文章。
文章题目:Regional- to local-scale controls on waterfalls in Rocky Mountain National Park, Colorado
文章DOI: https://doi.org/10.1007/s11629-020-6099-y
Citation: Ortega-Becerril JA, Livers B, Wohl E (2020) Regional- to local-scale controls on waterfalls in Rocky Mountain National Park, Colorado. Journal of Mountain Science 17(8). https://doi.org/10.1007/s11629-019-5804-1
Cover story
Rocky Mountain National Park (RMNP) is one of the highest national parks in the USA. Its ~670 square kilometers encompass and protect spectacular mountain environments, with high elevation relief from 2200 m to ~4300 m. The concentration of peaks over 4000 m and sixty mountain peaks over 3600 m high result in world-renowned scenery that attract numerous hikers. RMNP provides wonderful scenery for scientists, too. There are a variety of ecological zones: as expressed by the US National Park Service, "What you see within short distances in the Rockies is similar to the wider landscape changes seen on a drive from Denver to northern Alaska". These diverse ecosystems range from montane, with large meadow valleys and slopes, subalpine with evergreen forests and mountain lakes, alpine tundra related to the summits and flat areas and finally, some relict glaciers along melting-protected zones. Mountain streams connect all areas and create a critical environment in which clear, pristine water supports aquatic life. The Continental Divide runs north - south through the park and marks a climatic division. The grand scenery of RMNP is the product of a complex geologic history spanning almost two billion years. The area occupied by the park has been repeatedly uplifted and eroded. The present-day Rockies began to uplift about 70 million years ago. Many of mountain tops have been flattened by ancient erosion, but recent glaciation has left steep scars, U-shaped valleys, lakes with glacial origin and moraine deposits. Waterfalls are one of the consequences of these resistant rocks and steep valleys and they are located everywhere within the park. RMNP, with hundreds of waterfalls, is a favorite place for "waterfall collectors". The photo was taken by Jose A. Ortega-Becerril in July 2015 on a fieldtrip along the west side of the Continental Divide and shows the East Inlet River, one of the scenic fluvial systems of the Rockies, with meadows along U-shaped valleys and waterfalls located where bedrock outcrops appear. In the current issue of the Journal of Mountain Science (Vol. 17, No.8, 2020), the article under the title "Regional- to local-scale controls on waterfalls in Rocky Mountain National Park, Colorado" presents an analysis of waterfall occurrence and their relation with controls/processes such as bedrock type, joint configuration, slope, drainage area and past glacial activity. Bedrock rivers are important elements in geoheritage, due to the amount of distinctive and attractive geomorphological features associated with them and also provide useful information about the recent and complex history in mountain ranges around the world.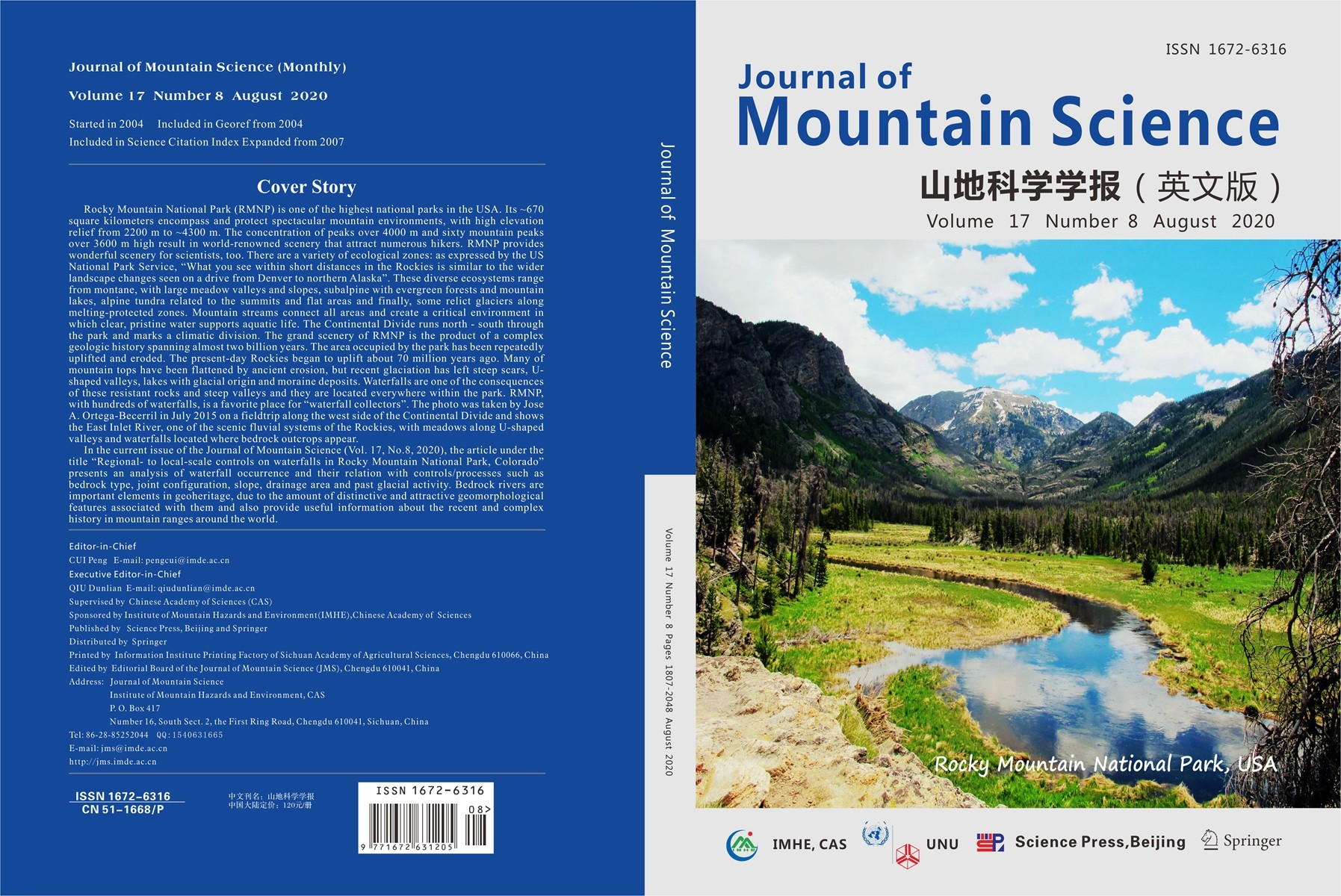 https://blog.sciencenet.cn/blog-314423-1243066.html
上一篇:
2020年2期JMS 封面及封面故事-Drina River near near Bajina Bašta town
下一篇:
2020年SCI/SSCI/AHCI收录的中国期刊一览表