发表期刊:ACS Nano
论文题目:Magnetic Reactive Oxygen Species Nanoreactor for Switchable Magnetic Resonance Imaging Guided Cancer Therapy Based on pH-Sensitive Fe5C2@Fe3O4 Nanoparticles
论文作者:Jing Yu, Fan Zhao, Weiliang Gao, Xue Yang, Yanmin Ju, Lingyun Zhao, Weisheng Guo, Jun Xie, Xing-jie Liang, Xinyong Tao, Juan Li, Yao Ying, Wangchang Li, Jingwu Zheng, Liang Qiao, Subin Xiong, Xiaozhou Mou, Shenglei Che, Yanglong Hou
发表日期: September 24, 2019
论文摘要:Reactive oxygen species (ROS) are crucial molecules in cancer therapy. Unfortunately, the therapeutic efficiency of ROS is unsatisfactory in clinic, primarily due to their rigorous production conditions. By taking advantage of the intrinsic acidity and overproduction of H2O2 in the tumor environment, we have reported an ROS nanoreactor based on core–shell-structured iron carbide (Fe5C2@Fe3O4) nanoparticles (NPs) through the catalysis of the Fenton reaction. These NPs are able to release ferrous ions in acidic environments to disproportionate H2O2 into •OH radicals, which effectively inhibits the proliferation of tumor cells both in vitro and in vivo. The high magnetization of Fe5C2@Fe3O4 NPs is favorable for both magnetic targeting and T2-weighted magnetic resonance imaging (MRI). Ionization of these NPs simultaneously decreases the T2 signal and enhances the T1 signal in MRI, and this T2/T1 switching process provides the visualization of ferrous ions release and ROS generation for the supervision of tumor curing. These Fe5C2@Fe3O4 NPs show great potential in endogenous environment-excited cancer therapy with high efficiency and tumor specificity and can be guided further by MRI.​
发表期刊:ACS Sustainable Chemistry & Engineering
论文题目:Antibacterial Thin-Film Nanocomposite Membranes Incorporated with Graphene Oxide Quantum Dot-Mediated Silver Nanoparticles for Reverse Osmosis Application
论文作者:Li Yu, Wen Zhou, Yiming Li, Quanzhu Zhou, Haibo Xu, Baoyu Gao, Zhining Wang
发表日期: May 6, 2019
论文摘要:The trade-off between selectivity and permeability as well as membrane biofouling are major limitations of thin-film composite (TFC) membranes. Graphene oxide quantum dot (GOQD) has aroused wide interest in membrane preparation because of the hydrophilic groups and one-atom-thick structure with lateral dimensions of 3–20 nm. GOQD could improve the permeability by providing additional water channels in membranes without compromising the selectivity. As an effective bactericidal material, silver nanoparticles (Ag) were uniformly deposited on GOQD by a facile method. The structure of the GOQD/Ag nanocomposite was verified by high-resolution transmission electron microscopy, X-ray photoelectron spectroscopy, attenuated total reflection Fourier transform infrared spectroscopy, and Raman spectroscopy. Subsequently, GOQD/Ag was embedded in the polyamide (PA) selective layer using an interfacial polymerization method to obtain thin-film nanocomposite (TFN-GOQD/Ag) membranes. The TFN membrane prepared at optimized conditions demonstrated a water flux of 39.1 L·m–2·h–1 and a NaCl rejection rate of 98.9% at 16 bar, reflecting a remarkable promotion in the flux (44.3%) compared with the pristine TFC membrane. Furthermore, owing to the synergistic effect of GOQD and Ag, the TFN-GOQD/Ag200 membrane possessed prominent bactericidal capacity against both Gram-negative Escherichia coli (98.6%) and Gram-positive Staphylococcus aureus(96.5%). The bactericidal mechanism was analyzed using a live/dead fluorescent imaging assay, scanning electron microscopy, morphology analysis, and reactive oxygen species detection. Furthermore, the bactericidal capacity of the TFN membrane was also measured via silver ion leaching and during extended practical application. This work demonstrates a new way to facilely prepare reverse osmosis membranes with prominent separation performance and excellent antibacterial and fouling resistance capacities.​
发表期刊:ACS Sustainable Chemistry & Engineering

论文题目:Magnet-Responsive Silica Microrods as Solid Stabilizer and Adsorbent for Simultaneous Removal of Coexisting Contaminants in Water
论文作者:Dafan Chen, Yiming Li, Mutai Bao, Yajie Hou, Jiafeng Jin, Zichao Yin, Zhining Wang
发表日期: August 19, 2019
论文摘要:Because of the differences in physicochemical properties, it is of a great challenge to achieve efficient and simultaneous removal of various pollutants from water only based on one material. In this study, magnetic silica microrods (R-Fe3O4@SiO2) were successfully fabricated and used for the removal of coexisting pollutants (oil, heavy metals, soluble organic dyes) in water. R-Fe3O4@SiO2 could act as an effective solid stabilizer to disperse oil contaminants into droplets, due to its high adsorption energy at the oil–water interface. The encapsulated oil by R-Fe3O4@SiO2 could be effectively separated from water by applying a magnetic field. Simultaneously, R-Fe3O4@SiO2 could adsorb soluble cationic dyes and heavy metals through electrostatic interactions. The maximal removal capacity of R-Fe3O4@SiO2 for various pollutants in water was compared with that of some of the previously reported materials, and they showed a satisfied result. Additionally, the removal capacity of R-Fe3O4@SiO2particles for multiple coexisting contaminants in water was evaluated. It is worthy to note that R-Fe3O4@SiO2 still showed a great removal capacity for multiple coexisting pollutants even after five runs of a sorption–desorption cycle. These results revealed that this technically simple R-Fe3O4@SiO2 material is a feasible material for the removal of various coexisting pollutants in water, and thus it holds great prospects as a candidate for the one-step water purification in practical applications.​
发表期刊:LANGMUIR
论文题目:Controlling the Interaction of Nanoparticles with Cell Membranes by the Polymeric Tether
论文作者:Song-di Ni, Yue-wen Yin, Xiao-lei Li, Hong-ming Ding, Yu-qiang Ma
发表日期:October 01, 2019
论文摘要:The well control over the cell–nanoparticle interaction can be of great importance and necessity for different biomedical applications. In this work, we propose a new and simple way (i.e., polymeric tether) to tuning the interaction between nanoparticles and cell membranes by dissipative particle dynamics simulations. It is found that the linked nanoparticles (via polymeric tether) can show some cooperation during the cellular uptake and thereby have a higher wrapping degree than the single nanoparticle. The effect of the property of the polymer on the wrapping is also investigated, and it is found that the length, rigidity, and hydrophobicity of the polymer play an important role. More interestingly, the uptake of linked nanoparticles could be adjusted to the firm adhesion via two rigid polymeric tethers. The present study may provide some useful guidelines for novel design of functional nanomaterials in the experiments.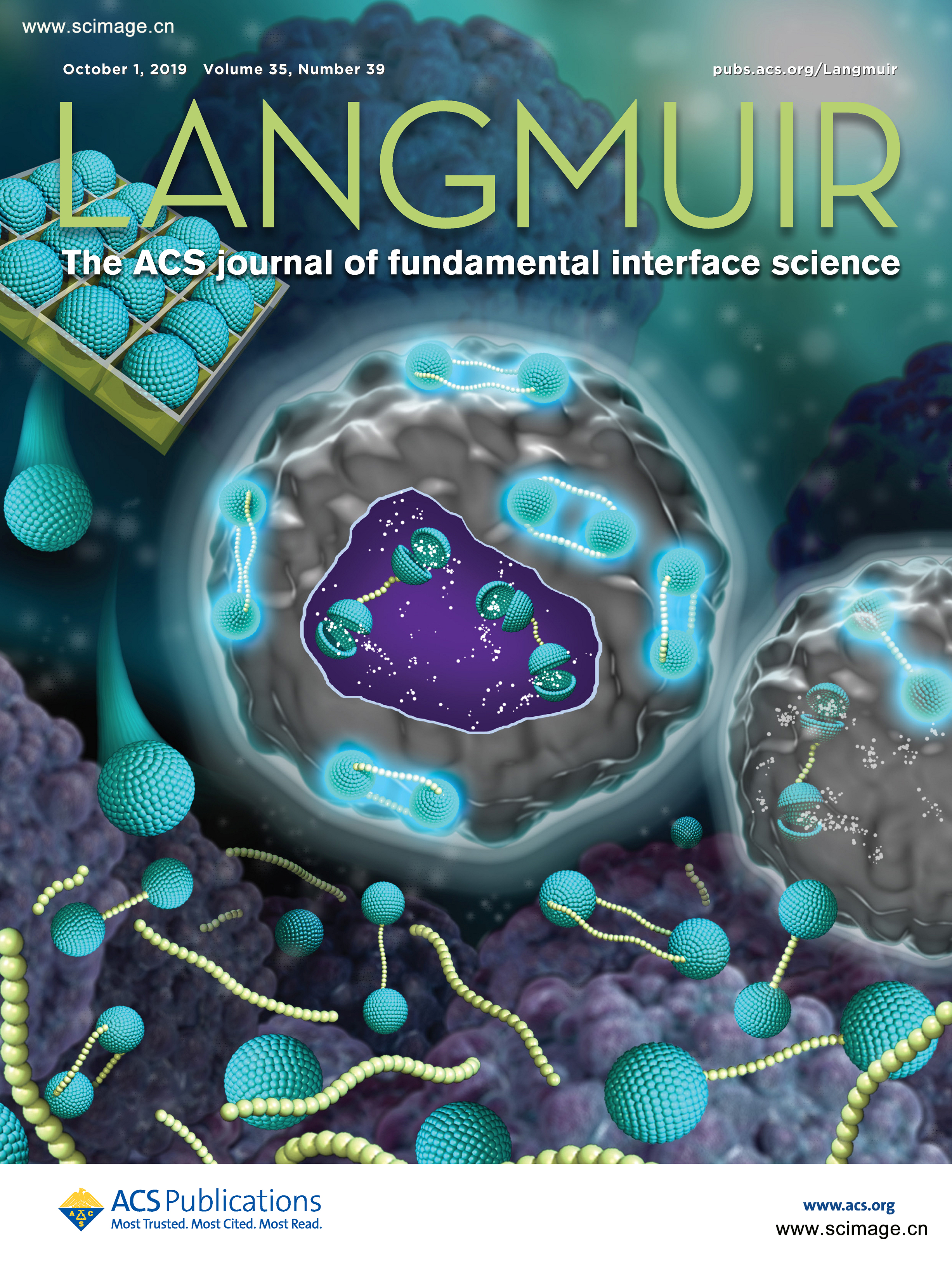 发表期刊:Advanced Functional Materials
论文题目:2D Heterostructures: Monolayer Epitaxial Heterostructures for Selective Visible‐Light‐Driven Photocatalytic NO Oxidation
论文作者:Liang Wang, Kang Xu, Wen Cui, Dongdong Lv, Li Wang, Long Ren, Xun Xu, Fan Dong, Shi Xue Dou, Weichang Hao, Yi Du
发表日期: April 11, 2019
论文摘要:The unique structural and electronic properties of 2D heterostructures have prompted intense exploration in the search for new energy conversion applications. In article number 1808084, Xun Xu, Weichang Hao, Yi Du, and co‐workers, report a surface anion exchange strategy to produce scalable 2D bismuth‐based vertical heterostructures with tunable electronic structures and controllable surface active sites. It paves a promising way to develop novel 2D heterostructures for eliminating NO and organics under visible‐light irradiation.
发表期刊:Advanced Functional Materials
论文题目:Aqueous Flow Batteries: Mass Transfer and Reaction Kinetic Enhanced Electrode for High‐Performance Aqueous Flow Batteries
论文作者:Alolika Mukhopadhyay, Yang Yang, Yifan Li, Yong Chen, Hongyan Li, Avi Natan, Yuanyue Liu, Daxian Cao, Hongli Zhu
发表日期: October 24, 2019
论文摘要:In article number 1903192, Hongli Zhu and co‐workers design a cost‐effective and scalable surface modification method using graphite felt to enhance the mass transfer and reaction kinetics in aqueous flow batteries. This treatment increases the electrode surface area, improves the electrode hydrophilicity, and provides a sufficient number of oxygen groups, resulting in enhanced kinetics and electrolyte accessibility at the electrode‐electrolyte interface.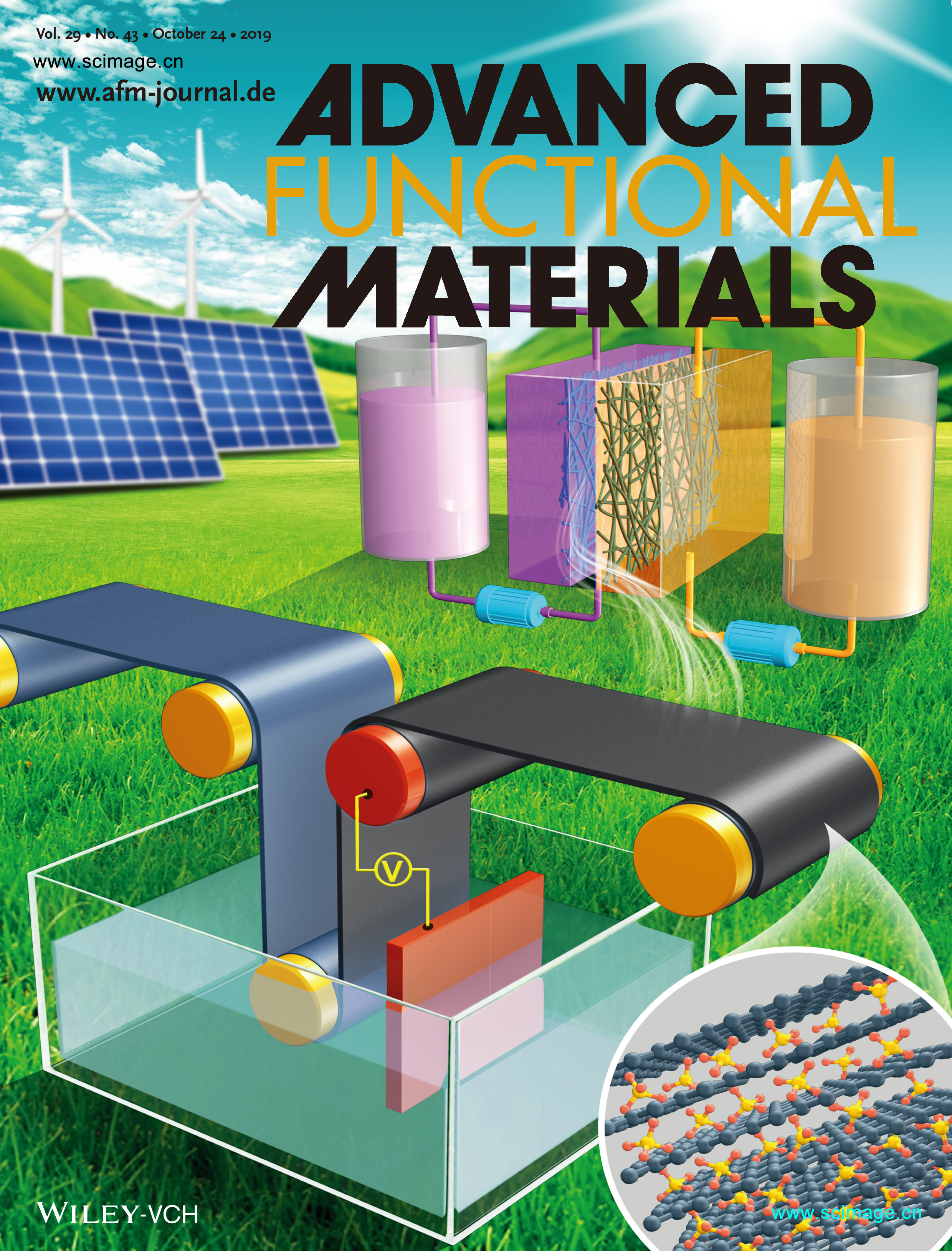 发表期刊:Small methods
论文题目:Molecular Physics: Revealing Charge‐ and Temperature‐Dependent Movement Dynamics and Mechanism of Individual Molecular Machines
论文作者:Ce Zhou, Xingxing Li, Hiroshi Masai, Zihao Liu, Yuanwei Lin, Takashi Tamaki, Jun Terao, Jinlong Yang, Xuefeng Guo
发表日期: December 11, 2019
论文摘要:In article number 1900464 by Jun Terao, Jinlong Yang, Xuefeng Guo, and co‐workers, charge‐ and temperature‐dependent movement dynamics and mechanism of molecular machines at the single‐event level are revealed by using stable graphene‐molecule‐graphene single–molecule junctions. These investigations conceptualize the capability of single‐molecule electronic devices to probe fast single–molecule physics, potentially revolutionizing the current technique to visualize single‐molecule chemical reactions or behaviors.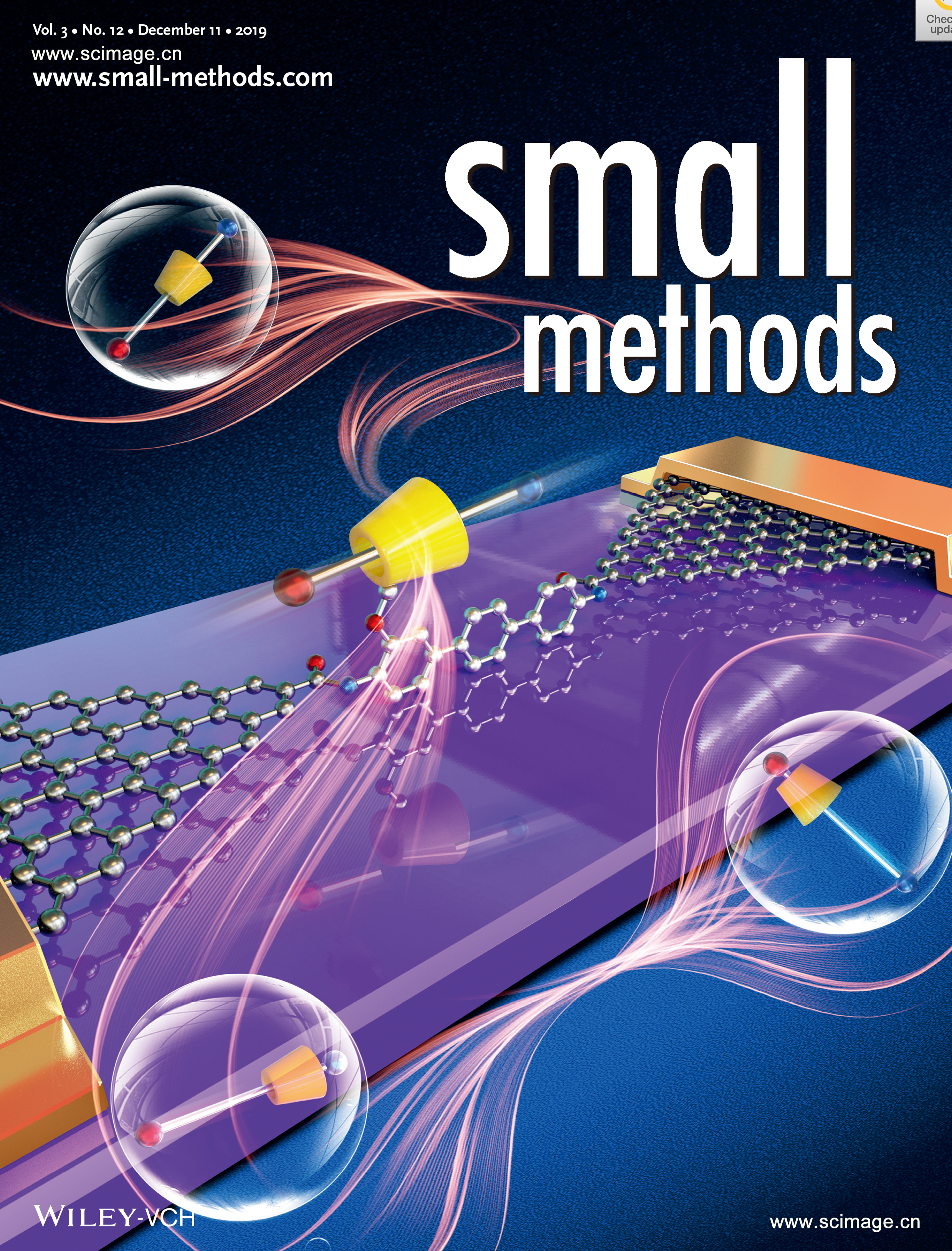 静远嘲风(SCimage)是专注于学术研究领域的艺术创作机构,用唯美的艺术诠释科研是嘲风的目标。公司主要提供论文封面设计、论文配图设计、科研动画开发设计及科研产品深度包装等服务;主要服务对象为中国科学院,中国军事科学院,中国医学科学院,中国农业科学院,以及国内外各大高校科研机构,科技型研发企业以及从事学术研究和高等教育的研究人员。静远嘲风,创立于2007年,以多学科背景为出发点,以独到的切入点深入探索科研领域的艺术表达方式,是国内科研可视化的资深践行者与领头羊,多年来为生物学、微生物学、化学、化工、医学、环境学等研究方向完成数千幅专业作品,协助上千名科研工作者完成封面论文发表。

http://blog.sciencenet.cn/blog-575129-1212210.html
上一篇:
2019年11月嘲风作品集(一)
下一篇:
2019年12月嘲风作品集(一)