发表期刊:Advanced Materials
论文题目:Organosilica: Mesoporous Organosilica Hollow Nanoparticles: Synthesis and Applications
论文作者:Zhaogang Teng, Wei Li, Yuxia Tang, Ahmed Elzatahry, Guangming Lu, Dongyuan Zhao
发表日期:September 20, 2019
论文摘要:In article number 1707612, Wei Li, Guangming Lu, Dongyuan Zhao, and co‐workers review advances in the synthesis of hollow periodic mesoporous organosilica (PMO) nanoparticles with various organic moieties. The synthetic strategies, smart hollow architectures, and typical applications for hollow PMOs are systemically discussed.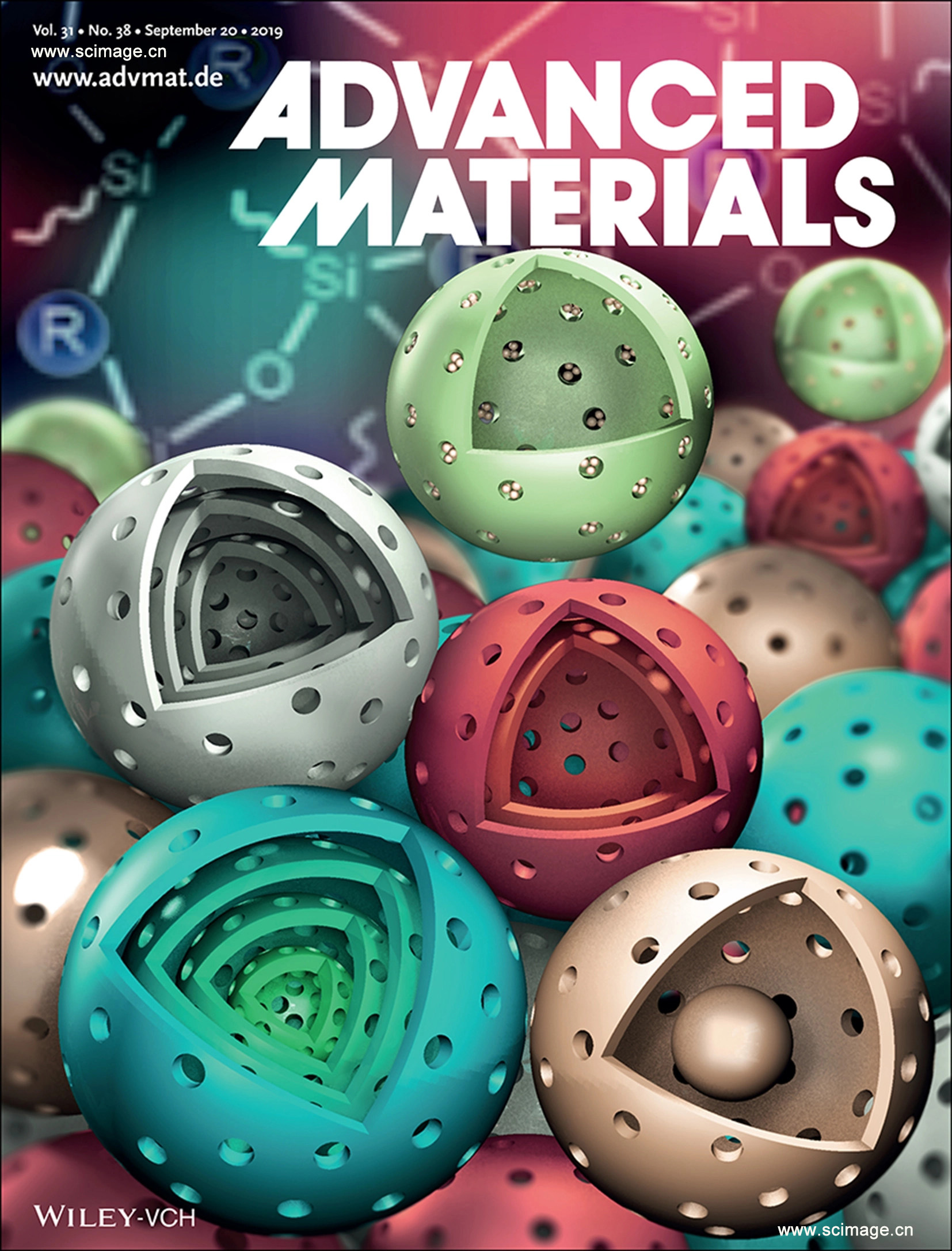 发表期刊:Advanced Materials
论文题目:Perovskite Solar Cells: Simultaneous Bottom‐Up Interfacial and Bulk Defect Passivation in Highly Efficient Planar Perovskite Solar Cells using Nonconjugated Small‐Molecule Electrolytes
论文作者:Ding Zheng, Ruixiang Peng, Gang Wang, Jenna Leigh Logsdon, Binghao Wang, Xiaobing Hu, Yao Chen, Vinayak P. Dravid, Michael R. Wasielewski, Junsheng Yu, Wei Huang, Ziyi Ge, Tobin J. Marks, Antonio Facchetti
发表日期:October 4, 2019
论文摘要:In article number 1903239, Junsheng Yu, Wei Huang, Ziyi Ge, Tobin J. Marks, Antonio Facchetti, and co‐workers present a spontaneous passivation method to greatly improve the performance of perovskite solar cells (PSCs) by using a zwitterionic small‐molecule electrolyte. This bottom‐up passivation is a novel and promising strategy to overcome outstanding issues impeding PSC advances in the future.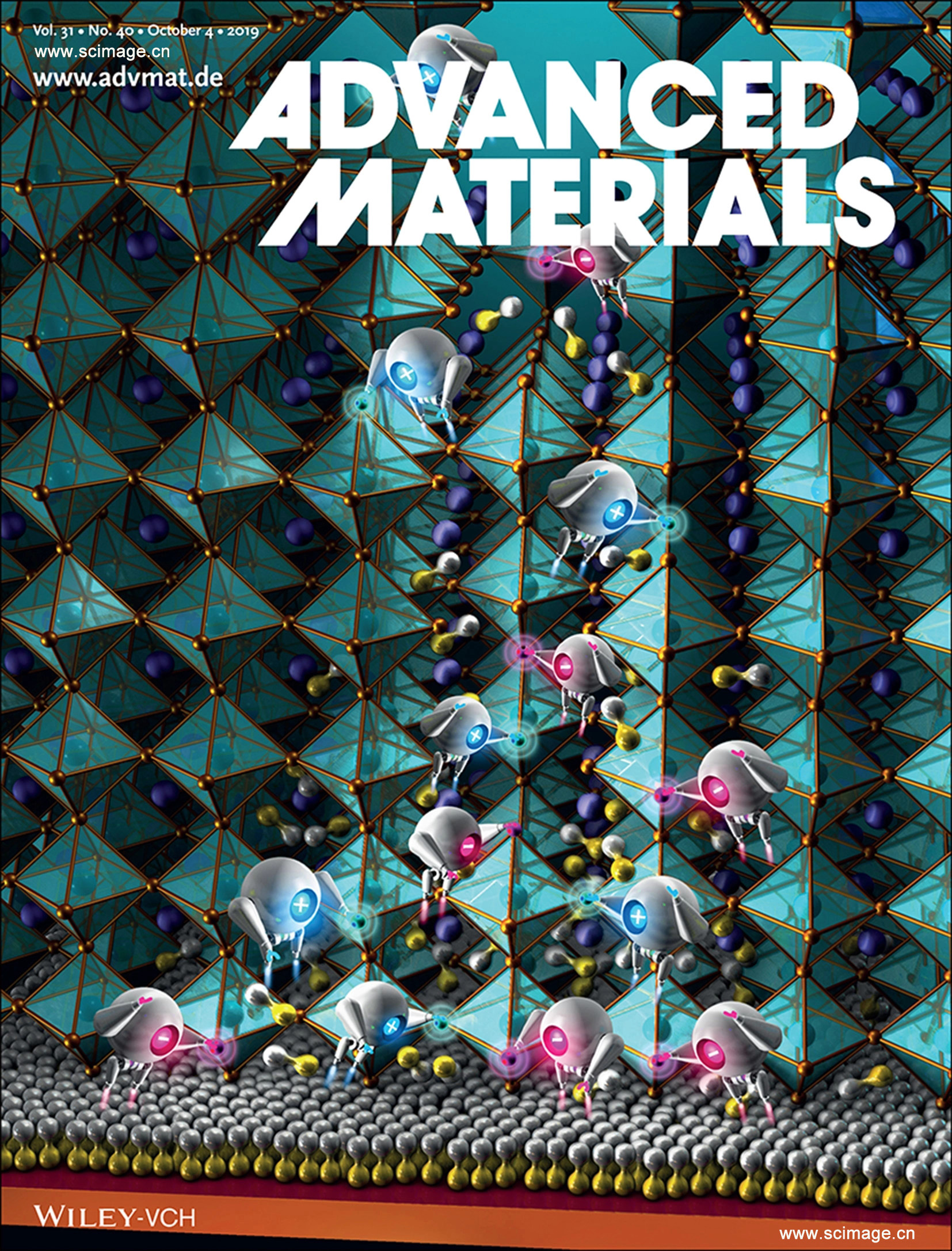 发表期刊:Advanced Materials Technologies
论文题目:Sensors: Silver‐Nanoparticle‐Modified Polyimide for Multiple Artificial Skin‐Sensing Applications
论文作者:Peng Bi, Xiaowei Liu, Yang Yang, Ziyu Wang, Jing Shi, Gaomin Liu, Fangfang Kong, Benpeng Zhu, Rui Xiong
发表日期:October 2019
论文摘要:In article number 1900426, Ziyu Wang, Peng Bi, Rui Xiong, and co‐workers demonstrate a wearable sensor by modifying the surface of polyimide nanowires with silver nanoparticles. It can sense both pressure and temperature changes with antimicrobial properties. Real‐time information can be detected for human motion, such as walking or holding a hot cup of water and demonstrate the potential application in artificial skin.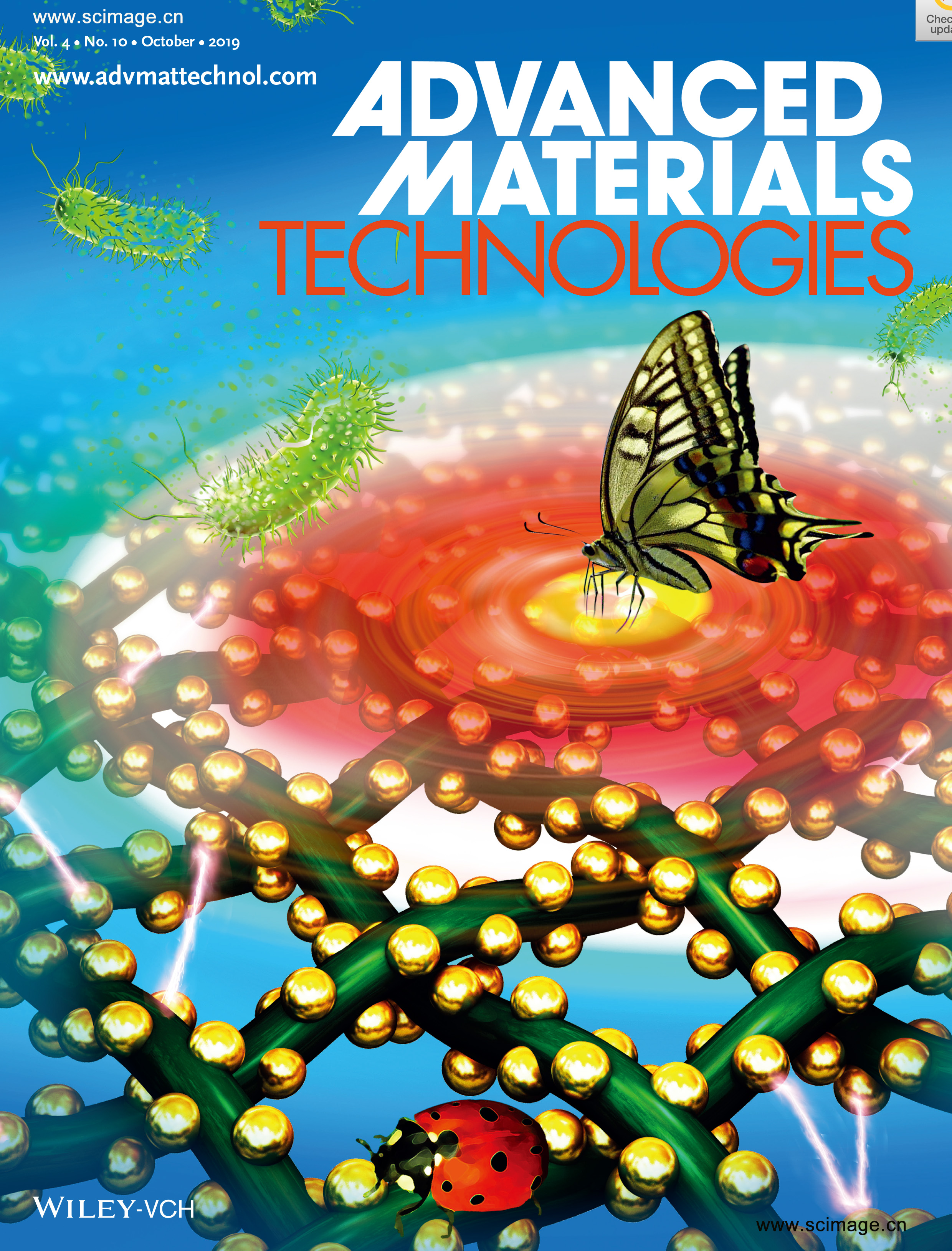 发表期刊:Journal of Materials Chemistry B
论文题目:Harnessing combinational phototherapy via post-synthetic PpIX conjugation on nanoscale metal–organic frameworks
论文作者:Rui Chen, Wen-Cheng Chen, Li Yan, Shuang Tian, Bin Liu, Xianfeng Chen, Chun-Sing Lee, Wenjun Zhang
发表日期:August 21,2019
论文摘要:Nanomaterial-mediated phototherapy, including photodynamic therapy (PDT) and photothermal therapy (PTT), is an effective anticancer intervention that relies on light activation of photoactive nanomaterials localized in tumors. Recently, combinational PDT/PTT offered a practical pathway to relieve resistance of monotherapy, surmount undesirable side effects and provide a synergistic effect to enhance phototherapeutic efficiency. Herein, we report a facile strategy to integrate protoporphyrin IX (PpIX) into nanoscale metal–organic frameworks (NMOFs) and control their photoactive properties for combinational cancer PDT and PTT. With optimized PpIX conjugation, the as-fabricated nanoparticles (nPCU NPs) exhibit (1) improved dispersibility and particle stability, (2) simultaneous generation of reactive oxygen species and heat effectively through activation by a single-wavelength laser of 635 nm, and (3) maintenance of porosity for further application as drug delivery vehicles. Moreover, in vitro investigation of nPCU NPs demonstrates effective cellular uptake, successful endosomal escape and enhanced phototherapeutic efficacy under both normoxic and hypoxic conditions. Therefore, this study developed a novel type of phototherapeutic nanoplatform with optimal properties for applicable cancer phototherapy.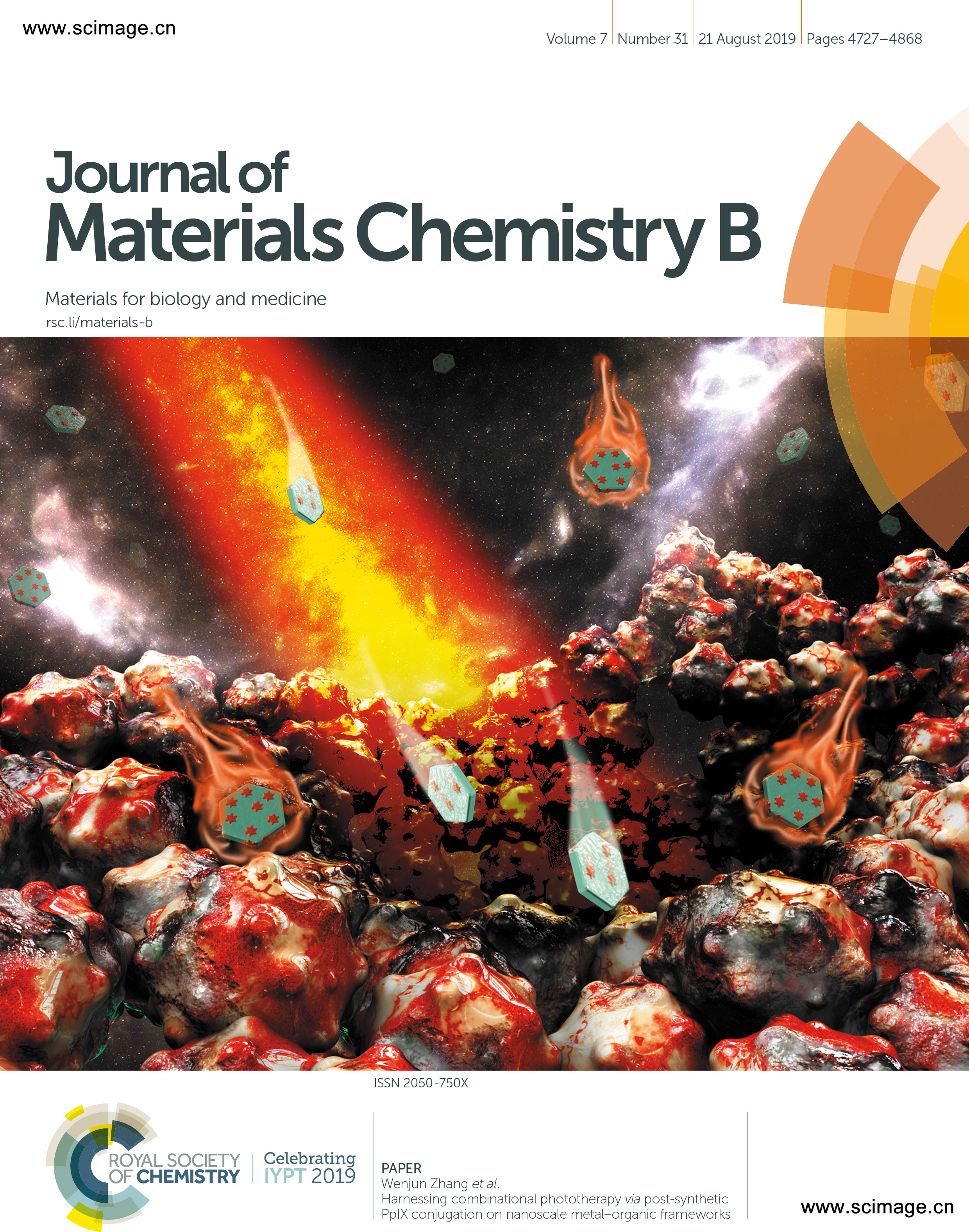 发表期刊:Journal of Materials Chemistry C
论文题目:Crystallinity and grain boundary control of TIPS-pentacene in organic thin-film transistors for the ultra-high sensitive detection of NO2
论文作者:Bingyao Shao, Yiming Liu, Xinming Zhuang, Sihui Hou, Shijiao Han, Xinge Yu, Junsheng Yu
发表日期:September 07,2019
论文摘要:Herein, ultra-sensitive nitrogen dioxide (NO2) gas sensors based on 6,13-bis(triisopropylsilylethynyl)pentacene (TIPS-pentacene) organic thin-film transistors (OTFTs) are reported. These sensors were fabricated by a simple solvent selection method that enabled crystallinity and grain boundary (GB) control and regulation; superior sensitivity of the sensors could be achieved using appropriate organic solvents to balance the crystallinity and density of the GBs in TIPS-pentacene films. o-Xylene was proved to be the best organic solvent for the optimization of the crystallinity and GB density in TIPS-pentacene films. The sensitivity of the sensors processed using o-xylene towards 10 ppm NO2 was more than 58 times that of the devices processed using the chlorobenzene solvent. Importantly, the limit of detection (LOD) of 1.93 ppb was achieved by our best NO2sensors. A series of characterizations and tests, including morphology, crystal structure, and surface chemical group measurements, were carried out to illustrate the sensing mechanism. Moreover, the real-time sensing, reproducibility, selectivity, and low gate-voltage tests of these devices were conducted, and the results demonstrated that the selection of an appropriate solvent was essential to achieve high-performance gas sensors.
发表期刊:Journal of Materials Chemistry C
论文题目:Novel blue fluorescent emitters structured by linking triphenylamine and anthracene derivatives for organic light-emitting devices with EQE exceeding 5%
论文作者:Jing Zhang, Yaping Zhao, Huixia Xu, Di Zhang, Yanqin Miao, Ruth Shinar, Joseph Shinar, Hua Wang, Bingshe Xu, Yucheng Wu
发表日期:September 21,2019
论文摘要:Achieving an external quantum efficiency exceeding 5% for traditional blue fluorescent organic light emitting devices (OLEDs) is still a current challenge due to the 25% limit of the radiative exciton yield. Bipolar organic molecules with a special hybrid local-excited and charge-transfer state have showed huge potential to address this issue. Herein, we designed and synthesized two novel bipolar compounds, namely TPA-AN-NA and TPA-AN-TFP, which were structured by simply linking a donor of triphenylamine (TPA) and both acceptors of anthracene derivatives. Both resulting compounds show good blue emission with emission peaks at 468 and 471 nm and photoluminescence quantum yields of 30.68 and 23.96% in thin films for TPA-AN-NA and TPA-AN-TFP, respectively. They also exhibit good solubility and can dissolve in several organic solvents with different polarities. Further, the fabricated blue OLEDs with TPA-AN-NA and TPA-AN-TFP as emitters also realize the corresponding blue emission well with electroluminescence peaks at 464 and 472 nm, respectively. The TPA-AN-NA-based blue device achieves a high external quantum efficiency of 5.44% and a radiative exciton yield of 56.68%, exceeding the theoretical limit.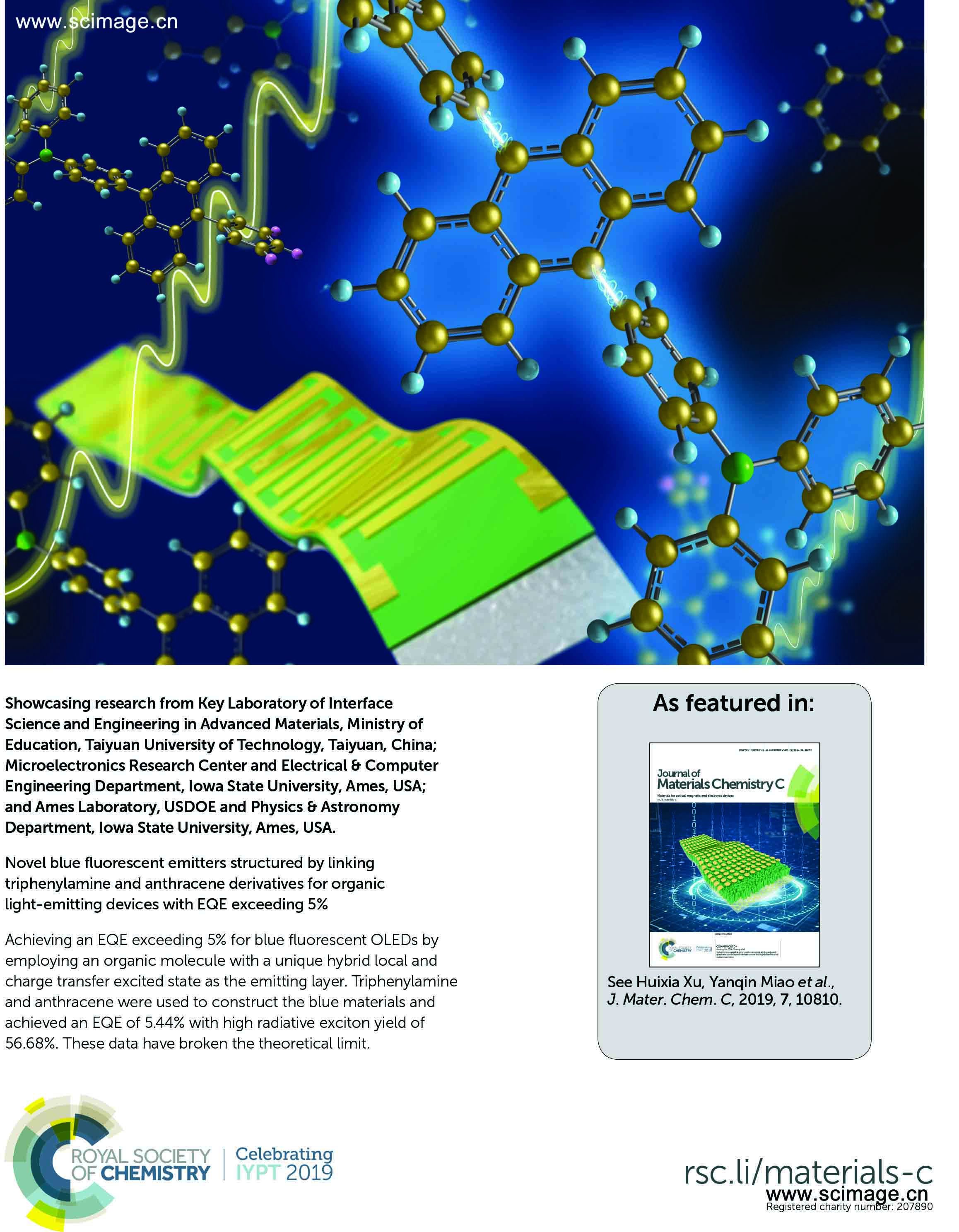 发表期刊:Energy Environmental Science
论文题目:Highly efficient prismatic perovskite solar cells
论文作者:Jiang Huang, Siheng Xiang, Junsheng Yu, Chang-Zhi Li
发表日期:March 01,2019
论文摘要:Lead halide perovskites, such as methylammonium lead iodide (MAPbI3) can reach near 100% internal quantum efficiency in single solar cells, but they still encounter significant thermodynamic losses in photon energy to offset device photovoltage and performance. Herein, a novel prismatic perovskite solar cell with light trapping configuration, namely, Prim PVSC, is designed to mitigate such losses in devices, through modulating the pathway of light inside series cells, wherein incident high-to-low energy photons are separately captured by four horizontally aligned MAPbIxBr3−x subcells with varied bandgaps. This newly designed PVSC has remarkably led to a record open circuit voltage of 5.3 V in four series devices and power conversion efficiency of 21.3%, which could provide a new way to break the performance bottleneck of perovskites. Practically, this type of device architecture could also be applied in flexible modules for large-area application.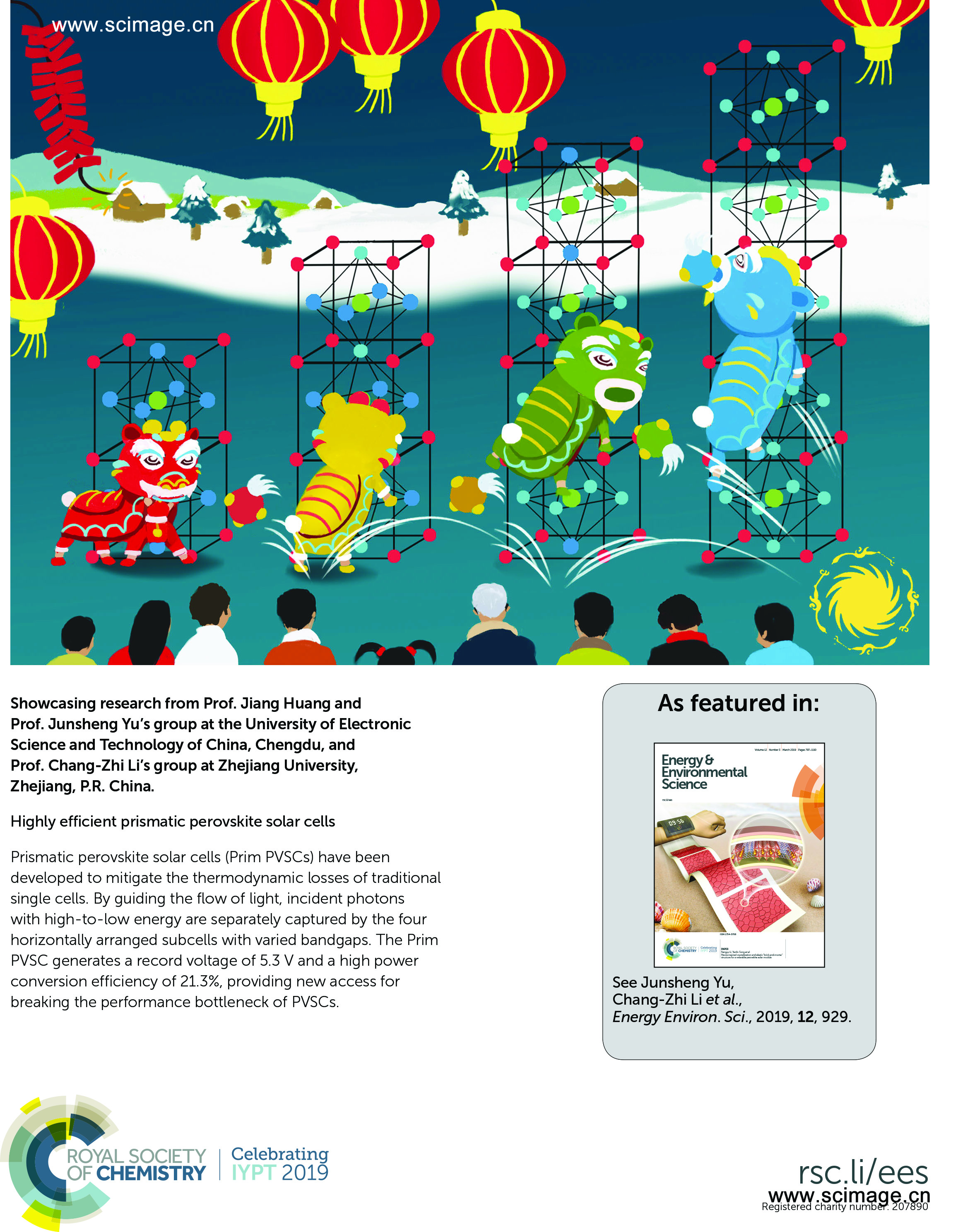 静远嘲风(SCimage)是专注于学术研究领域的艺术创作机构,用唯美的艺术诠释科研是嘲风的目标。公司主要提供论文封面设计、论文配图设计、科研动画开发设计及科研产品深度包装等服务;主要服务对象为中国科学院,中国军事科学院,中国医学科学院,中国农业科学院,以及国内外各大高校科研机构,科技型研发企业以及从事学术研究和高等教育的研究人员。静远嘲风,创立于2007年,以多学科背景为出发点,以独到的切入点深入探索科研领域的艺术表达方式,是国内科研可视化的资深践行者与领头羊,多年来为生物学、微生物学、化学、化工、医学、环境学等研究方向完成数千幅专业作品,协助上千名科研工作者完成封面论文发表。

http://blog.sciencenet.cn/blog-575129-1208058.html
上一篇:
2019年10月嘲风作品集(一)
下一篇:
2019年11月嘲风作品集(一)