发表期刊:Advanced Materials Interfaces
论文题目:Dielectric Effect: Dielectric Selection for Solution‐Processed High‐Mobility TIPS‐Pentacene Microwire Field‐Effect Transistors
论文作者:Shuya Wang, Shujun Zhou, Yanhong Tong, Zhiqi Song, Haiting Wang, Qingxin Tang, Xiaoli Zhao, Yichun Liu
发表日期:July 09, 2019
论文摘要:By selecting a preferred solvent to ensure good wettability of 6,13‐bis(triisopropylsilylethynyl)‐pentacene (TIPS‐pentacene) solution on both hydrophobic and hydrophilic dielectrics, the highly ordered TIPS‐pentacene microwire arrays are successfully obtained. The highest mobility of TIPS‐pentacene organic field‐effect transistors (OFETs) on divinyltetramethyldisiloxane‐bis(benzocyclobutene) (BCB)/SiO2 is ascribed to the matching of both the polar and dispersive components of surface energy between dielectric and semiconductor. More details can be found in article number 1801984 by Yanhong Tong, Qingxin Tang, and co‐workers.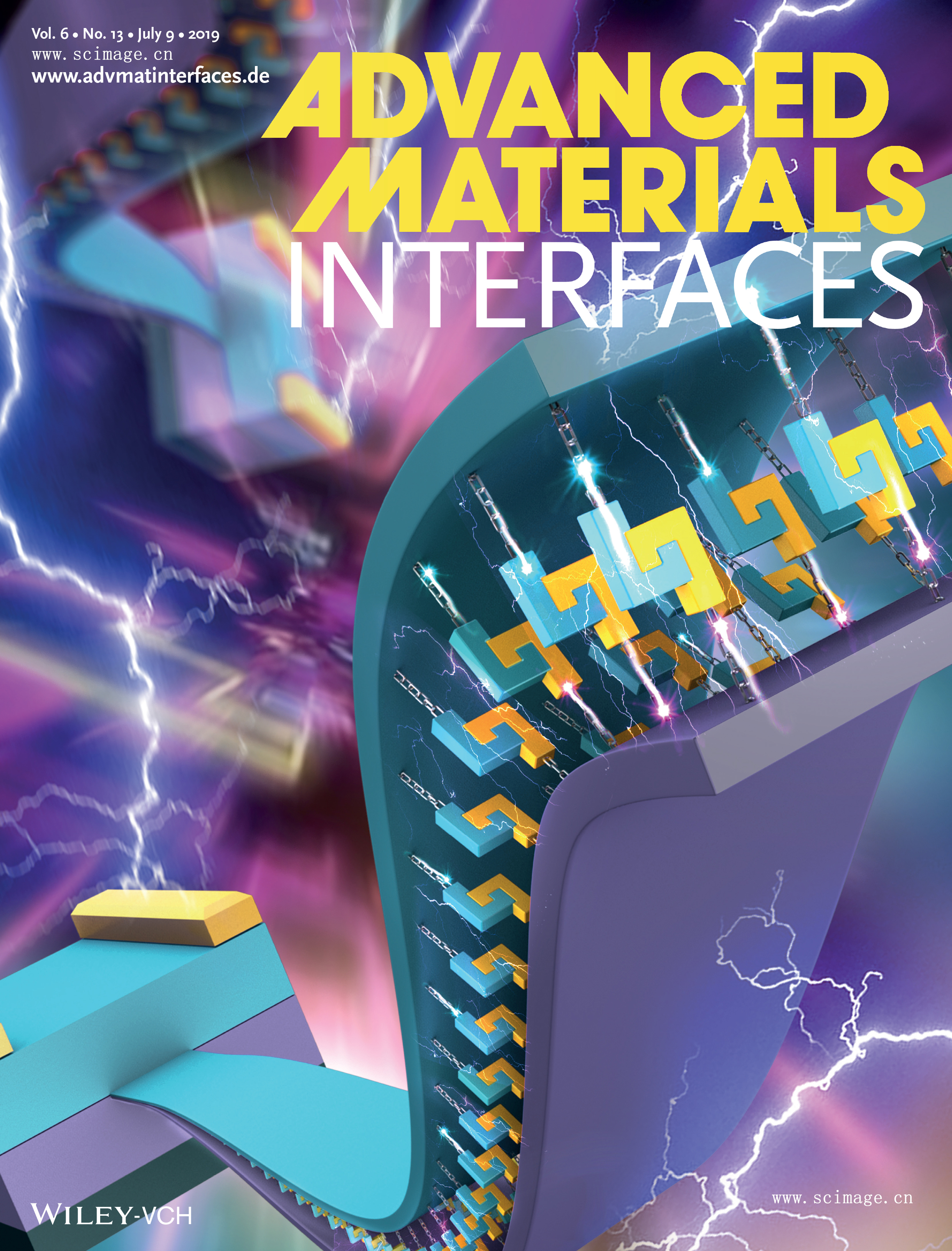 发表期刊:Small
论文题目:Binary‐Metal Selenides: General Approach to Produce Nanostructured Binary Transition Metal Selenides as High‐Performance Sodium Ion Battery Anodes
论文作者:Zeeshan Ali, Muhammad Asif, Teng Zhang, Xiaoxiao Huang, Yanglong Hou
发表日期:August 16, 2019
论文摘要:In article number 1901995, Yanglong Hou and co‐workers demonstrate a simplistic, scalable and general synthesis strategy employing various combinations of binary transition metal selenides (B‐TMSs) with high surface area and hierarchical nanosheet structures as promising anodes for sodium ion batteries (SIBs). Representative B‐TMSs anodes present adequately high energy capacities, excellent rate capabilities and extraordinary cycling stabilities.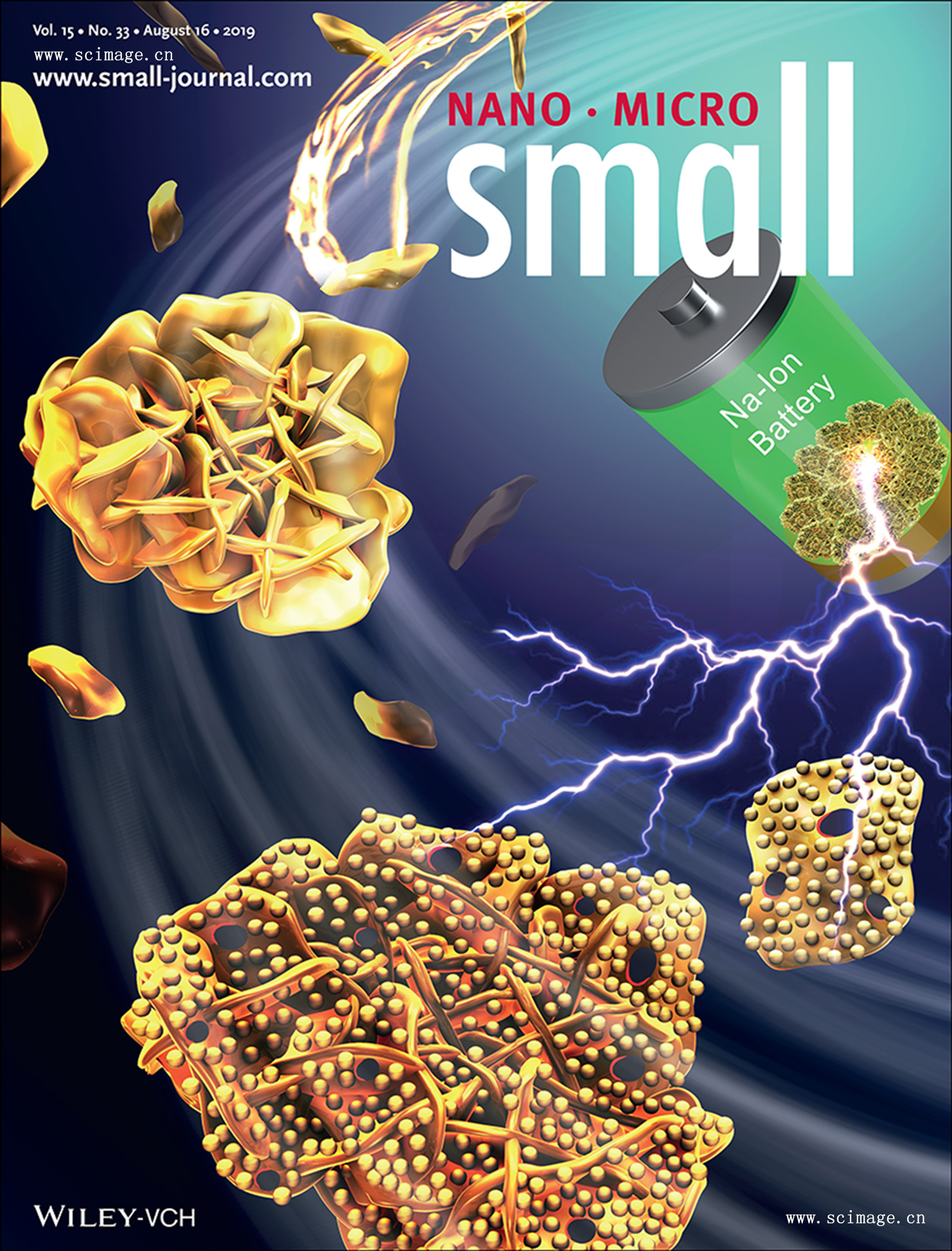 发表期刊:Advanced Functional Materials
论文题目:Framework Porphyrins: One‐Pot Synthesis of Framework Porphyrin Materials and Their Applications in Bifunctional Oxygen Electrocatalysis
论文作者:Bo‐Quan Li, Shu‐Yuan Zhang, Xiang Chen, Chen‐Yu Chen, Zi‐Jing Xia, Qiang Zhang
发表日期:July 16, 2019
论文摘要:In article number 1901301, Qiang Zhang and co‐workers conduct framework porphyrin (POF) materials one‐pot synthesis to demonstrate the advances of the direct synthesis methodology. The as‐synthesized POF materials are intrinsically two‐dimensional and exhibit impressive versatility in composition, structure, morphology, and function, delivering a free‐standing POF film, hybrids of POF and nanocarbon, and cobalt coordinated POF with excellent bifunctional oxygen electrocatalysis performance.
发表期刊:Advanced Functional Materials
论文题目:Solid‐State Lithium Batteries: Intercalated Electrolyte with High Transference Number for Dendrite‐Free Solid‐State Lithium Batteries
论文作者:Long Chen, Wenxin Li, Li‐Zhen Fan, Ce‐Wen Nan, Qiang Zhang
发表日期:July 09, 2019
论文摘要:In article number 1901047, Li‐Zhen Fan, Qiang Zhang, and co‐workers describe an intercalated composite solid electrolyte that presents high ionic conductivity and ionic transference number. The synergistic effect of high transference number intercalated electrolytes and 3D lithium anode effectively suppresses lithium dendrites. The assembled batteries deliver a high cycling performance, demonstrating a promising strategy for ambient‐temperature solid‐state lithium metal batteries.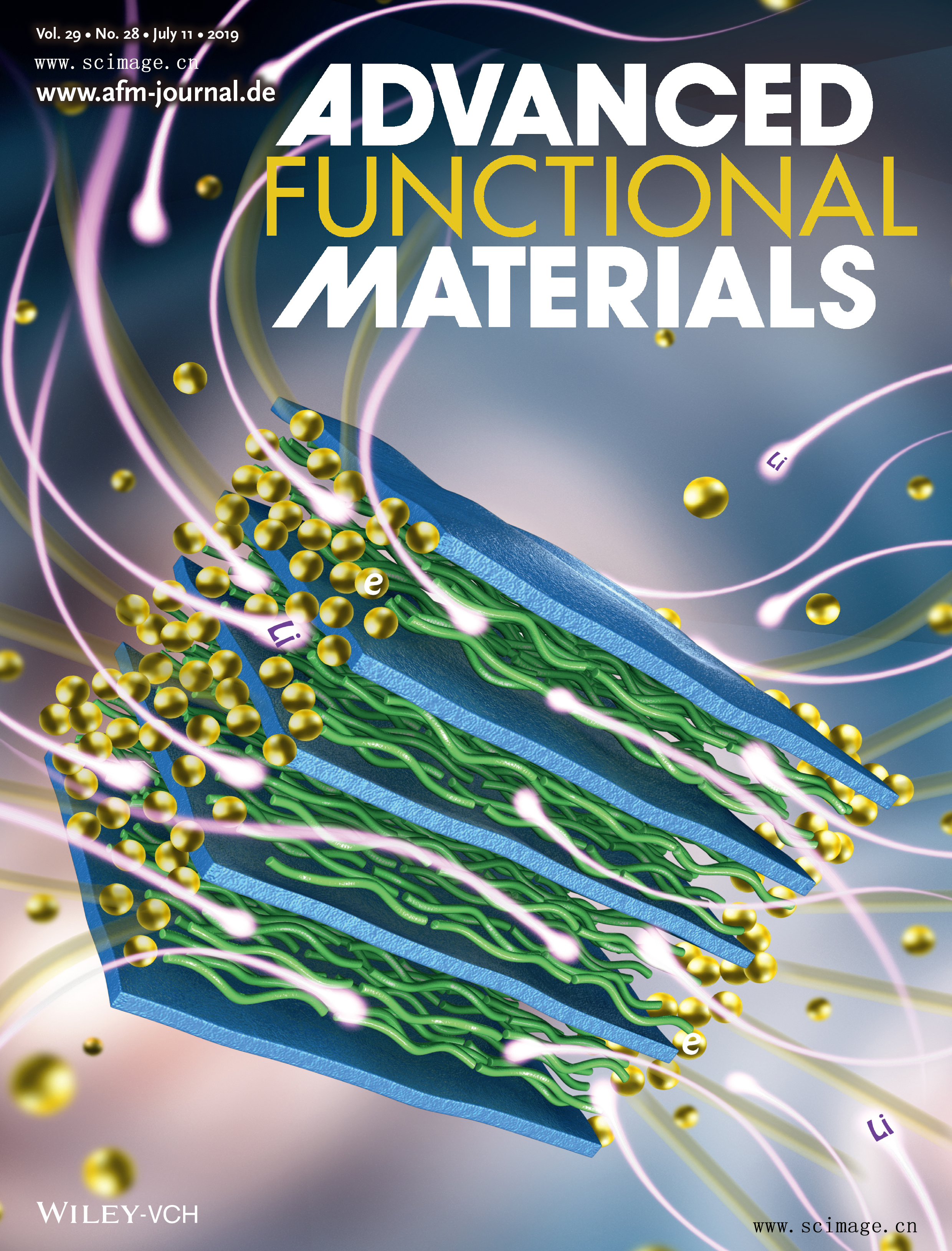 发表期刊:Advanced Functional Materials
论文题目:Hierarchical Porous Materials: Multidimension‐Controllable Synthesis of Ant Nest‐Structural Electrode Materials with Unique 3D Hierarchical Porous Features toward Electrochemical Applications
论文作者:Fujun Miao, Na Lu, Peng Zhang, Zhenyi Zhang, Guosheng Shao
发表日期:July 18, 2019
论文摘要:In article number 1808994, Peng Zhang, Zhenyi Zhang, and co‐workers propose a novel concept of the geometrical structure of hierarchical porous materials bio‐inspired by natural ant nests. This approach could help achieve multidimension‐controllable synthesis, including material category, material components, supporting substrates, and pore sizes/distributions, providing a valuable path for their application in the fields of energy storage and catalysis.
发表期刊:Advanced Materials
论文题目:Neural Regeneration: Efficient Delivery of Nerve Growth Factors to the Central Nervous System for Neural Regeneration
论文作者:Duo Xu, Di Wu, Meng Qin, Lina R. Nih, Chaoyong Liu, Zheng Cao, Jie Ren, Xiangjun Chen, Zhanlong He, Wenhai Yu, Jiaoqiong Guan, Suqin Duan, Fang Liu, Xiangsheng Liu, Jesse Li, Dushawn Harley, Bin Xu, Lihua Hou, Irvin S. Y. Chen, Jing Wen, Wei Chen, Sina Pourtaheri, Yunfeng Lu
发表日期:August 16, 2019
论文摘要:Neurotrophins are promising candidates for central nervous system (CNS) diseases and injuries, while their inability to enter the CNS remains a bottleneck for therapeutic purposes. In article number 1900727, Jing Wen, Wei Chen, Sina Pourtaheri, Yunfeng Lu, and co‐workers report a nanocapsule‐based delivery strategy, which enables the efficient entry of nerve growth factors (NGFs) to the CNS. In mice with spinal cord injuries, the effective delivery of NGF promotes neural regeneration, tissue remodeling, and functional recovery.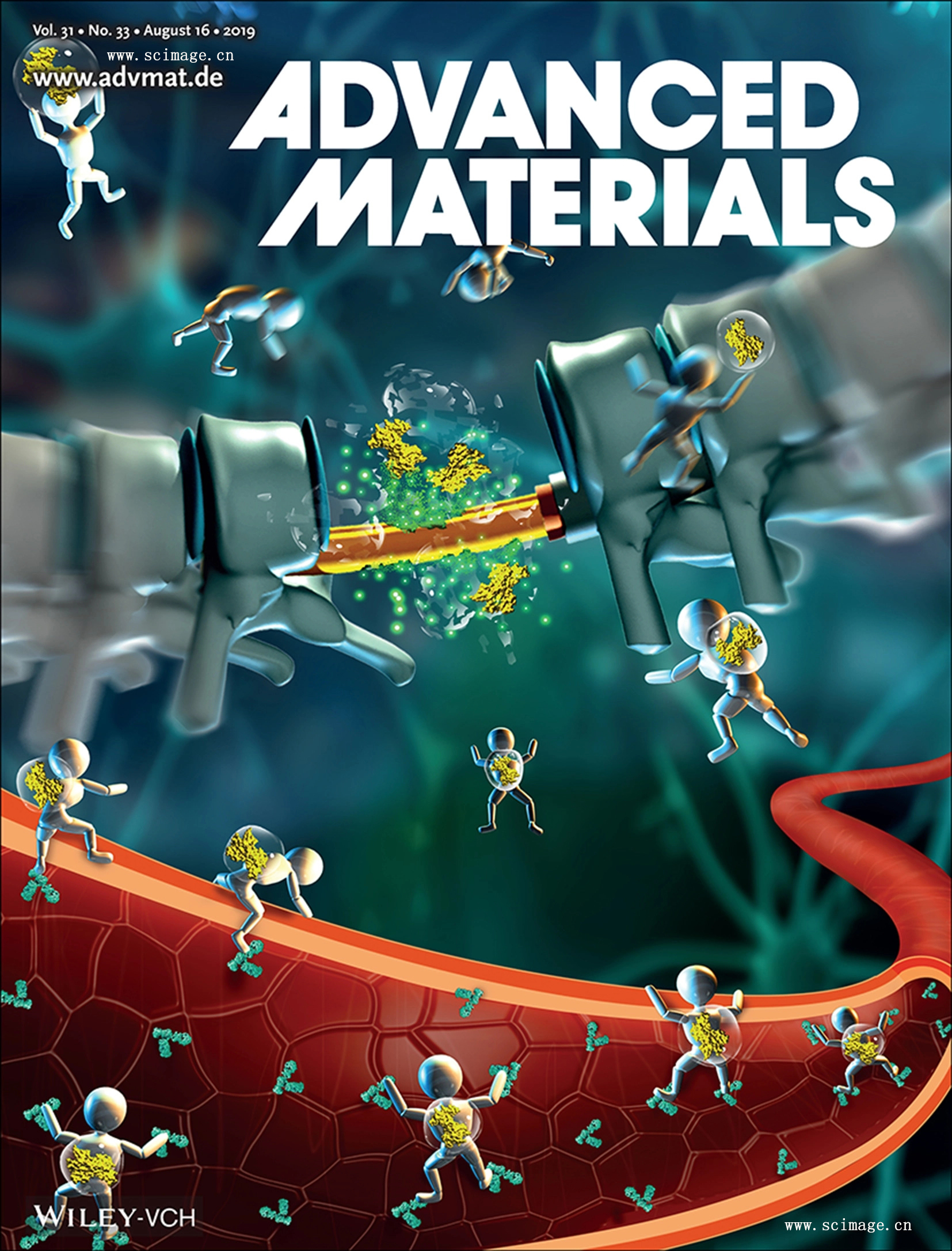 发表期刊:ACS applied polymer materials
论文题目:Polymeric Biomaterials for Management of Pathological Scarring
论文作者:David C. Yeo, Sharon W.T. Chew, Chenjie Xu
发表日期:April 12, 2019
论文摘要:Polymeric biomaterials play a significant role in wound care. This article reviews the latest advances in polymeric biomaterials for the care of wound pathologies (i.e., chronic wounds and abnormal scarring). After discussing the development of three categories of polymers (i.e., biodegradable, stimuli-responsive, and bioinspired polymers), we focus on the prevention and treatment of abnormal scarring using polymeric biomaterials. Specific attention is paid to their roles in scar prevention, early detection of abnormal scarring, and antiscarring drug identification.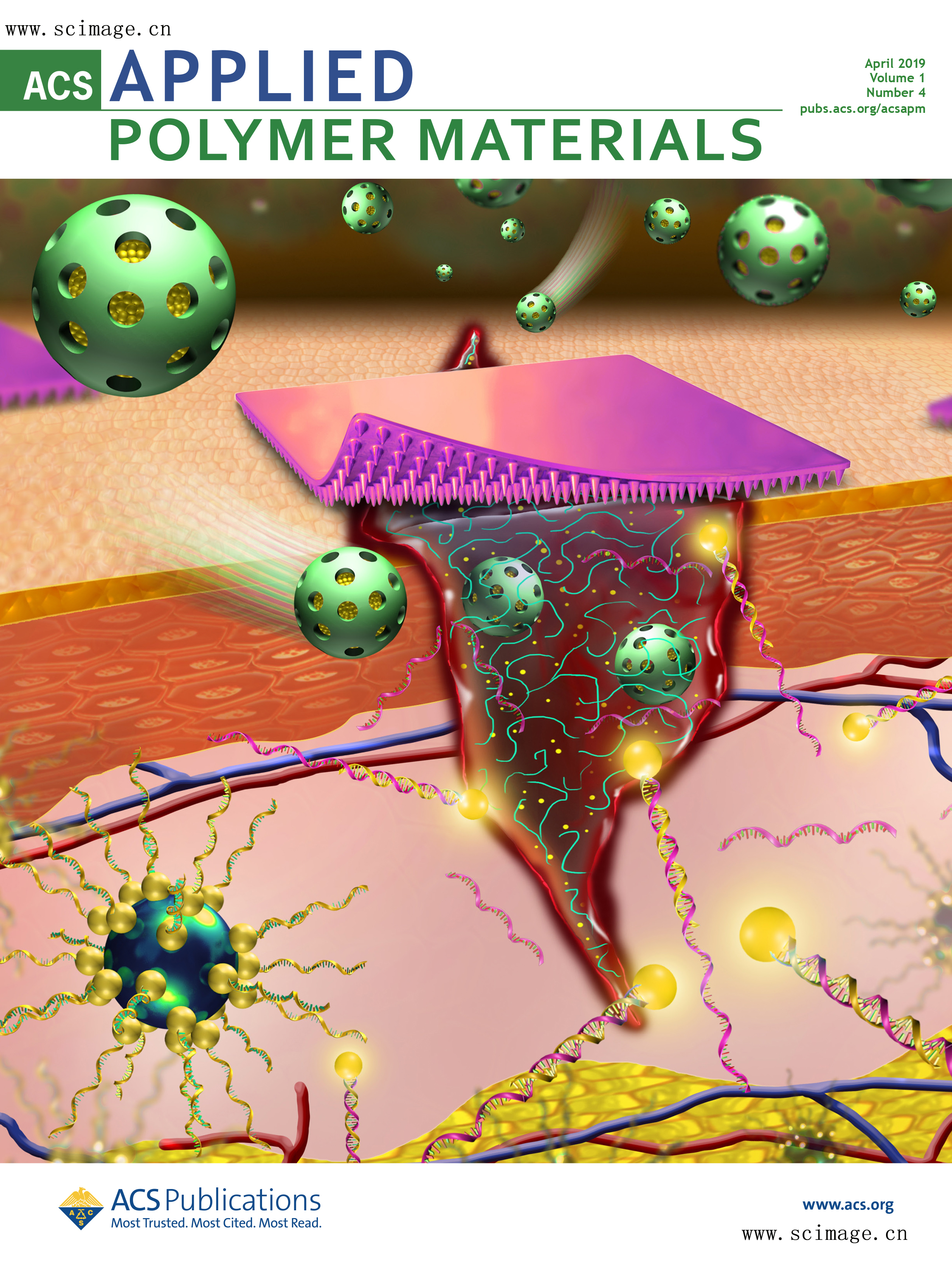 发表期刊:ChemBiochem
论文题目:Ordered and Isomerically Stable Bicyclic Peptide Scaffolds Constrained through Cystine Bridges and Proline Turns
论文作者:Ping Lin, Hongwei Yao, Jun Zha, Yibing Zhao, Chuanliu Wu
发表日期:June 14, 2019
论文摘要:The cover feature picture shows a bicyclic peptide discovered by panning a home‐made phage display peptide library. In their communication, C. Wu et al. on page 1514 in Issue 12, 2019 (DOI: 10.1002/cbic.201800788) explain how they have discovered and identified a class of bicyclic peptides with ordered but irregular secondary structures. These peptides have a conserved cysteine/proline framework for directing the oxidative folding into a fused bicyclic structure consisting of four irregular turns and a 310 helix. This work could inspire the design and engineering of multicyclic peptides with new structures and benefit the development of novel protein binders and therapeutics.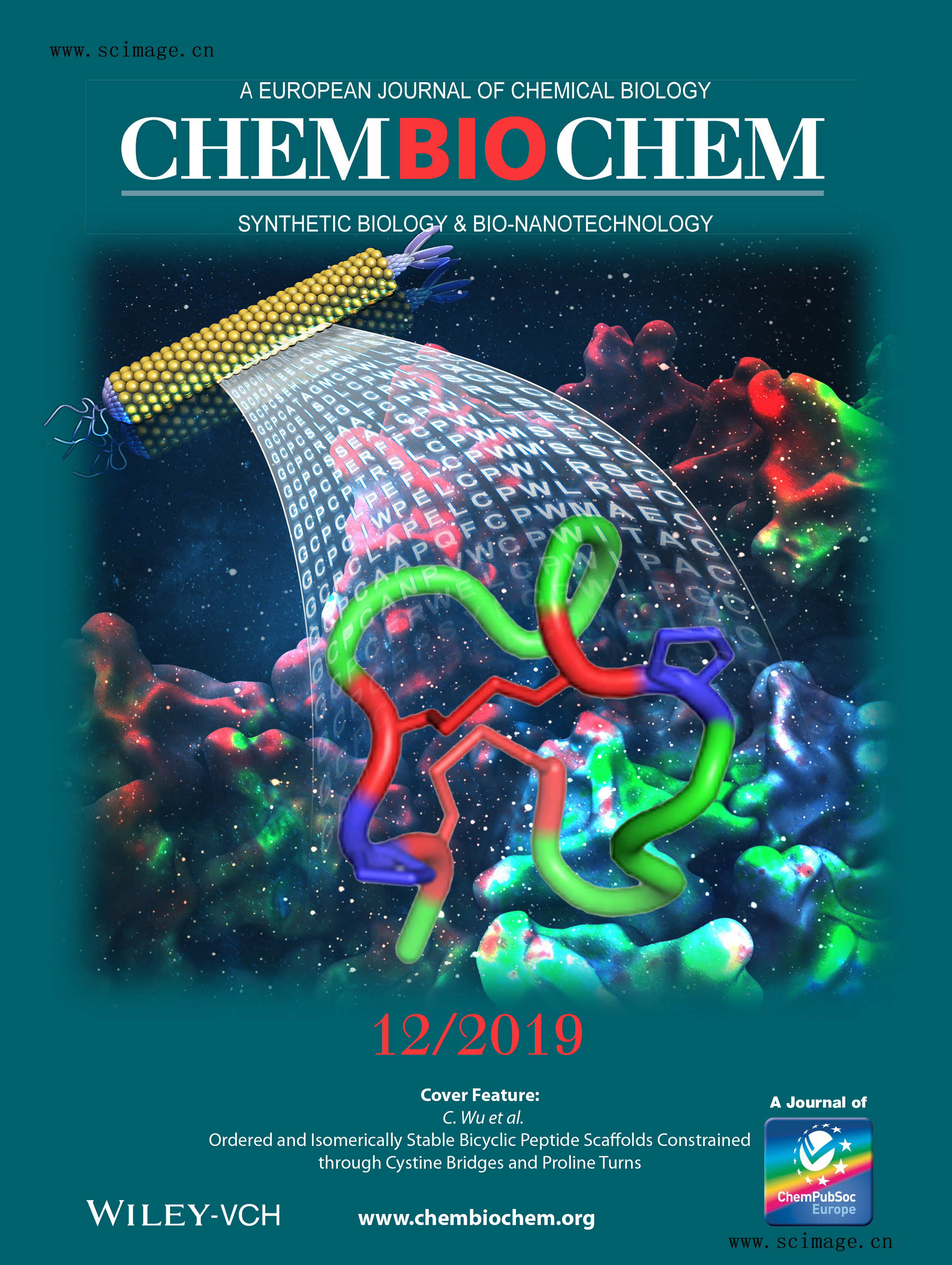 静远嘲风(SCimage)是专注于学术研究领域的艺术创作机构,用唯美的艺术诠释科研是嘲风的目标。公司主要提供论文封面设计、论文配图设计、科研动画开发设计及科研产品深度包装等服务;主要服务对象为中国科学院,中国军事科学院,中国医学科学院,中国农业科学院,以及国内外各大高校科研机构,科技型研发企业以及从事学术研究和高等教育的研究人员。静远嘲风,创立于2007年,以多学科背景为出发点,以独到的切入点深入探索科研领域的艺术表达方式,是国内科研可视化的资深践行者与领头羊,多年来为生物学、微生物学、化学、化工、医学、环境学等研究方向完成数千幅专业作品,协助上千名科研工作者完成封面论文发表。
http://blog.sciencenet.cn/blog-575129-1197567.html
上一篇:
2019年7月嘲风作品集
下一篇:
2019年8月嘲风作品集(二)