张宇宁
英国华威大学工程系
谢定裕教授(英文名:Din-Yu Hsieh)是一位知名应用数学家,美国布朗大学荣休教授,现为清华大学周培源应用数学研究中心主任(见附录一)。他早年在Caltech的博士论文(题目Theory of gas bubble dynamics in oscillating pressure fields),博士后和助理教授阶段处理的主要是空泡动力学的问题(相关论文见附录二)。我曾拜读过很多谢定裕教授的文章和他的博士论文,颇有感触,汇总于此。我强烈推荐大家看附录三中的谢定裕教授退休时对自己的学术生涯的回顾,里面有很多宝贵的建议。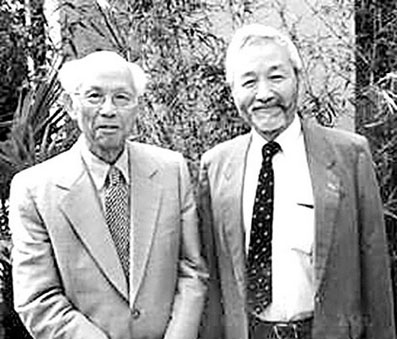 图一 谢定裕(右)和林家翘(左)合影
谢定裕教授在退休的时候回忆自己的学术生涯讲到,1957年他放弃了哈佛和斯坦福的奖学金,来到了加州理工学院, 其中的一个重要原因是钱学森先生在那里,当时钱先生已经很有名气,华人中的骄傲,真可谓是无数学子向往的偶像。结果没料到,钱已经不知去向,后来就跟着当时的系主任Milton S. Plesset做,就这样踏入了空泡动力学领域。在空泡动力学领域,加州理工可以说是占有举足轻重的地位。比如谢先生的导师Plesset就曾对该学科的发展做出重要贡献,空泡动力学的基本方程通常以他的名字命名(即Rayleigh-Plesset方程)。谢先生的博士论文解决了空泡动力学基础理论方面的很多重要问题,比如空泡内部不均匀场的影响,空泡震荡时的传质过程(Rectified diffusion)和空泡的稳定性等等。主要的方法就是解析解等。诚然,后来每个方向都有很多的发展,比如关于空泡内部场的不均匀性的问题,后来Chapman and Plesset (1971) 和Prosperetti (1977)进一步拓展了这个理论。2010年,本人和导师合著的文章又将Prosperetti的工作拓展到了高频(详见博文本人发表在美国声学会会刊的工作的简要介绍)。但即便如此,谢先生的文章是很开拓性的成果,至今还是很值得一读的(比如,本人2010年的文章还引用了1960年谢先生和Plesset合著的文章)。Rectified diffusion是空化在医学和生物等领域应用的重要的一个基础理论,现在研究人员还把它同鲸鱼搁浅等联系在了一起(详见博文为什么鲸鱼等海洋生物会搁浅?)。人们很早就观察到空泡在声场的作用下会增长和缩小,但理论上的解释一直很缺乏。Blake提出了一套理论,但与实验符合的不好。1961年谢先生和Plesset的文章很好的解决了这个问题,他们的这篇文章也成了该方向的经典论文之一。
实际上,谢定裕教授学术生涯中的很多研究主要转向了应用数学,除去后期的一些研究基本上就没有再做过空化这个方向。即使40多年过去了,他仍然被很多空泡动力学领域的学者所提及,由此可见博士阶段对于一个人的重要性。通过对谢先生的了解,我自己受益良多,在此汇总一下自己的些许感触:
1. 博士阶段对一个人的学术生涯非常的重要。博士生如果用3-5年的时间,聚精会神在某一个小的专题上,只要用心研究,完全有可能在这个问题上走到世界的前列。凡事都只怕认真二字。谢先生就是很好的例子,其他的例子不胜枚举。比如我最近看到2011年Annual Rev. Fluid Mech.发表了一篇介绍激波和空泡相互作用的综述文章,第一作者就是一位毕业不久的博士生,很多成果都是在博士阶段完成。
2. 良好的数理基础。一定要触类旁通,多学习解决问题的方法等等,这样才能厚积薄发。学科是不断发展的,但进行学术研究的方法却是基本不变的。只要掌握了相应数学工具并拥有很好的物理概念,自然能取得重要的成果,尤其是新兴学科上面。上面提到的Prosperetti也是一个很好的例子。谢定裕教授的文章经常能抓住问题的关键,我曾读过一篇他对一个学者于1970年发表在J. Basic Eng. 上文章后面的一段评论,聊聊数语把概念讲的非常清楚,还拓展到不同的情况,其光芒远远超过原文,很让人佩服。
3. 寻找并解决领域内的关键问题。谢先生强调写文献综述的重要性,定期汇总研究领域内的成果,最新进展,迅速找到领域内的关键问题。我感觉这确实是一个非常好的建议,我坚持做了2年多下来,可以说收获颇丰,基本搞清楚了学科脉络。这个重要性在于,不但可以找到热点和关键,还可以预测学科发展的走势。比如,以前研究的都是牛顿流体中的空泡动力学,后来学科发展了,非牛顿流体引起了大家的兴趣。如果对空泡动力学的发展很熟悉,自然可以找到研究方向因为这方面的研究思路和牛顿流体有很多相似之处。
4. 跟随大师。谢先生自己回忆(见附录三)他当时在Caltech拿到教职后,一个问题就是要自己找研究方向,以前都是导师Plesset告诉他哪些题目是重要的(当然这可能只是谢先生自谦的一种表示,这个暂且不细究)。可想而知,谢先生的在空泡动力学领域的成就跟导师Plesset不无关系。大师能够帮助博士生快速的锁定重要的领域,能不能取得突破就看自己了。
谢定裕教授,生于1933年2月,祖籍江苏南京,1954年获台湾大学理学士学位(土木工程),1957年获美国Brown大学硕士学位(主要方向实验固体力学),1960年获美国Caltech博士学位(主要方向空泡动力学)。他继续在加州理工学院做为博士后工作了三年。之后荣升为助理教授。1968—2000年在美国Brown大学任教,现在是该校荣休教授。2002年8月受聘为清华大学周培源应用数学研究中心主任。谢先生早年投身保钓运动。他还曾担任过香港科技大学的数学系主任。
Plesset, M. S., Hsieh, D. Y. 1960. Phys. Fluids 3 : 882-92
Hsieh, D. Y., Plesset, M. S. 1961 On the Propagation of Sound in a Liquid Containing Gas Bubbles
Hsieh, D. Y. 1965. J. Basic Eng. 87:991-1005
Hsieh, D. Y. 1970. J. Basic Eng. 92:815-18
Hsieh, D. Y. 1972a. J. Acoust. Soc. Am. 52: 151
Hsieh, D. Y. 1972b. J. Basic Eng. 94:655-65
Hsieh, D. Y. 1974a. J. Acoust. Soc. Am. 56: 392-93
Hsieh, D. Y. 1974b. In Finite-Amplitude Wave Effects in Fhdds, ed. L. Bj~rn~, pp. 220-26. Guilford: I.P.C. Sci. Technol. Press
Hsieh, D. Y., Plesset, M. S. 1961. J. Acoust. Soc. Am. 33 : 206-15
Reflection of Some Aspects of My Development
First, I would like to thank S.Y. Cheng to initiate such a wonderful "family affair" for my retirement. I like to thank the organizers and all the participants, especially for Professor ZHENG Zhemin and HSIANG Wu-chung who has come a long way to participate this activity.
Professor Zheng and Professor Hsiang are associated with some important aspects of my development.
First Professor Zheng. In 1979, he invited me to give one month summer course at Institute of Mechanics of the Chinese Academy of Science on Asymptotic Methods, thus starting my interactions with the Chinese academic world. Out of the subsequent 12 years before 1990 when I came to Hong Kong, I went back to China on lecture tours in eight years. Twice I spent almost half-a-year in China.
I think the first time I met Professor Hsiang was the summer of 1969 when we both went back to Taiwan to lecture. But our association dated back much earlier.
He is associated with three important aspects in my development.
The first is the founding of the Yung Yung Society (融融社) at Taiwan University in 1953. The society was the only comprehensive student society free from KMT control at the time of white terror in Taiwan. Amazingly the Society lasted over 20 years. The experience and the chance to make many friends had a profound impact to my development. I would consider that experience was the most important education I got in Taiwan University. Wu-chung was once an inactive member of the Society.
The second important aspect is the Tiao Yu Tai Movement, 保釣運動. Besides broadening my world views, I also got to make many more friends, mostly younger friends. Wu-chung was also an active member in the movement. We had worked together and we got to know each other better.
The third important aspect is HKUST. When Chia-Wei Wu and C.Y. Chien invited me to join HKUST and asked me to build the Department of Mathematics, I hesitated. I am not really a mathematician and I have never dealt with pure mathematicians professionally before. I called Wu-chung and asked his advice. His advice was very encouraging. He said: "The important thing to be DH is that: 1. to serve the people. 2. do not block young people's development. Other things are less important. When you are over 50, your peak in research is over anyway." I took his advice and took the job, and I have tried to make every effort to fascilitate the development of my young colleagues.
Today, close to the end of my professional career, I should say my development is definitely not a role-model for my young friends.
First of all, although I am a professional scientist, I have probably spent only half of my time on Science. Wu-chung has criticized me as being lazy. He has a valid point. I have been indeed somewhat lazy on Science. But I have not been lazy as an intellectual. Therefore, I can only say I am lucky that I can still survive in this tough academic world.
My academic career has been tortuous. I have never dreamt that I would be the head in a department of mathematics.
I met a high school class mate on my recent trip to Kunming. He said that he thought I would pursue a literacy career. But to pursue a career in humanity or social science in Taiwan of 1950 is dangerous unless you were willing to be a loyal party member. Purely for survival, I chose Civil Engineering, the least technical discipline in engineering and science.
After graduation from Taiwan University, I got a fellowship to study at Brown University which I had never heard of before, and it was practically applied for me by an elder brother of mine, who was then in US.
My master thesis was on experimental solid mechanic, the dispersion of waves in an elastic bar. My advisor was Professor Kolsky, then a visiting professor from England. We used the so-called Hopkinson bar. Later some people also called it Kolsky bar. We used the explosive lead azide to produce the impact. I had to prepare those explosive pellets in an unfinished basement lab. After each bang, I had to develop the photographic film and wait more than half hour to see whether the result was good or bad. At that time the poloroid camera was not available yet.
Kolsky was visiting professor for only two years. So I had good excuse not to continue for PhD study at Brown. I would like to see more of the America. So I chose to go to Caltech after getting my master's degree, although I also got fellowships from Harvand and Stanford. On my way from northeast to southwest, I stopped half-way in mid-west and got a summer job at the Indiana Highway Department in Indianapolis. I managed to design a pier of a highway bridge for that summer.
An important factor in choosing Caltech was to follow the footsteps of H.S. Tsien (錢學森). He was the idol of most Chinese engineering students then. (Yang & Lee have not got their Nobel Prizes yet). I chose the Department of Engineering Science so as to be able to learn more physics and mathematics. It happens that this new department was also the brainchild of Tsien. But when I got to Caltech in 1957, he had left already. The Engineering Science Department was led by Professor Plesset, and my fellowship, the highest paid then at Caltech, was also administered by him. So I just chose him as my advisor, and switched from experimental solid mechanics to theoretical fluid mechanics. The area of study is the dynamics of bubbles in liquid.
The PhD thesis work usually has a very important influence in later career development. People still associate me with bubbles even though most of my works for the last thirty years are not on bubbles. Of course, I have kept on eye on its development, and once for a while I may write a paper related to bubbles. On the other hand, my later works in some sense are indeed related to bubbles because bubble dynamics has a very rich content.
First of all, a bubble in a liquid is marked by an interface between two fluids, a liquid and a gas. Thus it is related to all the interfacial problems, for instance, water waves. It has stability problem for the bubble shape. Thus it is related to all kinds of interfacial stability problems like Rayleigh-Taylor, Kelvin-Helmholtz stability problems and the Faraday problems. For vapor bubbles, there are problems of heat and mass transfer and phase transition. The collapse of bubble has analogy in laser fusion. The nonlinear oscillation of bubble leads to chaos. There are also bubbles in superfluid liquid helium. And these are the areas I have later exploded.
My early academic advancement was quite smooth. After my PhD degree, I stayed as a Research fellow at Caltech for three years, then became an Assistant Professor of Engineering Science. I should mention that at that time Caltech seemed to be particularly hostile to Chinese on faculty appointment. For many years, although Caltech had many Chinese research staffs, only two persons were regular faculty members: Y.C. Fung and T.Y. Wu. I felt really excited then to become an Assistant Professor (Sunney Chan joined Caltech as assistant professor about the same time). My salary was the US$10,000/yr. and I was also consulting at JPL one day per week for 100 dollars per day. With total amount of income of $15,000/yr. in 1963, taking into consideration of inflation, I think that was the period of the peak of my earning power in my life.
Academically, it is also around this time, I started to become more mature and truly independent. Previously, I carried on just because my advisor suggested this or that problem, or by studying someone's paper and saw that I could extend the work in some direction. I did not have a feeling why should I do this. It was about this time I was asked to write a survey article on bubble dynamics, I started to take a look on the entire field of this subject. After I had finished my work, not only I had gained a clear idea what were the importance behind each subject of study, what were the tools needed to solve these problems, but also knew that what were the important problems still remain unsolved. I knew then that I had become one of the very few experts in that area. That is why I often suggest to my young friends to write a survey article at certain stage. Otherwise you may not know why you are doing this research except that some other people have done similar problems.
Then, came the set-back of my academic career. After 3 years of Assistant Professorship, came the contract renewal time. Normally, it should be the time for promotion to Associate Professor (I had never heard about "tenure" then. So naive!) Instead, they just gave me an extension of contract of three more years. I was very upset. Even though Professor Plesset told me I should not over-react, I knew that I had to leave. Later I learned that the reasons the committee members gave were: 1. They did not know me very well, because I do not interact and socialize with them. 2. They started to try to avoid 近親繁殖 keeping their own graduates. So far because of the predominant eminence especially in aeronautics and fluid mechanics, many faculty members were Caltech products. 3. They had too many fluid dynamists. Out of a little over 200 regular faculty member in Caltech, there were then 33 fluid dynamists scattered in various departments.
Many of my young colleagues are facing the substantiation review now or soon. Not every one will be successful. I would like to share my experience with you. Do not despair. It might be a good thing. It will force you to reflect on what is important in your life. When you have been smooth sailing, you tend to think this career is the only kind of life in the world, and this place is the only place suitable for you to live and work. It is not so. The world is much bigger and life offers a vast vista of opportunities. Looking back, I think it is good thing that I was forced to reflect on my future directions. Moreover, to stay in one place for 7 or 8 years is probably long enough. One should start to move to a better or different place. The important thing is to have made those years fruitful and pleasant.
The following year, I managed to take nine months leave from Caltech to visit Professor C C Lin of MIT. I intended to learn the astrophysical problem of galactical dynamics from him. Although I learned a lot, I did not pursuer this direction of study. However I gained much more in other aspects. Even though Caltech was a great place, however being there for almost ten years, you became a 井底之蛙, frog at the bottom of a well. You tended to think that was the entire world. When you got out, you realized other people do no think the place is that great. There are other important people and important things. I had lunches with Professor C C Lin three or four times each week. I got to know his philosophy, his way of thinking, his method of dealing with scientific and other problems. It was most beneficial to me.
I went back to Caltech for one more year, then moved to Brown, in the Division of Applied Mathematics. Thus formally becoming an applied mathematician. I was so ignorant then that I did not know any thing about tenure. So I did not bargain about the tenure at the time of appointment, even though all the other associate professors had tenure. I had to go through another tenure review two years later.
The set-back in my career led me to reorient my priority in life. I made up my mind that I was going to have my own agenda in life, not to be a prisoner of the academic position of certain institution. Freedom is more important. However, these set-backs of course were very upsetting and irritating. It is extremely important that you have an understanding and supportive wife, that I fortunately have. You have ups and downs, you make this plan or that, you become irritable and impatient. And your family suffer in the dark.
My former advisor Professor Kolsky had come to Brown permanently before I went to Brown in 1968. I sort of repay back his education to me, by doing my last experimental work in solid mechanics in 1970. Kolsky was a top experimentalist in the style of GI Taylor. In early 1980's, a Chinese visiting scholar came to Brown to study with him. He was greatly disappointed that Kolsky's equipment was not as fancy as the equipments in Shanghai. I told him that is exactly the greatness of Kolsky. Simple equipment to produce first class results.
I said that I was not a role-model for young colleagues. I was not on another aspect. I am not good in writing research proposals and I do not go to Washington to wine and dine with agency program chiefs. But it may not be just coincidental that I got my tenure and promotion exactly in those years I happened to get some grants. As Department Head, I was bound by my duty to encourage my colleagues to write proposals and to get grants. But I hate it myself. Of course there is a price you have to pay. Your salary increase would be lower than your colleagues and you may not have the summer salaries. For me, this gave me the full justification to spend summer months in China. We had no house, partly because we were poor. Here again, you need to have a supportive wife.
Then in 1990, we came to HKUST. It has been a most rewarding period for me. Not only that I came to know you, almost all of you I did not know before, but also it has been one of the most productive years for me, despite heavy administrative duties. I managed to have 6 books published, and together with colleagues and students, have made good progress in two original areas of study. We also worked together to set up the various options for undergraduate studies, its implementation and success are heart warming to me.
There are not that many departments of mathematics which house under one roof number theorists, statisticians and fluid dynamists. I think it is a good thing. But it is also difficult. It requires mutual respect and tolerance of difference in values and standards. We have so for been fairly harmoniously together. I hope we shall continue to be like this, hopefully even better.
This symposium, to have some of the colleagues to present their recent achievements, is great. This time it is for the sake of my retirement. I would suggest that it can be a regular annual affair. To have one third of colleagues plus one or two visitors to present their works each year. Furthermore, the material of presentation could be written up in the form of survey articles and then issued in printed form as an annual departmental publication. If we can maintain a high standard, it could become another Communication for Pure and Applied Mathematics.
DIN-YU HSIEH
10 June 1998
http://blog.sciencenet.cn/blog-352862-429455.html
上一篇:
趣说空泡(2):用空泡写字
下一篇:
国外学者的谦虚