2015年AGU秋季会上聆听了克林师兄的Birch讲座

岳中琦
在2015年12月14-18日,我前往美国旧金山,参加了2015年美国地球物理秋季年会(2015AGU Fall Meeting)。注册参加这次学术会议的人员有2万5千人。每人参会费用包括报告摘要评审选录费(65美元)、会议费(545美元)和会员费(50美元)。这些费不含早餐、午餐和晚餐。
在12月16日上午10:20到11:20,我聆听了师兄王克林的Birch讲座报告(图1)。他的报告题目是"Subduction Faults as We See Them in the 21st Century"(21世纪我们所见到俯冲带断裂)。讲座英文摘要见附件1。Birch讲座介绍见附件2。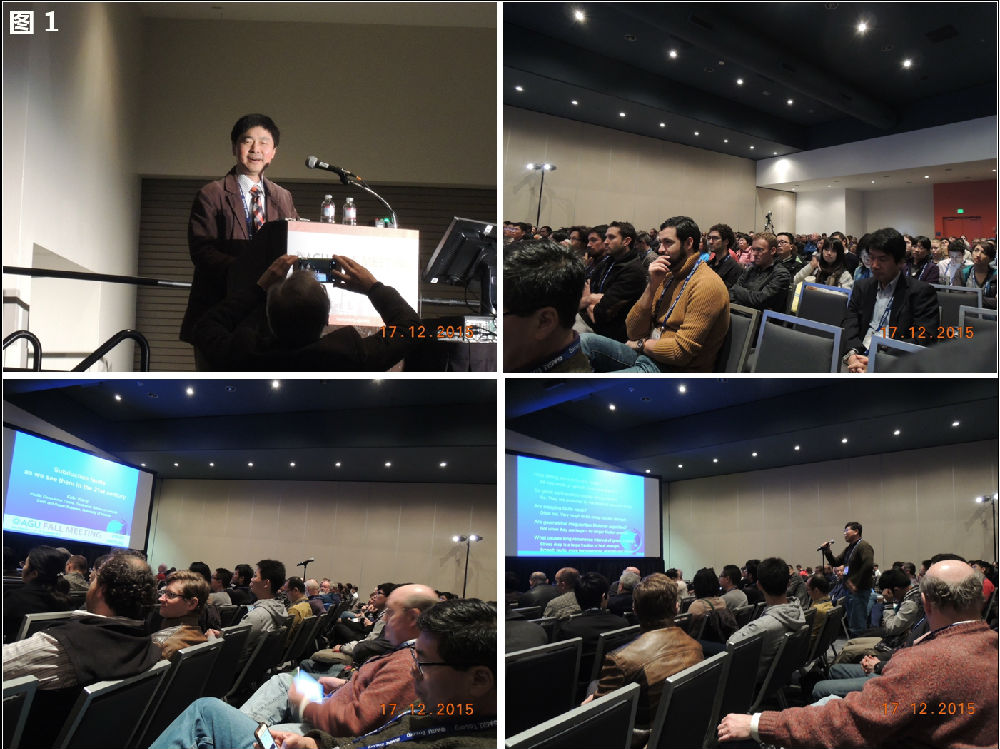 克林师兄在1982年毕业于北京大学地震地质专业,之后考上了王仁先生的硕士出国留学研究生。1989年获加拿大西安大略大学(University of Western Ontario)地球物理博士学位。之后,他一直在加拿大地质调查局太平洋地学中心工作,重点研究板块理论的环太平洋俯冲带构造、地震地质(参见附件3)。
在讲座中,克林师兄介绍、分析了自1900年以来,全球发生的震级大于或等于8.0的巨大地震。它们都位于板块理论的俯冲断裂带(图2)。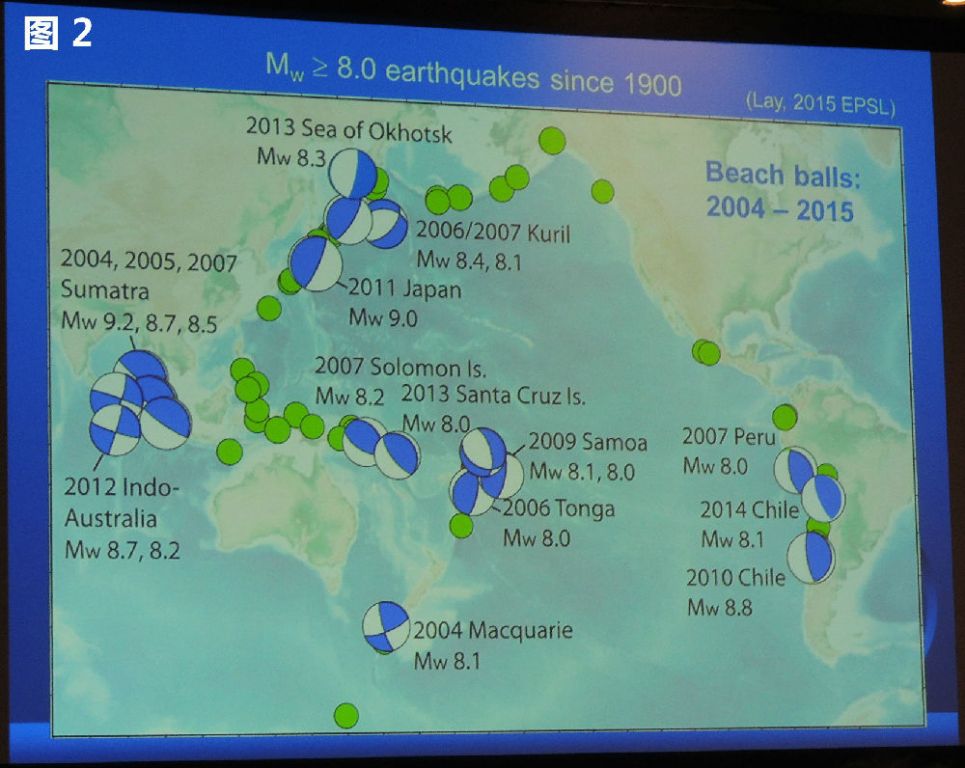 他进一步介绍、分析了这些发生巨大地震的俯冲带的各种物理力学现象和理论假说(图3)。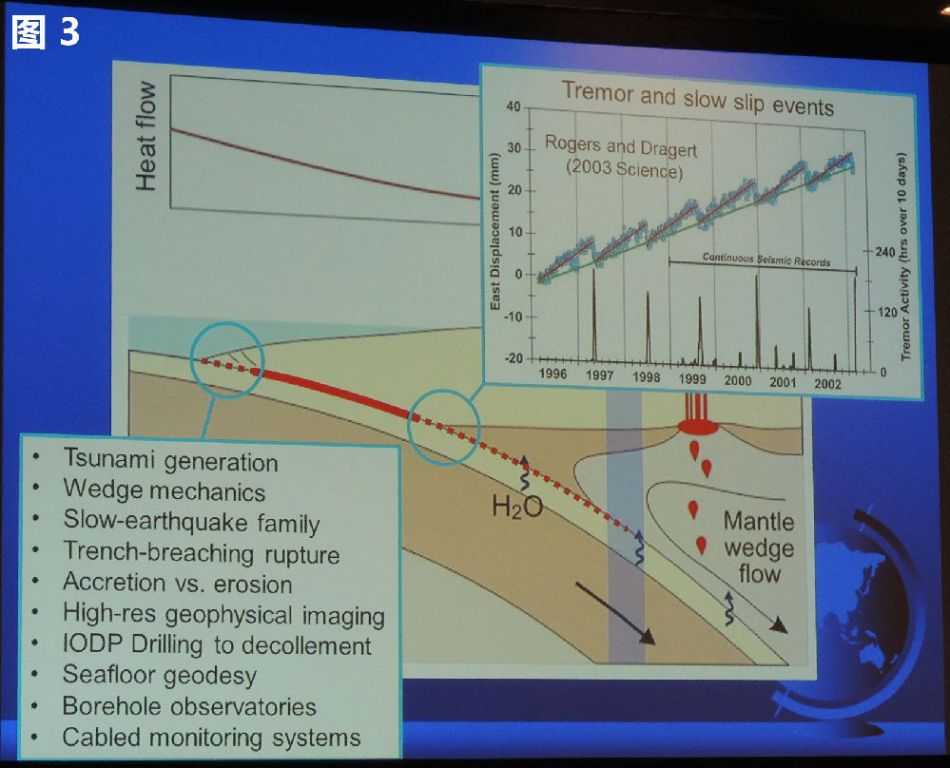 最后,他逐一论证和回答了图4所示的五个问题。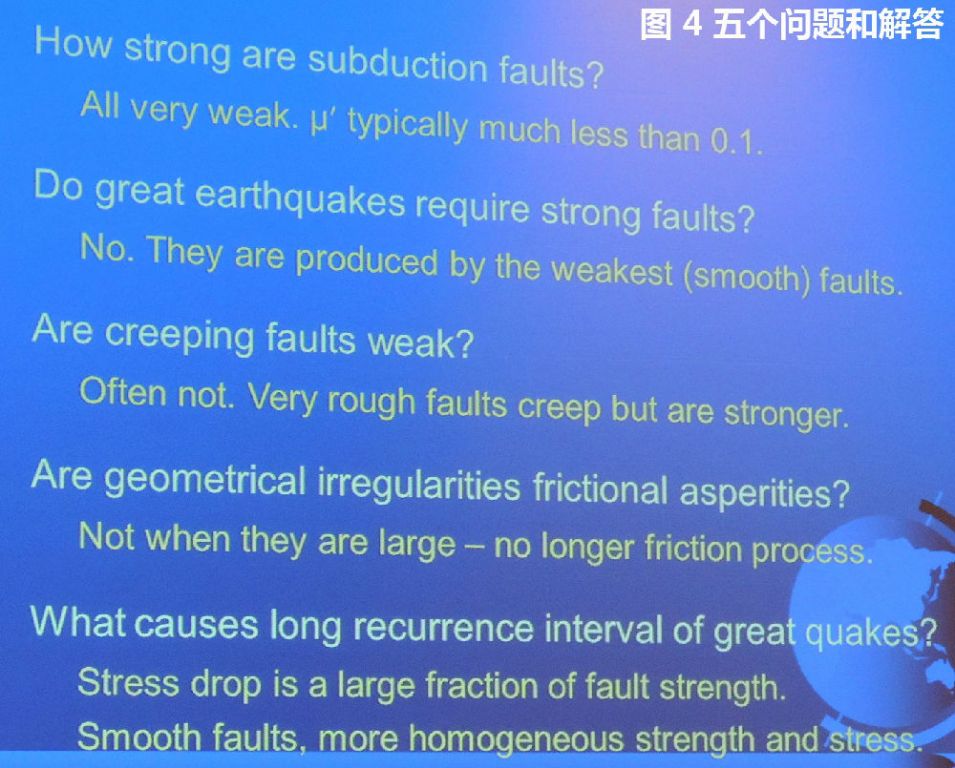 1)问:俯冲带断裂有多么强壮?答:都很低。它们的视摩擦系数通常远小于0.1(图5)。
2)问:巨大地震需要强壮断裂吗?答:不。巨大地震是由最弱(光滑)断裂产生的。
3)问:正在蠕动变形的断裂弱吗?答:一般不是。非常粗糙断裂能蠕动,但是较为强壮。
4)问:几何不规则是摩擦粗糙阻点吗?答:当它们很大时,不是。不再是摩擦过程。
5)问:什么东西导致了巨大地震的长期重复发生的时间间隔?答:应力降是断裂强度的一大部分。光滑断裂,更均匀强度和应力。

自1978年,克林师兄认真、踏实地从事地震构造、地球物理和力学的学习和研究将近40年了。他是公认的北大高才生,是我最尊敬和敬佩的地震地质学者。当年在北大上研究生时,我得到过他自己的留学讲学金的美元资助,交了报考托福TOEFL和GRE的费用。
他荣获AGU邀请做2015年Birch讲座是他多年努力的结果。衷心祝愿他获得更多的成就、荣誉和奖励。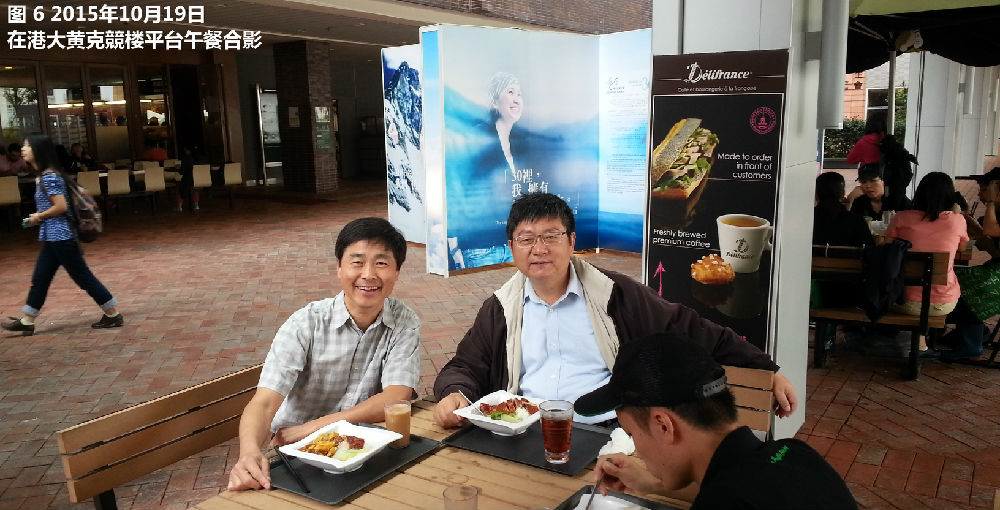 我可以肯定,他是站在板块与地震研究的最高峰,提出和解答了上述五个问题。这代表了现在地震和板块研究与认知的最高水平。
2016年1月14日18:07写成于香港大学黄克兢楼办公室
附件1
Subduction Faults as We See Them inthe 21st Century
Kelin Wang,Pacific Geoscience Centre, Geological Survey of Canada, Sidney, BC, Canada
Abstract
Major advances ingeophysical monitoring and field and laboratory studies have reshaped our viewsof subduction faults over the past 15 years. The beginning of the 21st centurysaw the discovery of Episodic Tremor and Slip, followed by the discovery of opposingmotion of coastal and inland GPS sites decades after the giant megathrustearthquakes of Chile (1960) and Alaska (1964).
The burst ofgreat earthquakes since 2004 caused tragic losses, but the resultant massiveobservational data greatly improved our knowledge. Today, we know that allsubduction faults are extremely weak, usually represented by apparent frictioncoefficients lower than 0.05. Smooth faults that have produced giantearthquakes are the weakest. Geometrical irregularities such as subductingseamounts give rise to stronger faults, but these faults creep.
Rupture-zoneaverage stress drops in great earthquakes are as small as 2 – 5 MPa but arestill a significant fraction of the fault strength. Therefore, it takes time torebuild fault stress to the level of failure, consistent with great earthquakeshaving long recurrence intervals. The process of stress rebuilding is stronglyaffected by the viscoelastic mantle rheology.
Because ofviscoelastic stress relaxation, most of the forearc area continues to moveseaward following a great earthquake but gradually reverses direction to movelandward. Advanced monitoring in the new century has revealed a wide range ofslip behaviors of the shallowest part the megathrust, such as hugetrench-breaching coseismic slip, slip that generates large tsunamis but notstrong shaking, postseismic creep, and episodic slow slip. Rapidly expandingefforts of seafloor geodesy and seismology and ocean drilling allow us to studythese phenomena in close range.
The deeper partof subduction faults where the slab is in contact with the serpentinizedupper-plate mantle is understood to be lined with weak hydrous minerals such astalc that cause slab-mantle decoupling but retard seismic slip.
With increasingdepth, frictional slip gives way to viscous shear. At a depth around 70-80 km,the subduction fault is terminated. Below this depth, the mantle materialtravels with the slab to form mantle-wedge corner flow, as inferred fromforearc heat flow observations and temperature conditions for arc volcanism.
附件2:
Birch Lecture
The Francis BirchLecture honors the life and work of the renowned geophysicist, who work wasconcerned chiefly with elasticity, phase relations, thermal properties and heatflow, and the composition of the Earth's interior. This Tectonophysics sectionnamed lecture is presented annually at the AGU Fall Meeting, held in SanFrancisco, Calif.
附件3
地质学家王克林简介
现为资深研究科学家,兼加拿大维多利亚大学教授。他主要从事俯冲带动力学及地震和海啸灾害研究,研究领域涉及俯冲带的变化过程、地震力学、岩石圈应力、大地热流和岩石圈热结构、地壳的热和流体作用等。已正式发表论文150余篇,其中在Nature和Science上发表9篇,过去5年来(2010-2014年)在Nature和Science上以第一作者或通讯作者发表5篇论文。先后担任加拿大地球物理联合会秘书长和IPACES(中国地球科学促进会)主席,包括JGR和Geology在内的多种国际地学期刊编委,现任Tectonophysics主编。2015年5月,获得以板块构造理论创立者之一命名的图佐·威尔逊奖(J.Tuzo Wilson Medal)。请参见http://baike.baidu.com/item/%E7%8E%8B%E5%85%8B%E6%9E%97/18374684。
Dr. Kelin Wang isa senior Research Scientist with the Geological Survey of Canada. He obtainedhis B.Sc. at Peking University, China, and PhD at the University of WesternOntario, Canada. Most of his research is on geodynamics of subduction zones andrelated earthquake and tsunami hazards, but he has also studied other thermal,mechanical, and hydrogeological processes in Earth's lithosphere. He is anAdjunct Professor at the University of Victoria and an Honorary or GuestProfessor for several other scientific institutions. He is Editor-in-Chief forscientific journal Tectonophysics and was or still is on the Editorial Boardsof a number of other journals such as Journal of Geophysical Research, Geology,Journal of Geodynamics, Science in China (Earth Science), and EarthquakeScience. He was formerly the Secretary of the Canadian Geophysical Union andChair of the International Professionals for the Advancement of Chinese EarthSciences. In 2015, he was awarded the J. Tuzo Wilson Medal by the CanadianGeophysical Union.
http://blog.sciencenet.cn/blog-240687-950405.html
上一篇:
2014年春节给北京老师们拜年的感悟
下一篇:
世界上第二个火山成因假说的出世