Call for Papers

Special Issue on 2018 IEEE Intelligent Vehicles Symposium (IV 2018)
IEEE Transactions on Intelligent Vehicles
SCOPE
The 2018 IEEE Intelligent Vehicles Symposium (IV 2018) was held from June 26-30 at Changshu, Jiangsu, China. IV 2018 is a premier annual technical forum sponsored by the IEEE Intelligent Transportation Systems Society (ITSS). It brings together researchers and practitioners worldwide to share and discuss the latest advances in theory and technology related to intelligent vehicles.
The purpose of this special issue is to take the opportunity to introduce the latest and outstanding research work that has been presented at IV 2018, where a record number of 603 submissions from 34 different countries were received.
SUBMISSION GUIDELINES
• This special issue is open for submissions to all expanded/improved papers from IV 2018. However, all submitted papers should NOT have an overlap that exceeds 30% with the IV 2018 conference papers; if violated, the paper might be returned without review.
• There will be NO submission deadline extensions.
• All submitted papers will go through one full review cycle subject to T-IV standards. Papers that need more than one full review cycle may be transferred to the regular issue of T-IV.
TOPICS OF INTEREST
This special issue is for studies which introduce original research, advancements, developments, and experiments pertaining to intelligent vehicles. The topics of interest include and but are not limited to the following:

• Advanced driver assistance systems
• Advanced sensing and perception
• Artificial intelligence technologies
• Automated and connected vehicles
• Human factors and driver personalization
• Human machine interaction

• Intelligent electrified vehicles
• Navigation and localization systems
• Parallel driving technologies
• Testing and assessment of intelligent vehicles
• Vehicle dynamics and control
• Vehicle hardware /software systems

IMPORTANT DATES
Submission deadline: September 15, 2018
Notification of the first decision: November 30, 2018
First revision submission deadline: January 31, 2019
Notification of the final decision: March 31, 2019
Final manuscript (camera ready) submission deadline: April 15, 2019
Issue of publication: June 2019
Editor-in-Chief
Prof. Umit Ozguner, the Ohio State University, USA
Guest Editors
Prof. Lingxi Li (Corresponding editor), Indiana University-Purdue University Indianapolis, USA,
LL7@iupui.edu
Prof. Fei-Yue Wang, Institute of Automation, Chinese Academy of Sciences, China, feiyue@ieee.org
Prof. Petros Ioannou, University of Southern California, USA, ioannou@usc.edu
Prof. Miguel Sotelo, University of Alcala, Spain, miguel.sotelo@uah.es
Prof. Nanning Zheng, Xi'an Jiaotong University, China, nnzheng@mail.xjtu.edu.cn
Prof. Li Li, Tsinghua University, China, li-li@mail.tsinghua.edu.cn
Prof. Dongpu Cao, University of Waterloo, Canada, dongpu.cao@uwaterloo.ca
Prof. Long Chen, Sun Yat-Sen University, China, chenl46@mail.sysu.edu.cn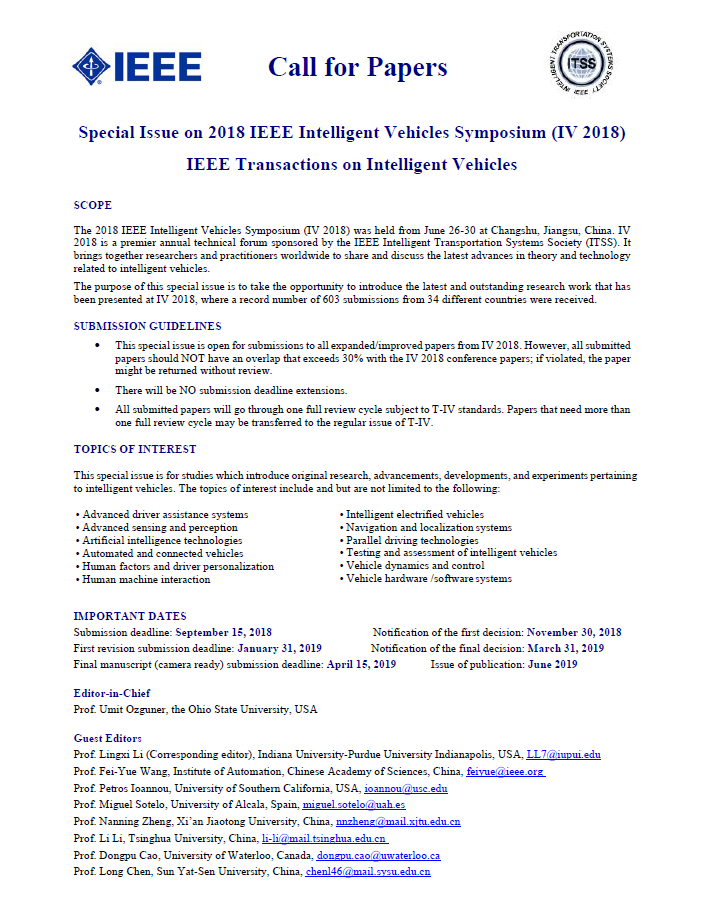 http://blog.sciencenet.cn/blog-2374-1131655.html
上一篇:
[转载]【CCHI 2018】群贤毕至 共探认知科学与人工智能相关领域发展
下一篇:
[转载]【钱学森讲座】IEEE ITSM主编 Ljubo Vlacic教授即将做客