发表期刊:Energy Environmental Science
论文题目:Current-density dependence of Li2S/Li2S2 growth in lithium–sulfur batteries
论文作者:Long Kong, Jin-Xiu Chen, Hong-Jie Peng, Jia-Qi Huang, Wancheng Zhu, Qi Jin, Bo-Quan Li, Xi-Tian Zhang, Qiang Zhang
发表日期:October 01, 2019
论文摘要:Lithium–sulfur (Li–S) batteries with a high theoretical energy density based on multi-electron redox reactions were strongly considered. The lithium disulfide/sulfide (Li2S2/Li2S, denoted as Li2S1/2) precipitation is critical to achieve high sulfur utilization. However, the kinetic effect on Li2S1/2 precipitation in a working battery has been rarely investigated. Herein, the current-density-dependent Li2S1/2 nucleation/growth was explored and such a dependence served as the guiding principle for the construction of high-sulfur-loading/content Li–S batteries. Generally, the Li2S1/2 nucleation density is proportional to two-third the power of the current density and the shift from a high to low current density alters the Li2S1/2 precipitation pathway from surface deposition to solution-mediated growth. The in-solution growth rate was found to be restricted by the mobilities of polysulfide intermediates and Li2S1/2 in conventional ether electrolytes. The rationalized guideline directed the design of a lightweight, high-surface-area, and open-pore conductive framework for sulfur cathodes, which enabled an extremely high sulfur content of 93.4 wt% in the whole electrode and a high capacity (1269 mA h g−1). The present work affords a kinetic understanding of the liquid–solid conversion in working Li–S batteries and optimization schemes for practical operation parameters.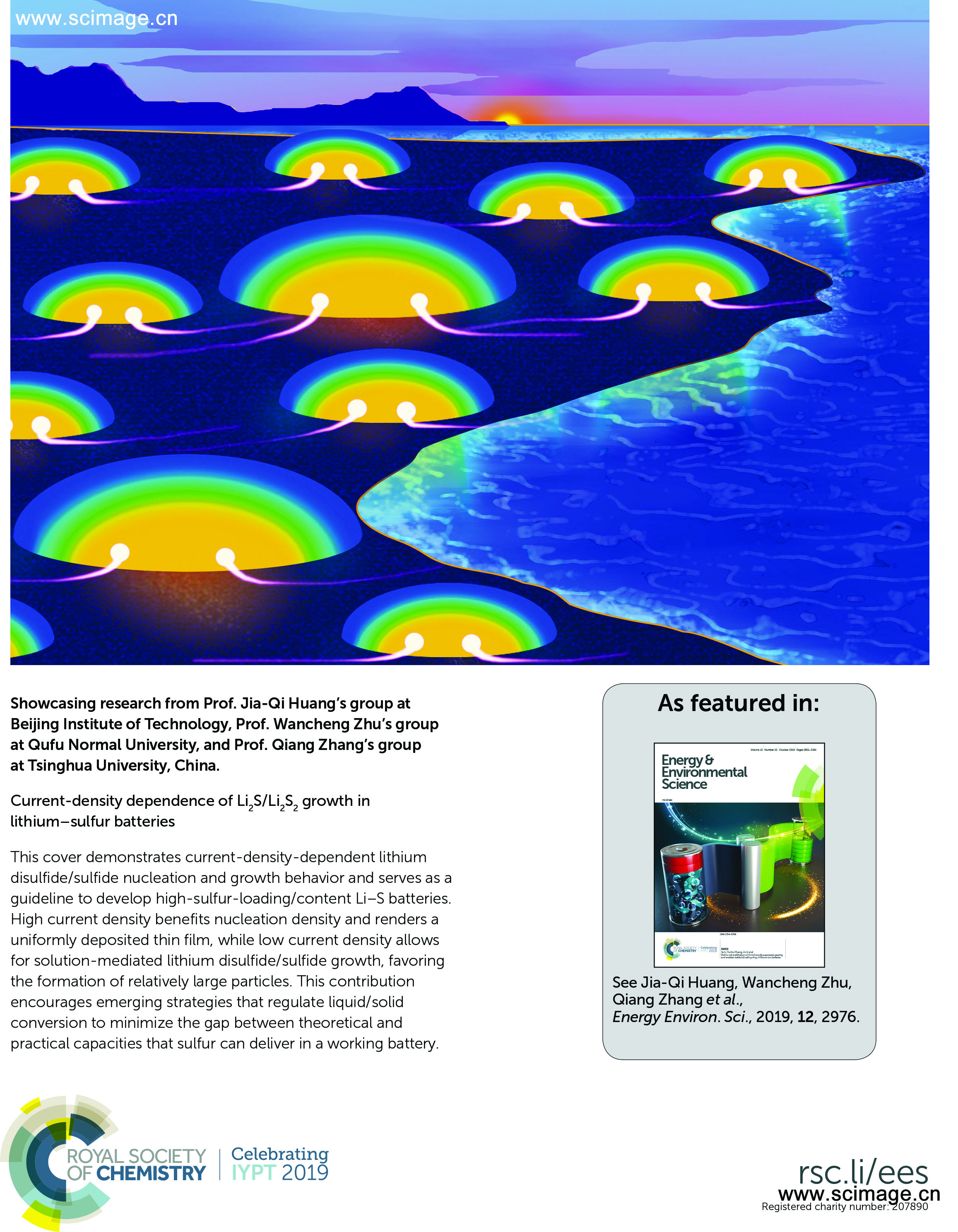 发表期刊:Small methods
论文题目:Analog–Digital Hybrid Memristive Devices for Image Pattern Recognition with Tunable Learning Accuracy and Speed
论文作者:Ya Lin, Cong Wang, Yanyun Ren, Zhongqiang Wang, Haiyang Xu, Xiaoning Zhao, Jiangang Ma, Yichun Liu
发表日期:October 16, 2019
论文摘要:Brain‐inspired memristive artificial neural networks (ANNs) have been identified as a promising technology for pattern recognition tasks. To optimize the performance of ANNs in various applications, a recognition system with tunable accuracy and speed is highly desirable. A single WO3−x‐based memristor is presented in which analog and digital resistive switching (A‐RS and D‐RS) coexist according to a selectively executed forming process. The A‐RS and D‐RS mechanisms can be attributed to the modulation of the Schottky barrier on the interface and the formation/rupture of conducting filaments inside the film, respectively. More importantly, a new analog–digital hybrid ANN is developed based on the coexistence of A‐RS and D‐RS in the WO3−x memristor, enabling tunable learning accuracy and speed in pattern recognition. The spike‐timing‐dependent plasticity learning rules, as a learning base for image pattern recognition, are demonstrated using A‐RS and D‐RS devices with obviously different fluctuations and rates of change. The learning accuracy/speed can be improved by increasing the proportion of A‐RS/D‐RS in the crossbar array. A convenient method is provided for selecting an optimized pattern recognition scheme to meet different application situations.
发表期刊:Chemical Reviews

论文题目:Nanowires for Electrochemical Energy Storage
论文作者:Guangmin Zhou, Lin Xu, Guangwu Hu, Liqiang Mai, Yi Cui
发表日期:October 23, 2019
论文摘要:Nanomaterials provide many desirable properties for electrochemical energy storage devices due to their nanoscale size effect, which could be significantly different from bulk or micron-sized materials. Particularly, confined dimensions play important roles in determining the properties of nanomaterials, such as the kinetics of ion diffusion, the magnitude of strain/stress, and the utilization of active materials. Nanowires, as one of the representative one-dimensional nanomaterials, have great capability for realizing a variety of applications in the fields of energy storage since they could maintain electron transport along the long axis and have a confinement effect across the diameter. In this review, we give a systematic overview of the state-of-the-art research progress on nanowires for electrochemical energy storage, from rational design and synthesis, in situ structural characterizations, to several important applications in energy storage including lithium-ion batteries, lithium-sulfur batteries, sodium-ion batteries, and supercapacitors. The problems and limitations in electrochemical energy storage and the advantages in utilizing nanowires to address the issues and improve the device performance are pointed out. At the end, we also discuss the challenges and demonstrate the prospective for the future development of advanced nanowire-based energy storage devices.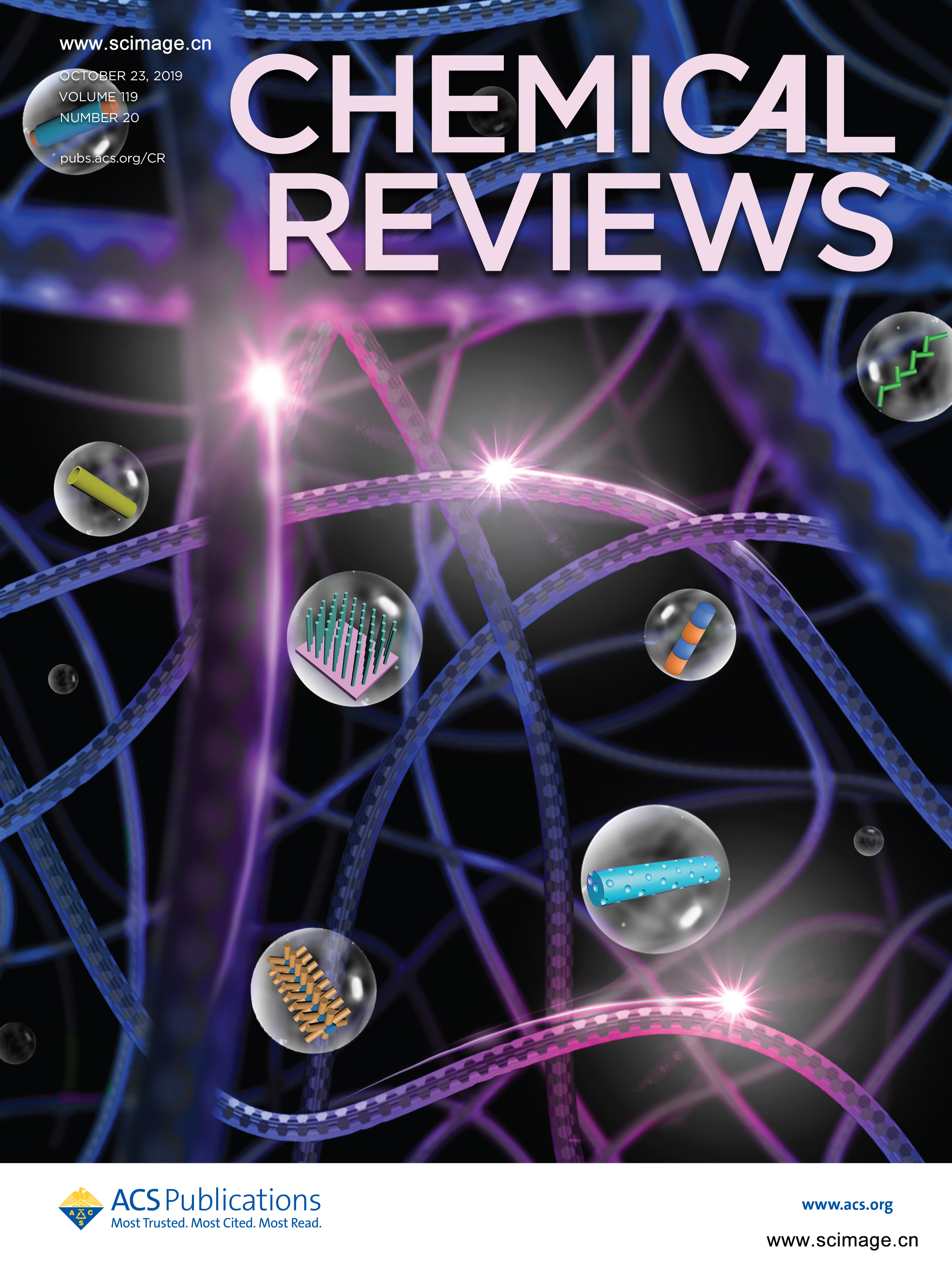 发表期刊:Chemical research in toxicology
论文题目:Advances in Toxicological Research of the Anticancer Drug Cisplatin
论文作者:Luyu Qi, Qun Luo, Yanyan Zhang, Feifei Jia, Yao Zhao, Fuyi Wang
发表日期:August 19, 2019
论文摘要:Cisplatin is one of the most widely used chemotherapeutic agents for various solid tumors in the clinic due to its high efficacy and broad spectrum. The antineoplastic activity of cisplatin is mainly due to its ability to cross-link with DNA, thus blocking transcription and replication. Unfortunately, the clinical use of cisplatin is limited by its severe, dose-dependent toxic side effects. There are approximately 40 specific toxicities of cisplatin, among which nephrotoxicity is the most common one. Other common side effects include ototoxicity, neurotoxicity, gastrointestinal toxicity, hematological toxicity, cardiotoxicity, and hepatotoxicity. These side effects together reduce the life quality of patients and require lowering the dosage of the drug, even stopping administration, thus weakening the treatment effect. Few effective measures exist clinically against these side effects because the exact mechanisms of various side effects from cisplatin remain still unclear. Therefore, substantial effort has been made to explore the complicated biochemical processes involved in the toxicology of cisplatin, aiming to identify effective ways to reduce or eradicate its toxicity. This review summarizes and reviews the updated advances in the toxicological research of cisplatin. We anticipate to provide insights into the understanding of the mechanisms underlying the side effects of cisplatin and designing comprehensive therapeutic strategies involving cisplatin.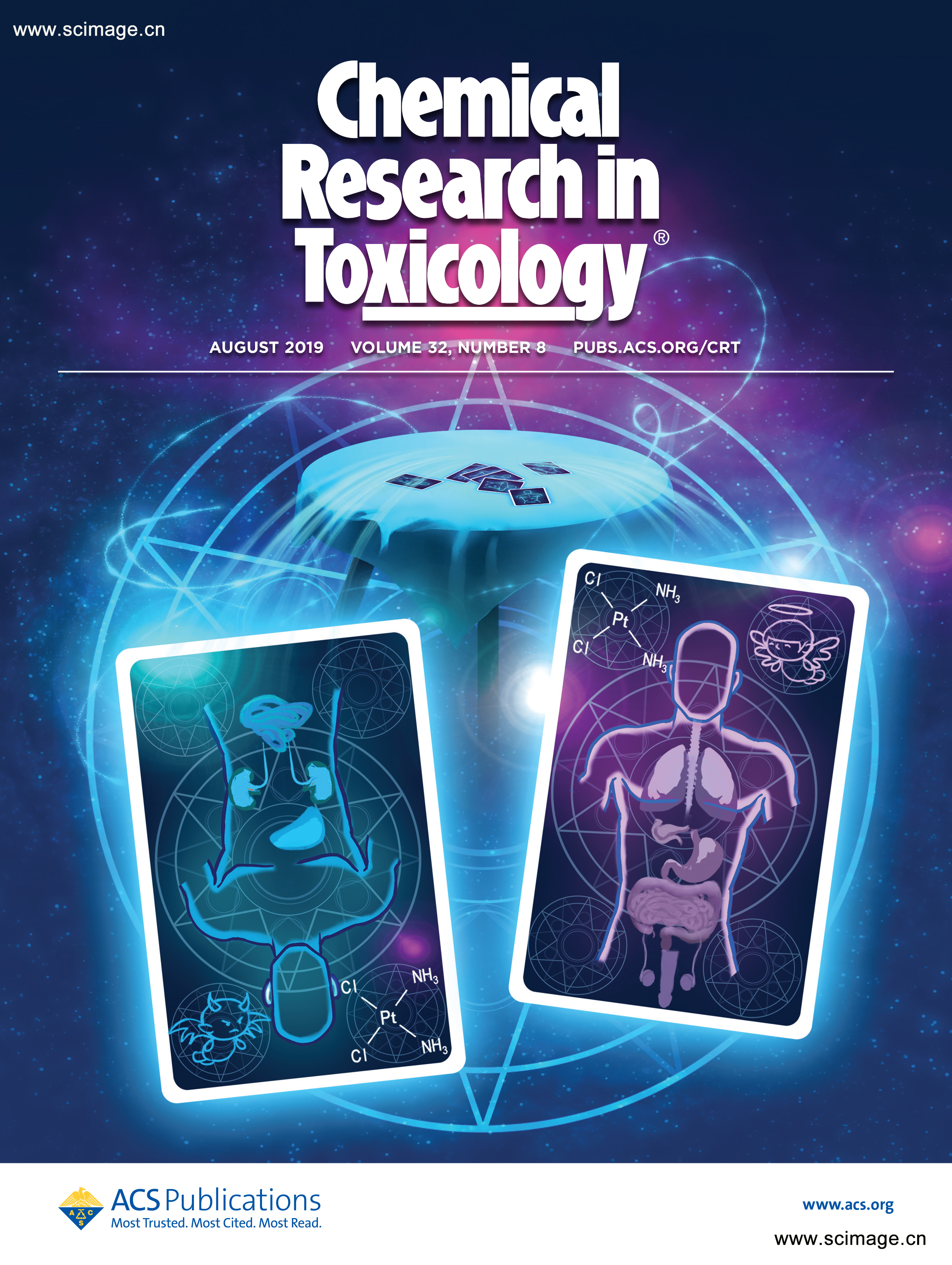 发表期刊:ACS Materials Letters
论文题目:Correlating the Peukert's Constant with Phase Composition of Electrode Materials in Fast Lithiation Processes
论文作者:Yanyan Zhang, Yuxin Tang, Jiyang Deng, Wan Ru Leow, Huarong Xia, Zhiqiang Zhu, Zhisheng Lv, Jiaqi Wei, Wenlong Li, Clas Persson, Oleksandr I. Malyi, Markus Antonietti, Xiaodong Chen
发表日期:November 04, 2019
论文摘要:The electrochemical performance of energy storage devices decreasing with the increase of charging/discharging rates is described as the Peukert's effect. To minimize this effect, the reduction of the Peukert's constant towards the ideal value of 1.0 is needed. Herein, for the first time, we reveal a correlation between the Peukert's constant and the phase composition of electrode materials in lithium-ion batteries (LIBs). As a proof-of-concept, a parabola-like correlation is observed in the anatase/TiO2(B) electrode with a significant reduction in the Peukert's constant from 2.15 to 1.20, when the content of anatase phase increases from 0% to 22%. This corresponds to a capacity enhancement of about three times from 42.2 to 131.5 mAh g–1 at a current density of 12.0 A g–1. The boosted charge-transfer kinetics in the composite electrode, relative to that of the single component electrode, is the cause for the reduction in the Peukert's constant. Theoretical calculations well support the cooperative effect of maximizing both electronic conductivity and Li-ion diffusivity in the composite electrode. Our present findings provide a new way for reducing the Peukert's constant in LIBs via manipulating the materials composition, which constitutes a generalized solution towards the improved rate-performance in electrochemical reactions.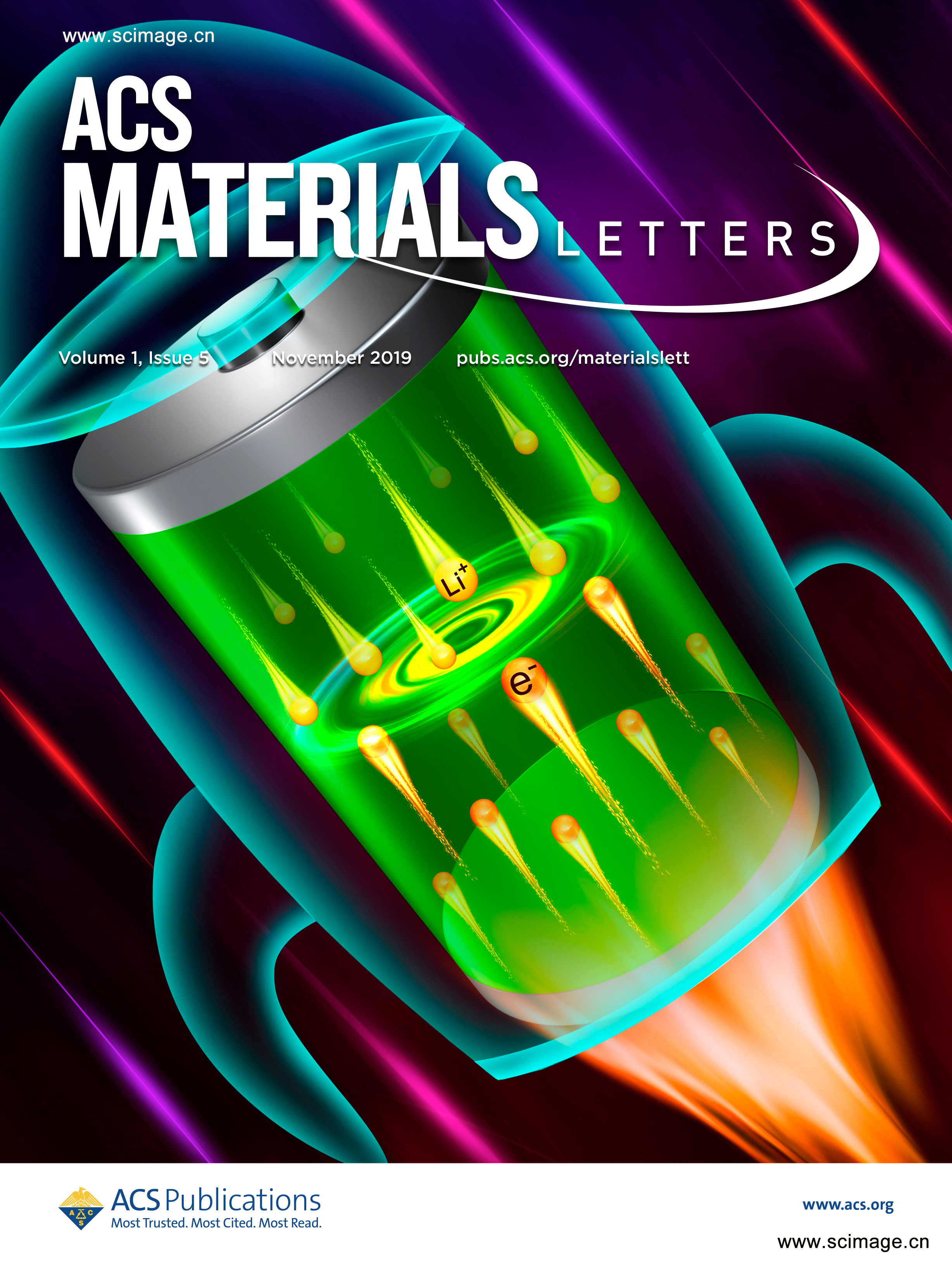 发表期刊:ACS Sustainable Chemistry & Engineering
论文题目:Highly Dispersed Palladium Nanoparticles on Carbon-Decorated Porous Nickel Electrode: An Effective Strategy to Boost Direct Ethanol Fuel Cell up to 202 mW cm–2
论文作者:Xianda Sun, Yinshi Li, Ming-Jia Li
发表日期: July 01, 2019
论文摘要:The low performance and low catalyst utilization of electrodes have been challenging issues for anion-exchange membrane direct liquid fuel cells (AEM DLFCs). Herein, a high-utilization and high-activity three-dimensional electrode that enables palladium nanoparticles to be directly dispersed on carbon-decorated porous nickel is reported by a facile and well-controlled fabricating method. The as-synthesized Pd@C–Ni electrode possesses an electrochemically active surface area as high as 121.8 m2 g–1, 1 order of magnitude higher than conventional Pd/C@CP electrode. The electro-oxidation of ethanol in Pd@C–Ni shows a low onset potential (0.3 V) and a high peak current density (0.16 A cm–2) in alkaline environment. When Pd@C–Ni acts as anode in an AEM direct ethanol fuel cell (DEFC), the peak power density up to 202 mW cm–2 is achieved at 60 °C, representing the best performance for oxygen-based AEM DEFCs reported in the open literature under the same operating temperature. Additionally, a stable 16 h discharge at 100 mA cm–2 demonstrates its good stability. This work presents an effective strategy for high-performance DLFCs.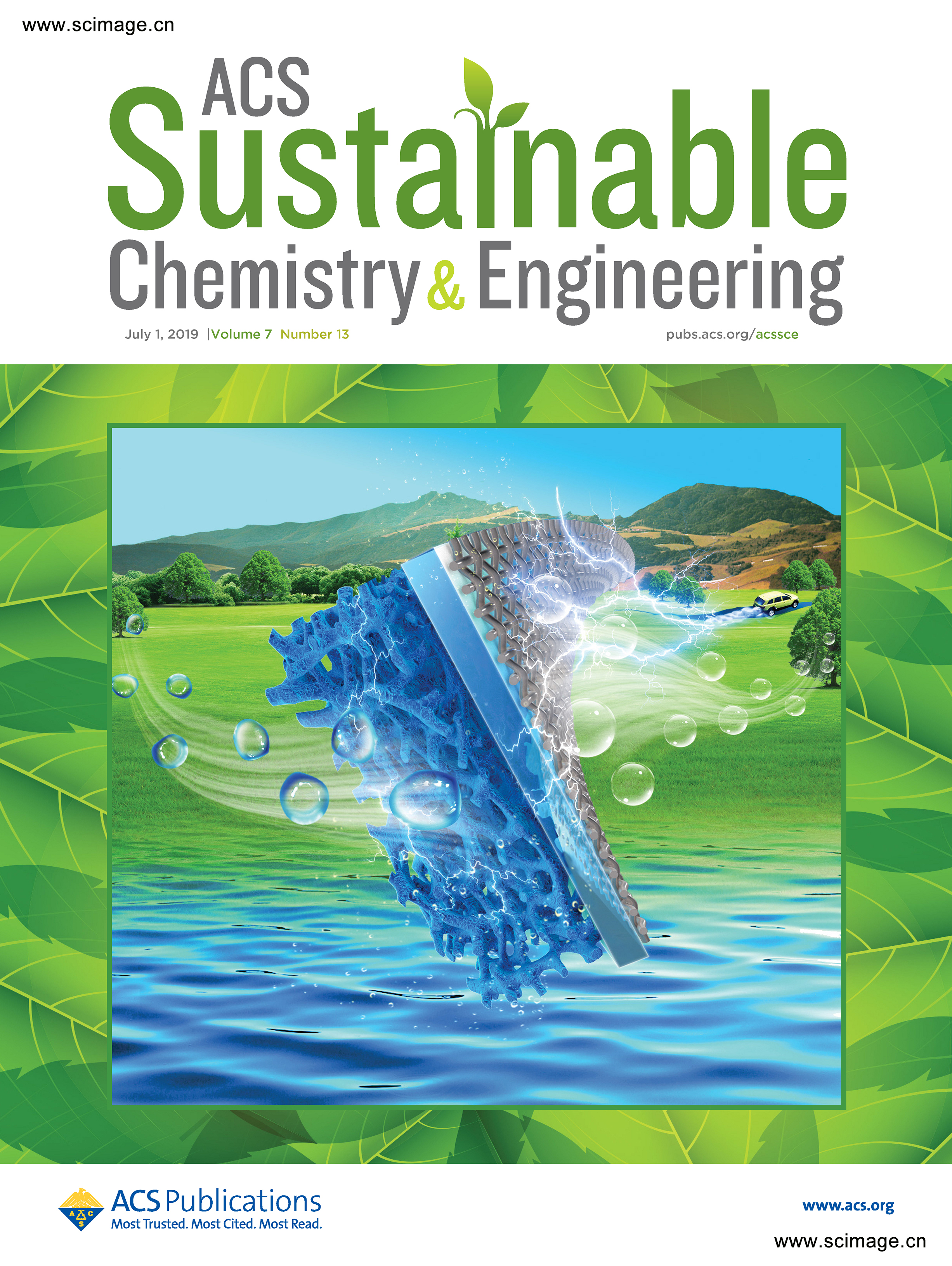 发表期刊:ACS Sustainable Chemistry & Engineering
论文题目:Effective Pretreatment of Heavy Metal-Contaminated Biomass Using a Low-Cost Ionic Liquid (Triethylammonium Hydrogen Sulfate): Optimization by Response Surface Methodology–Box Behnken Design
论文作者:Wafa Dastyar, Ming Zhao, Wenyi Yuan, Hui Li, Zhao Jia Ting, Hosein Ghaedi, Hairong Yuan, Xiujin Li, Wei Wang
发表日期: July 01, 2019
论文摘要:Recently, dealing with generated heavy metal-contaminated biomasses (HMCBs) harvested from phytoextraction process has drawn increasing attention. In this study, the feasibility of an HMCB (willow) pretreatment using a low-cost ionic liquid (IL), namely, triethylammonium hydrogen sulfate [TEA][HSO4], is investigated to remove the high contents of HMs prior to further thermochemical and biological valorization. The operating variables were temperature (75–105 °C), IL:biomass (10:1–30:1) ratio, and time (4–8 h) with constant feedstock particle size (0.35 mm). According to results obtained from response surface methodology–Box Behnken design (RSM–BBD), the optimum conditions of the IL-based pretreatment of HMCB for maximum HMs' removal are temperature, 93 °C; IL:biomass ratio, 30:1; and time, 7.12 h. Under the optimum conditions, the IL is found to solubilize lignin and hemicellulose respectively about 70.54% and 92.56%; and subsequently, effective removal of HMs from HMCB is obtained (Cu, 100%; Zn, 88.77%; Mn, 79.70%; Fe, 73.11%; Cd, 70.42%; Al, 34.53%; and Cr, 18.17%), while Pb removal is negligible. The average amount of confidence intervals of developed models is ~95%, and generally, the ratio of IL:biomass shows a higher effect on the efficiency of biomass fractionation and HMs' removal, compared with temperature and time; however, interactions between the operating parameters are negligible.​
静远嘲风(SCimage)是专注于学术研究领域的艺术创作机构,用唯美的艺术诠释科研是嘲风的目标。公司主要提供论文封面设计、论文配图设计、科研动画开发设计及科研产品深度包装等服务;主要服务对象为中国科学院,中国军事科学院,中国医学科学院,中国农业科学院,以及国内外各大高校科研机构,科技型研发企业以及从事学术研究和高等教育的研究人员。静远嘲风,创立于2007年,以多学科背景为出发点,以独到的切入点深入探索科研领域的艺术表达方式,是国内科研可视化的资深践行者与领头羊,多年来为生物学、微生物学、化学、化工、医学、环境学等研究方向完成数千幅专业作品,协助上千名科研工作者完成封面论文发表。
http://blog.sciencenet.cn/blog-575129-1212183.html
上一篇:
2019年10月嘲风作品集(二)
下一篇:
2019年11月嘲风作品集(二)