发表期刊:Small
论文题目:Nanolization: Facile Nanolization Strategy for Therapeutic Ganoderma Lucidum Spore Oil to Achieve Enhanced Protection against Radiation‐Induced Heart Disease
论文作者:Chengli Dai, Lizhen He, Bin Ma, Tianfeng Chen
发表日期:September 4, 2019
论文摘要:In article number 1902642, Tianfeng Chen and co‐workers demonstrate a facile strategy for the fabrication of a hydrophobic Ganoderma lucidum spore oil nanosystem to realize good water solubility, and also shed light on their cardiac protection and action mechanisms against X‐ray irradiation–induced disease.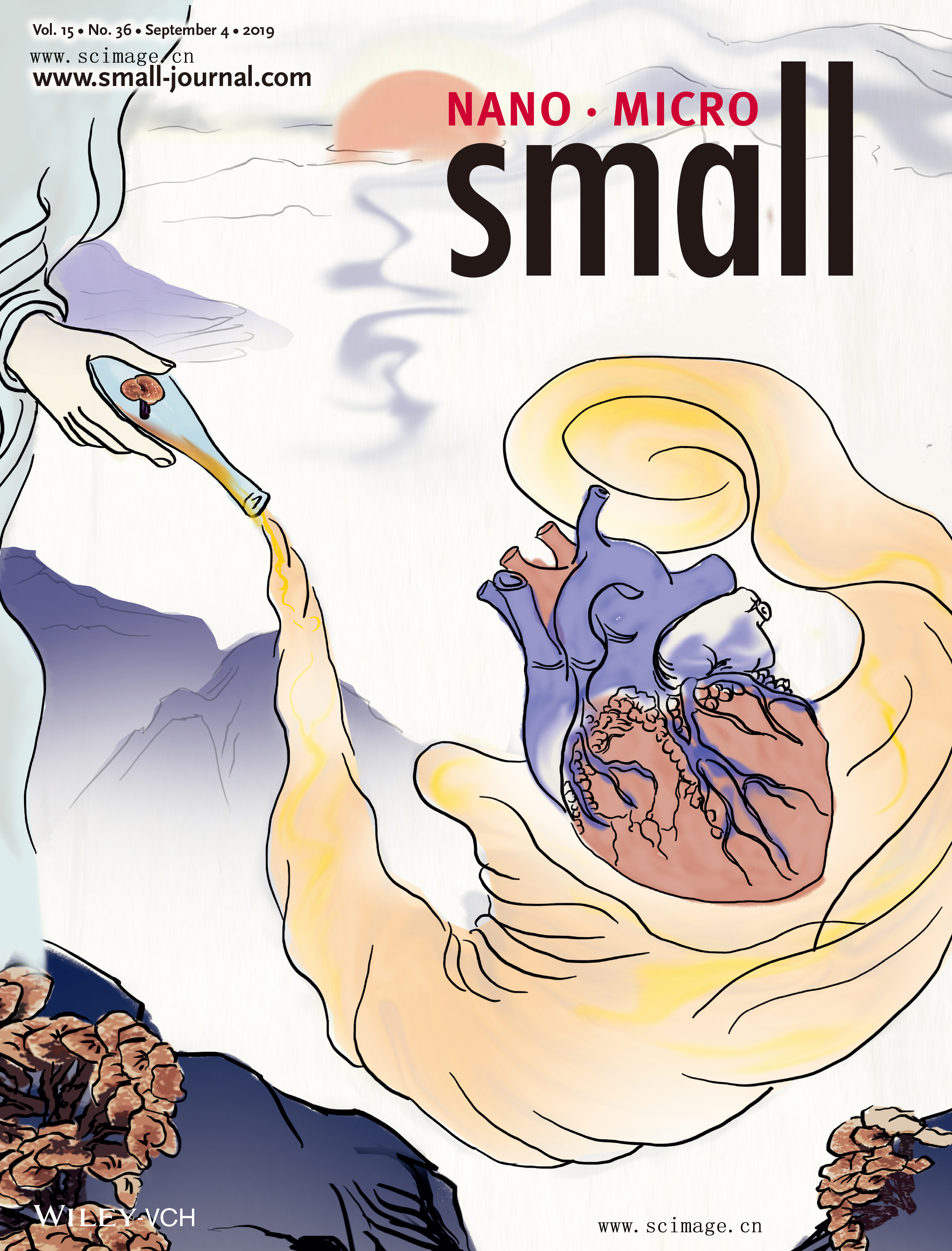 发表期刊:Small
论文题目:Field‐Effect Transistors: A Facile and Effective Method for Patching Sulfur Vacancies of WS2 via Nitrogen Plasma Treatment
论文作者:Jianfeng Jiang, Qinghua Zhang, Aizhu Wang, Yu Zhang, Fanqi Meng, Congcong Zhang, Xianjin Feng, Yuanping Feng, Lin Gu, Hong Liu, Lin Han
发表日期:September 4, 2019
论文摘要:In article number 1901791, Lin Han, Hong Liu, Lin Gu, and co‐workers present a facile and effective defects‐patching approach via nitrogen plasma doping for inevitable vacancies in transition metal dichalcogenides, which opens up new opportunities for the use of high‐performance 2D devices in practical electronic applications. In the cover, the five‐color stone in the hands of Nuwa refers to the nitrogen atom.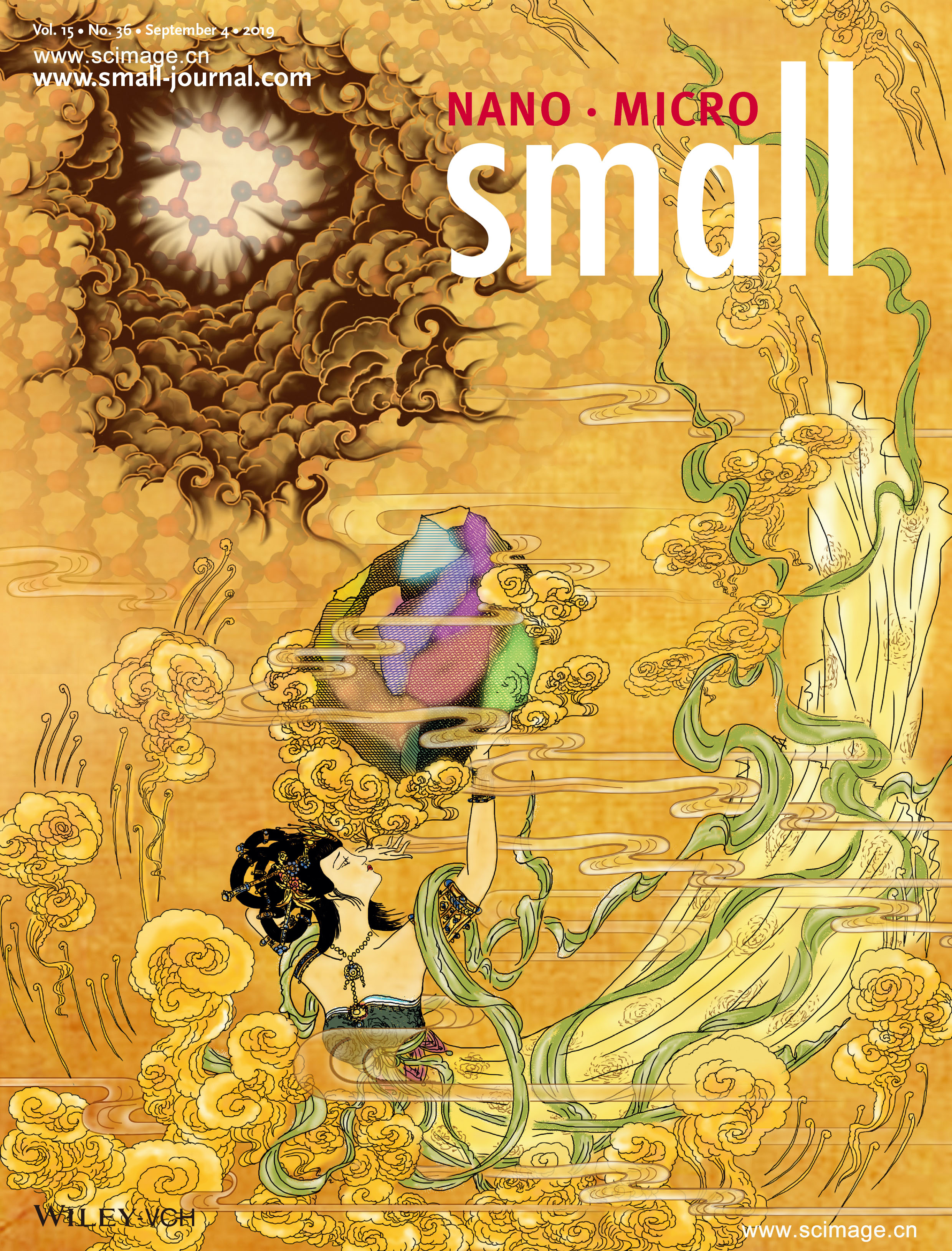 发表期刊:Small methods
论文题目:Lithium Metal Anodes: Uniform Lithium Nucleation Guided by Atomically Dispersed Lithiophilic CoNx Sites for Safe Lithium Metal Batteries
论文作者:He Liu, Xiang Chen, Xin‐Bing Cheng, Bo‐Quan Li, Rui Zhang, Bin Wang, Xiao Chen, Qiang Zhang
发表日期:September 11, 2019
论文摘要:Lithium‐metal anodes are strongly considered as the high capacity electrodes for next‐generation high‐energy‐density batteries. In article number 1800354, Qiang Zhang and co‐workers describe atomically dispersed lithiophilic CoNx sites (wonderful flute created by the artist) to guide Li (the animals) nucleation. This contributes a remarkable electrochemical performance of uniform Li plating on the anode surface in a working cell.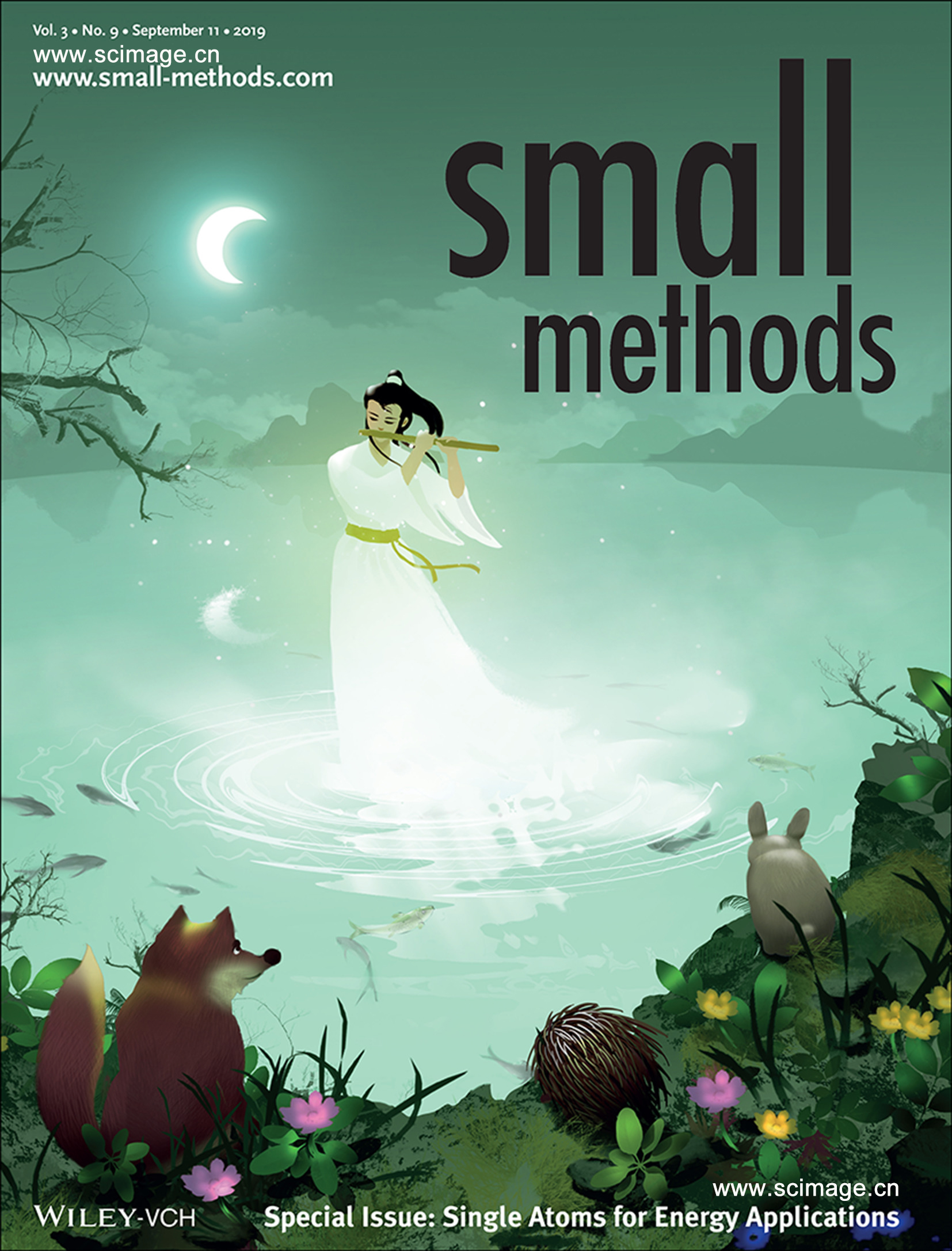 发表期刊:Journal of Materials Chemistry A
论文题目:A multi-shelled V2O3/C composite with an overall coupled carbon scaffold enabling ultrafast and stable lithium/sodium storage
论文作者:Yutong Li, Su Zhang, Shitong Wang, Jin Leng, Caihua Jiang, Xiaowei Ren, Zhongtai Zhang, Yong Yang, Zilong Tang
发表日期:September 7, 2019
论文摘要:Designing multi-shelled structures is an efficient way to improve the rate performance and cycle stability of transition metal oxides for lithium and sodium storage. However, the sluggish electron transport kinetics caused by the lack of overall conductive networks especially for the inner shells drastically restricts their high-power ability. Herein, a novel multi-shelled V2O3/C composite with an in-built overall carbon scaffold coupled on each of the porous V2O3 thin shells was developed through a simple solvothermal process followed by thermal treatment based on a sequential self-template mechanism. This novel structure simultaneously enables outstanding electrical conductivity, fast ion transport kinetics, and excellent structural stability. As expected, the composite shows a remarkably fast lithium storage ability of 427 mA h g−1 at 5000 mA g−1 and extraordinary cycle stability with 96% retention after 600 cycles, which is one of the best performances among the reported vanadium oxide/carbon composites. Moreover, it also exhibits an excellent sodium storage ability of 173 mA h g−1 after 2000 cycles at 1000 mA g−1. We believe that this work would broaden the avenue for designing advanced electrode materials for energy storage and conversion.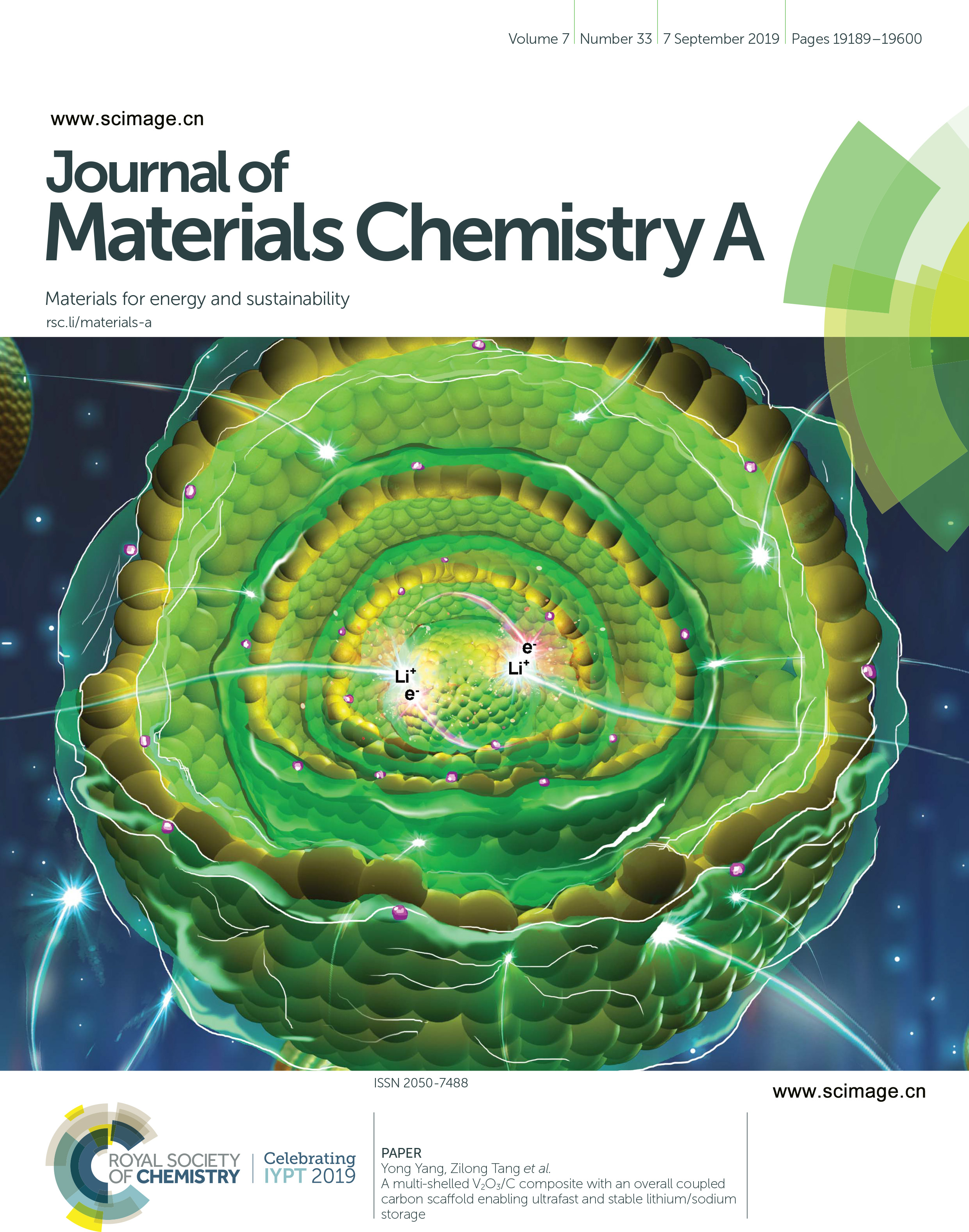 发表期刊:Nano Energy
论文题目:Controllable growth of LiMn2O4 by carbohydrate-assisted combustion synthesis for high performance Li-ion batteries
论文作者:Wei Huang, Gang Wang, Chong Luo, Yaobin Xu,Ying Xu, Brian J.Eckstein, Yao Chen, Binghao Wang, Jiaxing Huang, Yijin Kang, Jinsong Wu, Vinayak P.Dravid, Antonio Facchetti, Tobin J. Marks
发表日期:October 2019
论文摘要:LiMn2O4 (LMO) spinels with diverse achievable morphologies are realized using solution processing techniques including sol-gel and cofuel-assisted combustion synthesis (CS). These LMOs are utilized as cathode materials in lithium ion batteries (LiBs), with LMO produced here by low-temperature, sorbitol-assisted combustion synthesis (SA-CS) yielding superior performance metrics. Morphological analysis by combined X-ray diffraction, scanning electron microscopy, transmission electron microscopy, and X-ray photoelectron spectroscopy demonstrates that these SA-CS LMO powders have optimum LiB grain (<500 nm) and crystallite (~30 nm) dimensions as well as spinel phase purity. Cathode mixtures having micron-scale, uniformly distributed LMO, conductive carbon, and a polymer binder provide effective electron and Li transport as assessed by electrochemical impedance spectroscopy and fabricated battery performance, showing high capacity (~120 mA h/g), good cycling stability (~95% capacity retention after 100 charge/discharge cycles), and high charge/discharge rates (up to 86 mA h/g at 10 C). SA-CS provides a simple, efficient, lower temperature, and scalable process for producing morphology-controlled high-performance LiB cathode oxides.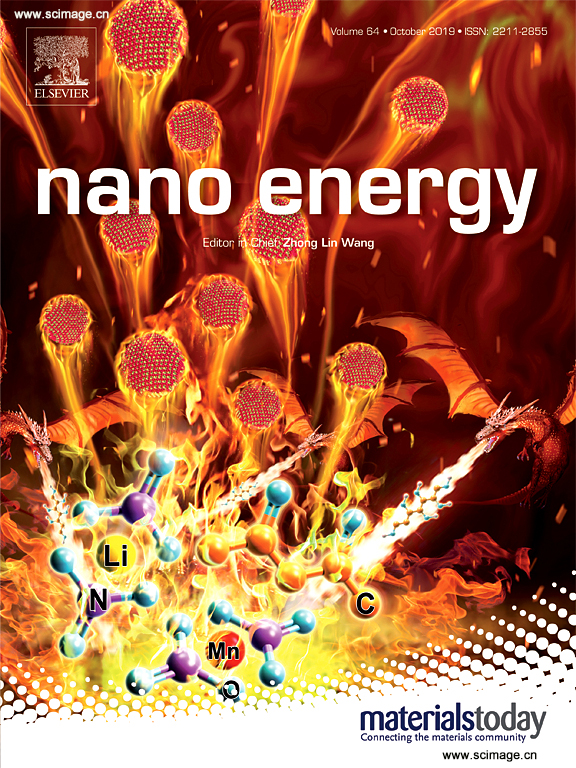 静远嘲风(SCimage)是专注于学术研究领域的艺术创作机构,用唯美的艺术诠释科研是嘲风的目标。公司主要提供论文封面设计、论文配图设计、科研动画开发设计及科研产品深度包装等服务;主要服务对象为中国科学院,中国军事科学院,中国医学科学院,中国农业科学院,以及国内外各大高校科研机构,科技型研发企业以及从事学术研究和高等教育的研究人员。静远嘲风,创立于2007年,以多学科背景为出发点,以独到的切入点深入探索科研领域的艺术表达方式,是国内科研可视化的资深践行者与领头羊,多年来为生物学、微生物学、化学、化工、医学、环境学等研究方向完成数千幅专业作品,协助上千名科研工作者完成封面论文发表。

http://blog.sciencenet.cn/blog-575129-1201632.html
上一篇:
2019年8月嘲风作品集(二)
下一篇:
2019年9月嘲风作品集(二)