发表期刊:ChemSuschem
论文题目:Enhanced Cycling Performance for Lithium–Sulfur Batteries by a Laminated 2D g‐C3N4/Graphene Cathode Interlayer
论文作者:Long Qu, Pei Liu, Yikun Yi, Tao Wang, Pu Yang, Xiaolu Tian, Mingtao Li, Bolun Yang, Sheng Dai
发表日期:January 10, 2019​
论文摘要:The Cover Feature shows a 2‐dimensional g‐C3N4/graphene sheet complex interlayer for a sulfur/carbon cathode. The thin barrier layer with the laminated‐structure channels acts likes a shark net to block the polysulfide species (Li2Sx, 2<x≤8, the big sharks) shuttling via physical and chemical interactions, but also to protect lithium‐ion (Li+, the little fishes) migrating from the cathode to the anode. More information can be found in the Full Paper by L. Qu et al. on page 213 in Issue 1, 2019 (DOI: 10.1002/cssc.201802449).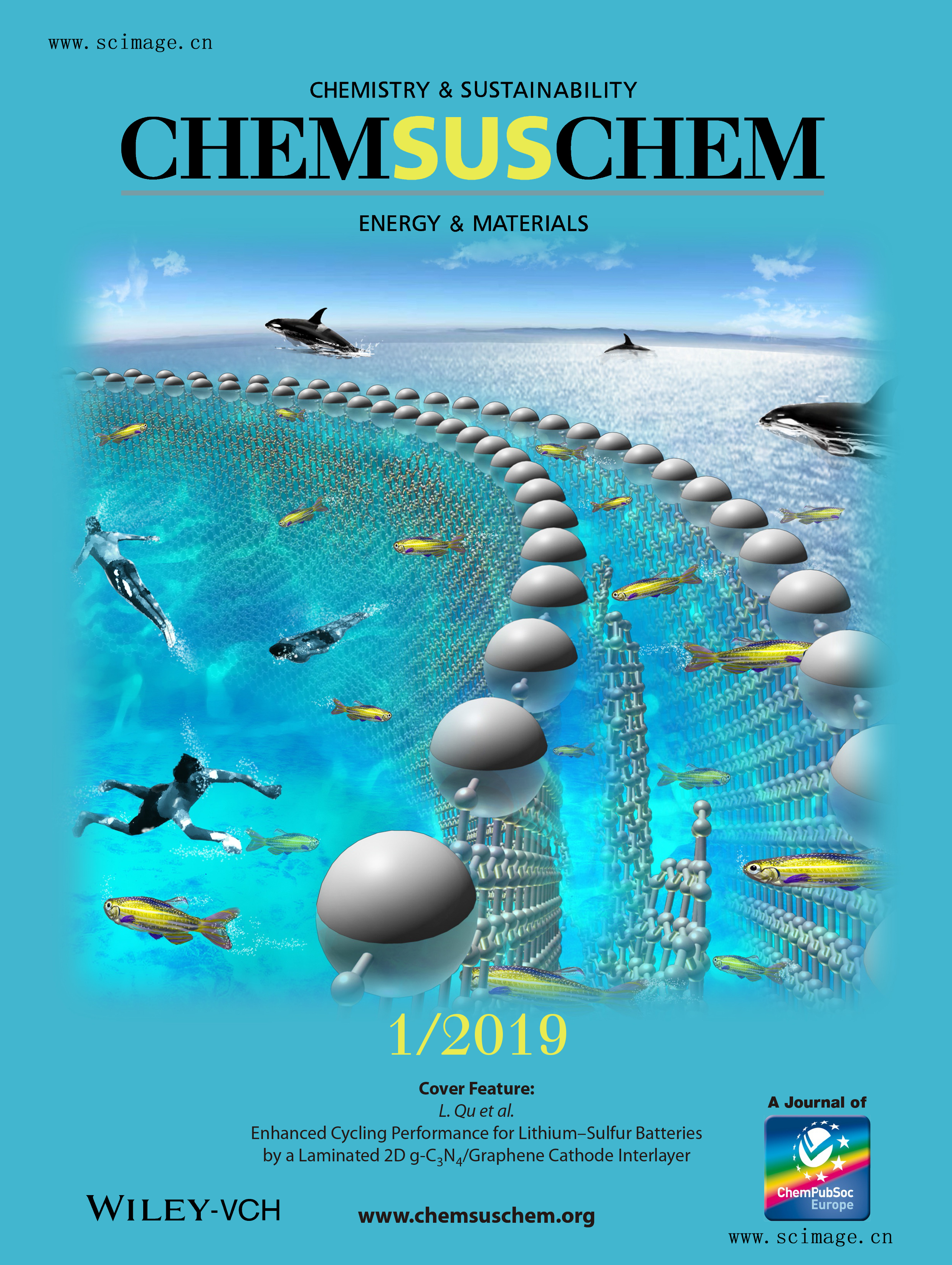 发表期刊:Environmental Science & Technology
论文题目:Ni-Induced C-Al2O3-Framework (NiCAF) Supported Core–Multishell Catalysts for Efficient Catalytic Ozonation: A Structure-to-Performance Study
论文作者:Kajia Wei, Xiaoxin Cao, Wancong Gu, Peng Liang, Xia Huang, Xiaoyuan Zhang
发表日期:June 18, 2019​
论文摘要:During catalytic ozonation, Al2O3-supported catalysts usually have stable structures but relatively low surface activity, while carbon-supported catalysts are opposite. To encourage their synergisms, we designed a Ni-induced C-Al2O3-framework (NiCAF) and reinforced it with a Cu–Co bimetal to create an efficient catalyst (CuCo/NiCAF) with a core–multishell structure. The partial graphitization of carbon adjacent to Ni crystals formed a strong out-shell on the catalyst surface. The rate constant for total organic carbon removal of CuCo/NiCAF (0.172 ± 0.018 min–1) was 67% and 310% higher than that of Al2O3-supported catalysts and Al2O3 alone, respectively. The metals on CuCo/NiCAF contributed to surface-mediated reactions during catalytic ozonation, while the embedded carbon enhanced reactions within the solid–liquid boundary layer and in the bulk solution. Moreover, carbon embedment provided a 76% increase in ·OH-production efficiency and an 86% increase in organic-adsorption capacity compared to Al2O3-supported catalysts. During the long-term treatment of coal-gasification wastewater (~5 m3 day–1), the pilot-scale demonstration of CuCo/NiCAF-catalyzed ozonation revealed a 120% increase in ozone-utilization efficiency (ΔCOD/ΔO3 = 2.12) compared to that of pure ozonation (0.96). These findings highlight catalysts supported on NiCAF as a facile and efficient approach to achieve both high catalytic activity and excellent structural stability, demonstrating that they are highly viable for practical applications.
发表期刊:Environmental Science & Technology
论文题目:Occurrence and Profiles of Melamine and Cyanuric Acid in Bovine Feed and Urine from China, India, and the United States
论文作者:Hongkai Zhu, Bommanna G. Loganathan, Kurunthachalam Kannan
发表日期:June 18, 2019
论文摘要:Melamine and cyanuric acid have been reported to occur in animal products. Nevertheless, information that pertains to the occurrence of melamine and cyanuric acid in cattle feed and urine is lacking. In this study, the occurrence of melamine and its three derivatives (i.e., cyanuric acid, ammeline, and ammelide) was determined in 183 bovine urine and 29 matched feed samples collected from China, India, and the United States. ∑Melamine (sum of four target compounds) was found in all urine samples at concentrations that ranged from 4.2 to 5280 ng/mL (median: 370 ng/mL); cyanuric acid was the major derivative, accounting for 97% of the total concentrations, followed by melamine (2.2%). The ubiquitous occurrence of ∑Melamine in feed (21–6230 ng/g) suggests that it is the major source of melamine and its derivatives in bovines. Urinary concentrations of melamine and cyanuric acid varied significantly among the three countries, with samples from China as having the highest concentrations, followed by the United States and India. The calculated cumulative daily intakes of melamine and cyanuric acid were at least 10-fold below the current tolerable daily intake recommended for humans. Our study provides evidence-based data on exposure patterns and sources of melamine and cyanuric acid in cattle.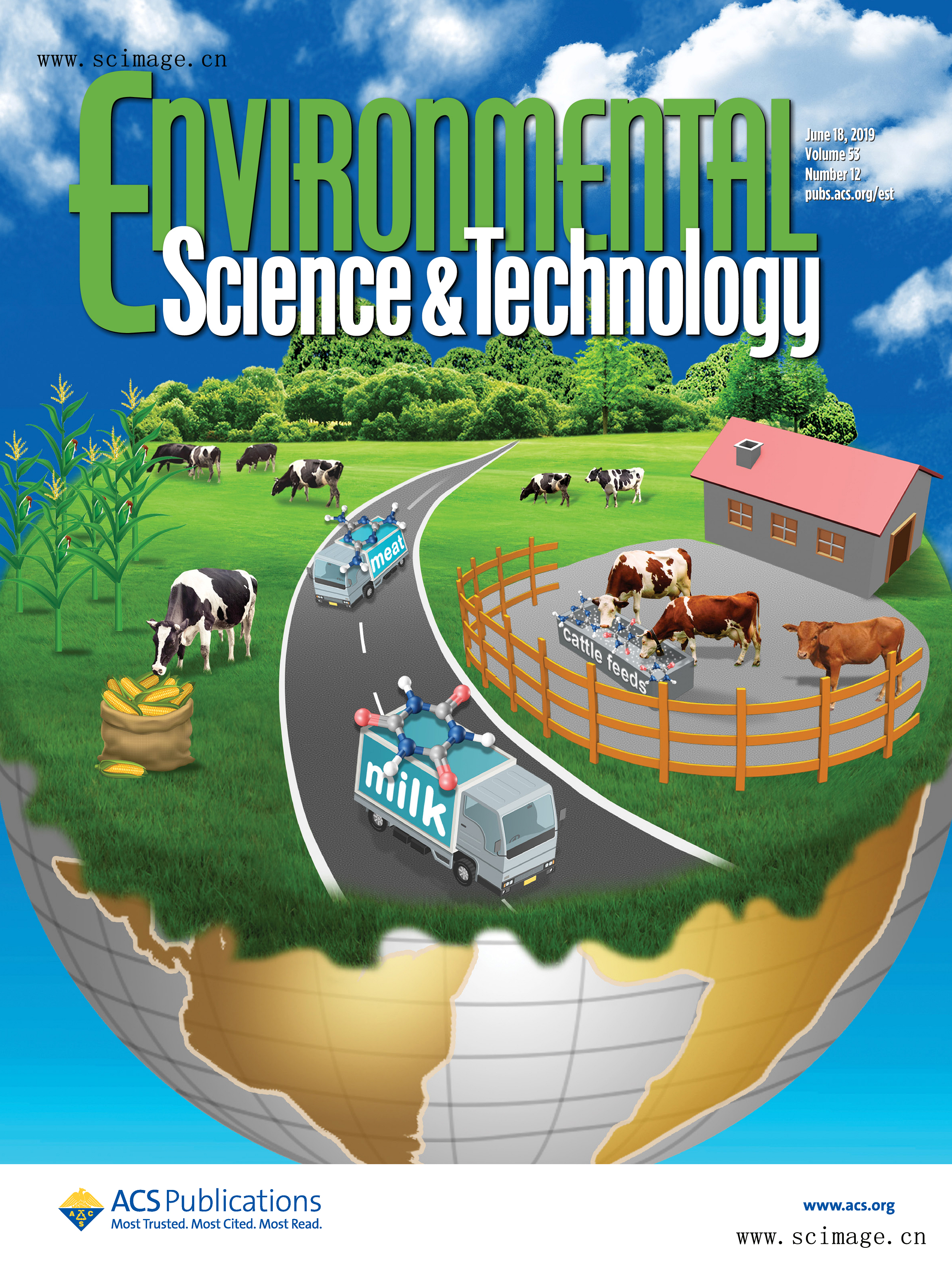 发表期刊:Advanced Electronic Materials
论文题目:Electronic Nanostructures: Constructing Metal Arch Nanobridges Utilizing a Photothermal‐Induced Nanobonding Technique
论文作者:Pintu Ghosh, Jinsheng Lu, Hao Luo, Wei Wang, Ziquan Xu, Min Qiu, Qiang Li
发表日期:July 2019​
论文摘要:The construction of multilayered arched nanobridges and nanocantilever structures from silver nanowires using a photothermal‐induced nanobonding technique is reported by Qiang Li and co‐workers in article number 1800807. The multilayered arch nanobridges are used as short‐circuit‐free multipronged electronic connections in nanoelectronic devices. Both types of nanostructure also exhibit excellent mechanical strength and show potential for use in biological sensors.
发表期刊:Advanced Electronic Material
论文题目:Memristors: A Spin–Orbit‐Torque Memristive Device
论文作者:Shuai Zhang, Shijiang Luo, Nuo Xu, Qiming Zou, Min Song, Jijun Yun, Qiang Luo, Zhe Guo, Ruofan Li, Weicheng Tian, Xin Li, Hengan Zhou, Huiming Chen, Yue Zhang, Xiaofei Yang, Wanjun Jiang, Ka Shen, Jeongmin Hong, Zhe Yuan, Li Xi, Ke Xia, Sayeef Salahuddin, Bernard Dieny, Long You
发表日期:April 2019​
论文摘要:A domain wall can be driven back and forth in a continuous manner in a ferromagnetic (FM) layer by applying in‐plane positive or negative current pulses along the heavy‐metal (HM) layer, as reported by Long You and co‐workers in article number 1800782. Utilizing the spin‐orbit torque that the current exerts on the CoFeB magnetization results in memristive (synapse‐like) functions.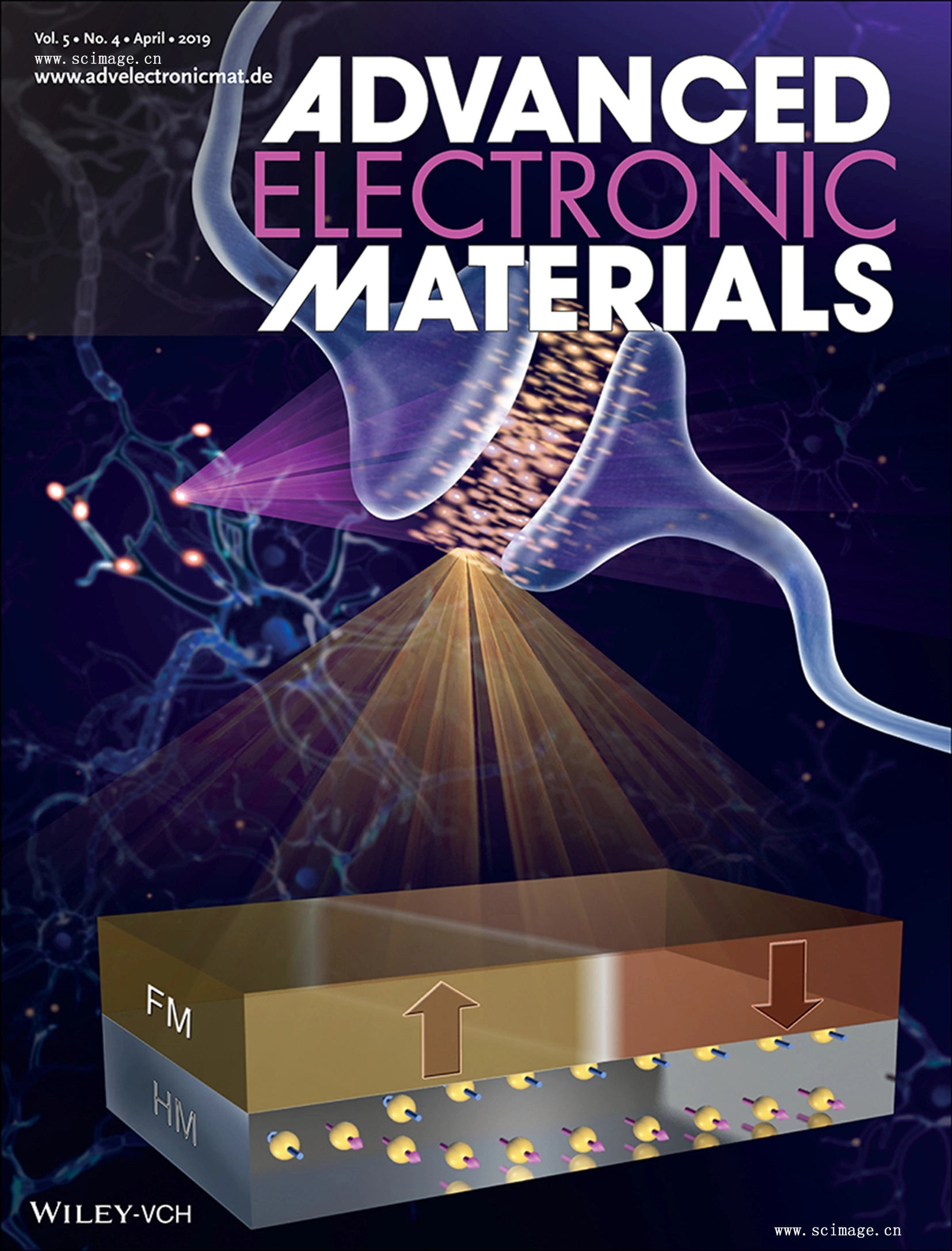 发表期刊:Joule
论文题目:Thermal-Driven Phase Separation of Double-Cable Polymers Enables Efficient Single-Component Organic Solar Cells
论文作者:Guitao Feng, Junyu Li, Yakun He, Wenyu Zheng, Jing Wang, Cheng Li, Zheng Tang, Andres Osvet, Ning Li, Christoph J. Brabec, Yuanping Yi, He Yan, Weiwei Li
发表日期:July 17, 2019
论文摘要:Conventional organic solar cells (OSCs) need two components that function as donor and acceptor, respectively. Although there has been wishful thinking about constructing OSCs based on a single component, it is generally believed to be highly challenging to achieve efficient single-component OSCs (SCOSCs). In this work, we design a new double-cable conjugated polymer containing a strongly crystalline backbone as donor and aromatic side units as acceptor. With a high annealing temperature (230°C), both the backbones and perylene bisimide side units could self-organize into ordered nanostructures. This enables efficient charge transport and low charge recombination, resulting in a record efficiency of 6.3% in SCOSCs. The cells also exhibit excellent stability, with >90% efficiency retention over 300 h of continuous one-sun illumination. These results suggest that the concept of SCOSCs is highly promising, especially to overcome the limitations of conventional OSCs toward industrial application.​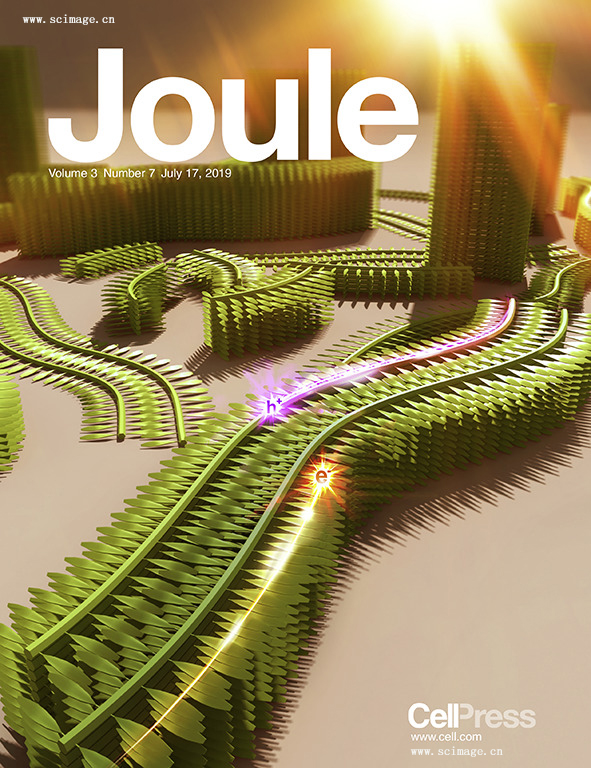 发表期刊:Theranostics
论文题目:Compound AC1Q3QWB Selectively Disrupts HOTAIR-Mediated Recruitment of PRC2 and Enhances Cancer Therapy of DZNep
论文作者:Yansheng Li, Yu Ren, Yunfei Wang, Yanli Tan, Qixue Wang, Jinquan Cai, Junhu Zhou, Chao Yang, Kai Zhao, Kaikai Yi, Weili Jin, Lin Wang, Mingyang Liu, Jingxuan Yang, Min Li, Chunsheng Kang
发表日期:August, 2019
论文摘要:Over 20% of cancer 'driver' genes encode chromatin regulators. Long noncoding RNAs (lincRNAs), which are dysregulated in various cancers, play a critical role in chromatin dynamics and gene regulation by interacting with key epigenetic regulators. It has been previously reported that the lincRNA HOTAIR mediates recruitment of polycomb repressive complex 2 (PRC2) leading to aberrant transcriptional silencing of tumor suppressor genes in glioma and breast cancer. Thus, lincRNA HOTAIR can serve as a promising therapeutic target. Herein, we identified a small-molecule compound AC1Q3QWB (AQB) as a selective and efficient disruptor of HOTAIR-EZH2 interaction, resulting in blocking of PRC2 recruitment and increasing tumor suppressors expression.​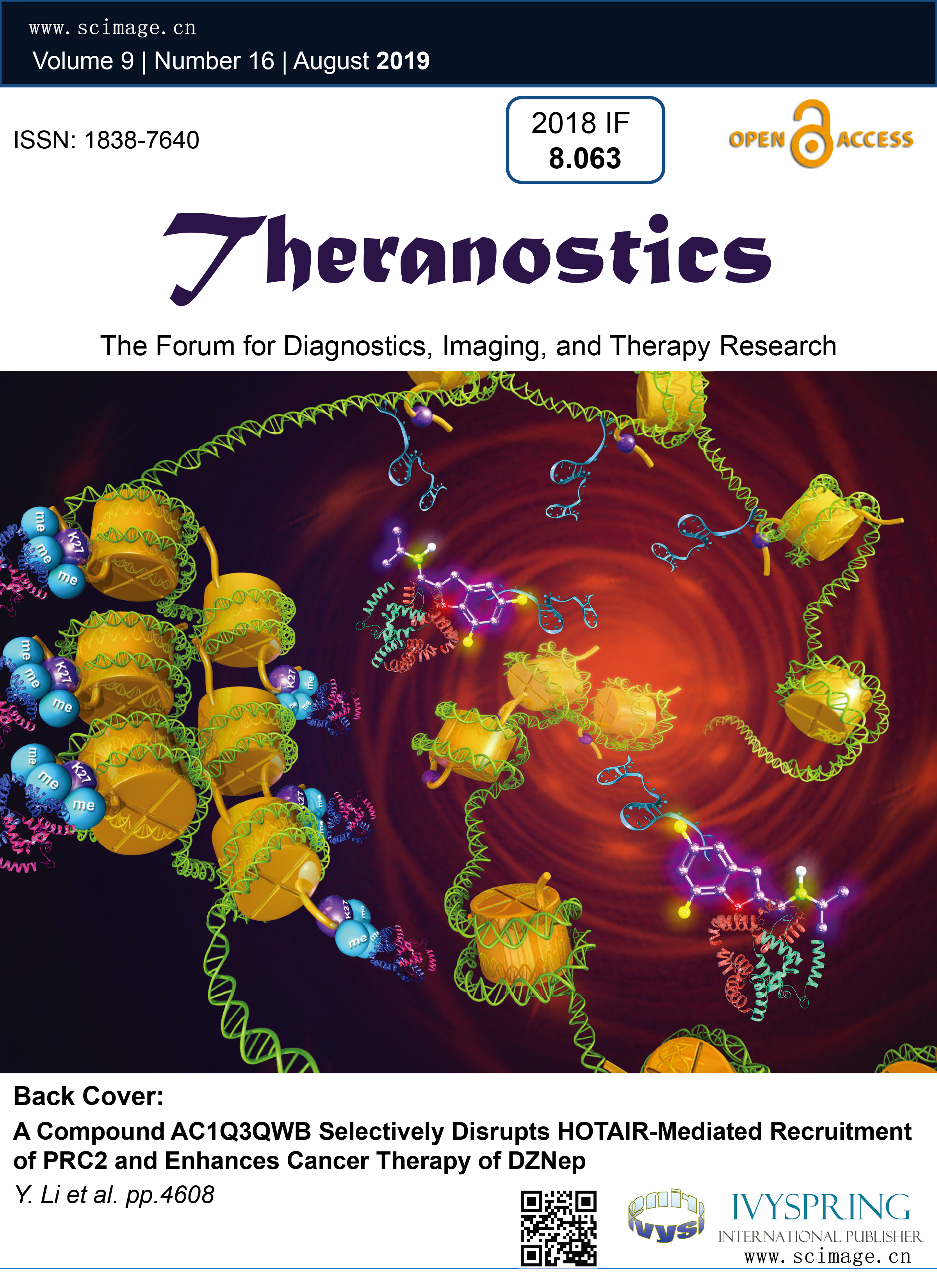 发表期刊:Nature
论文题目:Towards artificial general intelligence with hybrid Tianjic chip architecture
论文作者:Jing Pei, Lei Deng, Sen Song, Mingguo Zhao, Youhui Zhang, Shuang Wu, Guanrui Wang, Zhe Zou, Zhenzhi Wu, Wei He, Feng Chen, Ning Deng, Si Wu, Yu Wang, Yujie Wu, Zheyu Yang, Cheng Ma, Guoqi Li, Wentao Han, Huanglong Li, Huaqiang Wu, Rong Zhao, Yuan Xie, Luping Shi
发表日期: July 31, 2019
论文摘要:There are two general approaches to developing artificial general intelligence (AGI)1: computer-science-oriented and neuroscience-oriented. Because of the fundamental differences in their formulations and coding schemes, these two approaches rely on distinct and incompatible platforms2,3,4,5,6,7,8, retarding the development of AGI. A general platform that could support the prevailing computer-science-based artificial neural networks as well as neuroscience-inspired models and algorithms is highly desirable. Here we present the Tianjic chip, which integrates the two approaches to provide a hybrid, synergistic platform. The Tianjic chip adopts a many-core architecture, reconfigurable building blocks and a streamlined dataflow with hybrid coding schemes, and can not only accommodate computer-science-based machine-learning algorithms, but also easily implement brain-inspired circuits and several coding schemes. Using just one chip, we demonstrate the simultaneous processing of versatile algorithms and models in an unmanned bicycle system, realizing real-time object detection, tracking, voice control, obstacle avoidance and balance control. Our study is expected to stimulate AGI development by paving the way to more generalized hardware platforms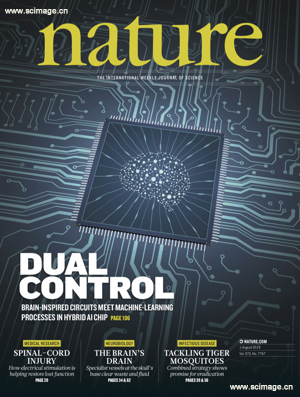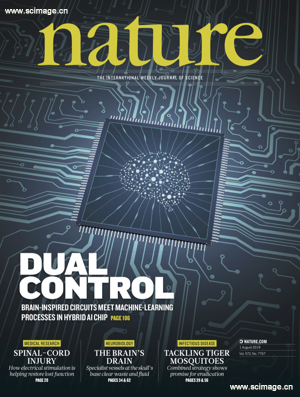 静远嘲风(SCimage)是专注于学术研究领域的艺术创作机构,用唯美的艺术诠释科研是嘲风的目标。公司主要提供论文封面设计、论文配图设计、科研动画开发设计及科研产品深度包装等服务;主要服务对象为中国科学院,中国军事科学院,中国医学科学院,中国农业科学院,以及国内外各大高校科研机构,科技型研发企业以及从事学术研究和高等教育的研究人员。静远嘲风,创立于2007年,以多学科背景为出发点,以独到的切入点深入探索科研领域的艺术表达方式,是国内科研可视化的资深践行者与领头羊,多年来为生物学、微生物学、化学、化工、医学、环境学等研究方向完成数千幅专业作品,协助上千名科研工作者完成封面论文发表。

http://blog.sciencenet.cn/blog-575129-1197579.html
上一篇:
2019年8月嘲风作品集(一)
下一篇:
2019年9月嘲风作品集(一)