欢迎大家在 学术群 咨询相关内容:多重PCR引物设计、PCR引物质量评估(相关研究论文发表在 核酸研究NAR、生物信息学BIF、BMC BIF等期刊)
关于多重PCR引物设计:
1. 原来提供在线多重引物设计的网站 http://biocompute.bmi.ac.cn/MPprimer/ ,因为不可抗力已经无法提供服务。
2. MPprimer 的命令行版本以及源代码在网站:https://sourceforge.net/projects/mpprimer/ ,不过使用命令行版本需要Linux技巧,对命令行操作要求较高。
3. 其他需求请用邮件写明相关情况,发到 屈武斌老师 的邮箱: quwubin(AT)gmail.com 。
https://mfeprimer3.igenetech.com/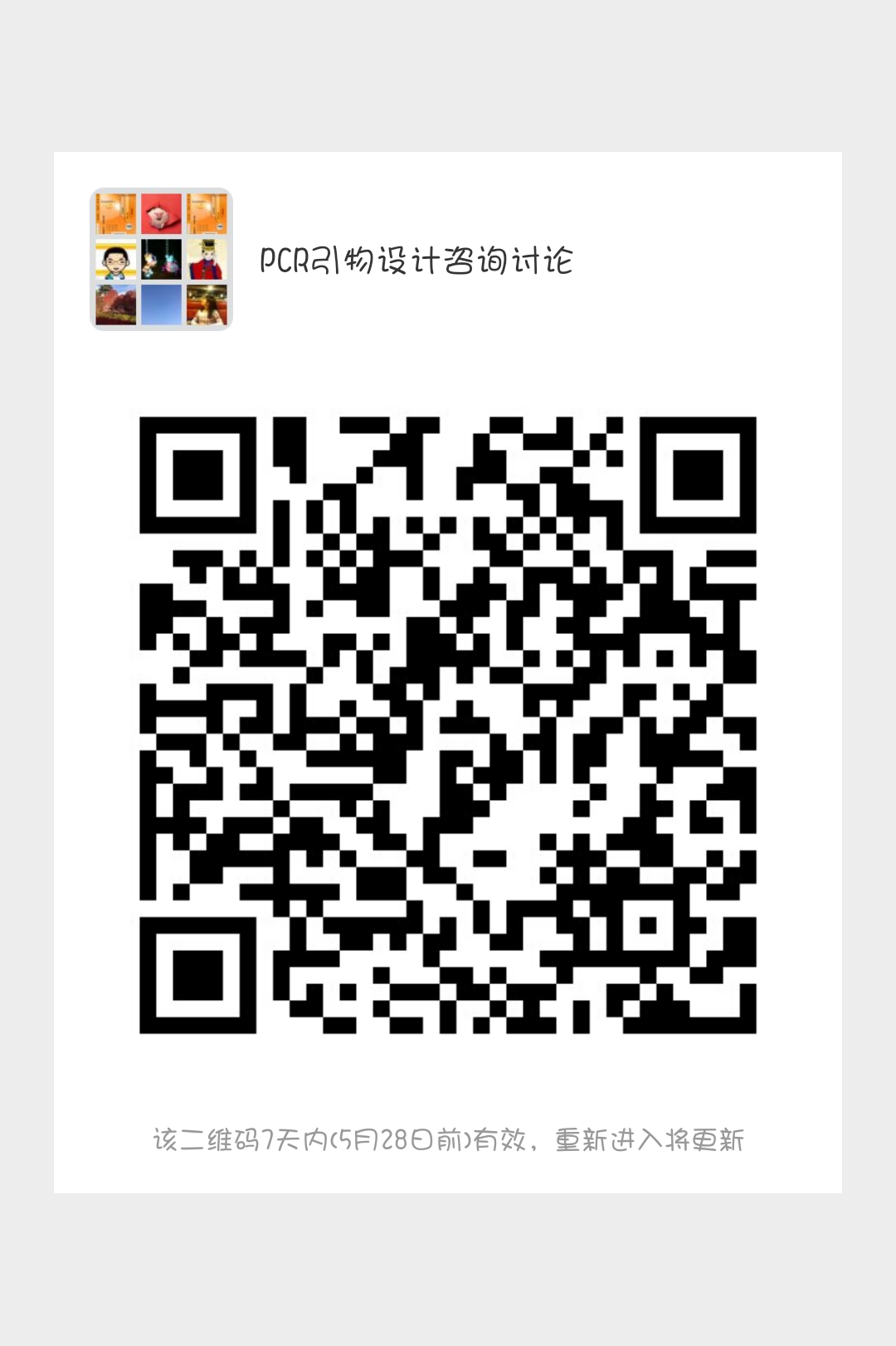 Nucleic Acids Res. 2019 May 8. pii: gkz351. doi: 10.1093/nar/gkz351. [Epub ahead of print]
MFEprimer

-3.0: quality control for PCR primers.

Wang K1,2, Li H2, Xu Y2, Shao Q2, Yi J2, Wang R2, Cai W2, Hang X2, Zhang C3, Cai H1, Qu W2.
Abstract
Quality control (QC) for lab-designed primers is crucial for the success of a polymerase chain reaction (PCR). Here, we present MFEprimer-3.0, a functional primer quality control program for checking non-specific amplicons, dimers, hairpins and other parameters. The new features of the current version include: (i) more sensitive binding site search using the updated k-mer algorithm that allows mismatches within the k-mer, except for the first base at the 3' end. The binding sites of each primer with a stable 3' end are listed in the output; (ii) new algorithms for rapidly identifying self-dimers, cross-dimers and hairpins; (iii) the command-line version, which has an added option of JSON output to enhance the versatility of MFEprimer by acting as a QC step in the 'primer design → quality control → redesign' pipeline; (iv) a function for checking whether the binding sites contain single nucleotide polymorphisms (SNPs), which will affect the consistency of binding efficiency among different samples. In summary, MFEprimer-3.0 is updated with the well-tested PCR primer QC program and it can be integrated into various PCR primer design applications as a QC module. The MFEprimer-3.0 server is freely accessible without any login requirement at: https://mfeprimer3.igenetech.com/ and https://www.mfeprimer.com/. The source code for the command-line version is available upon request.
Nucleic Acids Res. 2012 Jul;40(Web Server issue):W205-8. doi: 10.1093/nar/gks552. Epub 2012 Jun 11.
MFEprimer-2.0: a fast thermodynamics-based program for checking PCR primer specificity.
Qu W1, Zhou Y, Zhang Y, Lu Y, Wang X, Zhao D, Yang Y, Zhang C.
Abstract
Evaluating the specificity of polymerase chain reaction (PCR) primers is an essential step in PCR primer design. The MFEprimer-2.0 server allows users to check primer specificity against genomic DNA and messenger RNA/complementary DNA sequence databases quickly and easily. MFEprimer-2.0 uses a k-mer index algorithm to accelerate the search process for primer binding sites and uses thermodynamics to evaluate binding stability between each primer and its DNA template. Several important characteristics, such as the sequence, melting temperature and size of each amplicon, either specific or non-specific, are reported on the results page. Based on these characteristics and the user-friendly output, users can readily draw conclusions about the specificity of PCR primers. Analyses for degenerate primers and multiple PCR primers are also supported in MFEprimer-2.0. In addition, the databases supported by MFEprimer-2.0 are comprehensive, and custom databases can also be supported on request. The MFEprimer-2.0 server does not require a login and is freely available at http://biocompute.bmi.ac.cn/CZlab/MFEprimer-2.0. More over, the MFEprimer-2.0 command-line version and local server version are open source and can be downloaded at https://github.com/quwubin/MFEprimer/wiki/Manual/.
PMID:

22689644

PMCID:

DOI:
Methods Mol Biol. 2015;1275:201-13. doi: 10.1007/978-1-4939-2365-6_15.
Selecting specific PCR primers with MFEprimer.
Abstract
Selecting specific primers is crucial for polymerase chain reaction (PCR). Nonspecific primers will bind to unintended genes and result in nonspecific amplicons. MFEprimer is a program for checking the specificity of PCR primers against the background DNA. In this chapter, we introduce: (1) the factors that affect the specificity of primers; (2) the principle of MFEprimer and its settings; (3) how to use the MFEprimer to examine the specificity of primers.
Bioinformatics. 2009 Jan 15;25(2):276-8. doi: 10.1093/bioinformatics/btn614. Epub 2008 Nov 27.
MFEprimer: multiple factor evaluation of the specificity of PCR primers.
Qu W1, Shen Z, Zhao D, Yang Y, Zhang C.
Abstract
We developed a program named MFEprimer for evaluating the specificity of PCR primers based on multiple factors, including sequence similarity, stability at the 3'-end of the primer, melting temperature, GC content and number of binding sites between the primer and DNA templates. MFEprimer can help the user to select more suitable primers before running either standard or multiplex PCR reactions. The cDNA and genomic DNA databases of 10 widely used species, as well as user custom databases, were used as DNA templates for analyzing primers specificity. Furthermore, we maintained a Primer3Plus server with a modified Primer3Manager for one-stop primer design and specificity checking.
BMC Bioinformatics. 2010 Mar 18;11:143. doi: 10.1186/1471-2105-11-143.
MPprimer: a program for reliable multiplex PCR primer design.
Shen Z1, Qu W, Wang W, Lu Y, Wu Y, Li Z, Hang X, Wang X, Zhao D, Zhang C.
Abstract
BACKGROUND:
Multiplex PCR, defined as the simultaneous amplification of multiple regions of a DNA template or multiple DNA templates using more than one primer set (comprising a forward primer and a reverse primer) in one tube, has been widely used in diagnostic applications of clinical and environmental microbiology studies. However, primer design for multiplex PCR is still a challenging problem and several factors need to be considered. These problems include mis-priming due to nonspecific binding to non-target DNA templates, primer dimerization, and the inability to separate and purify DNA amplicons with similar electrophoretic mobility.
RESULTS:
A program named MPprimer was developed to help users for reliable multiplex PCR primer design. It employs the widely used primer design program Primer3 and the primer specificity evaluation program MFEprimer to design and evaluate the candidate primers based on genomic or transcript DNA database, followed by careful examination to avoid primer dimerization. The graph-expanding algorithm derived from the greedy algorithm was used to determine the optimal primer set combinations (PSCs) for multiplex PCR assay. In addition, MPprimer provides a virtual electrophotogram to help users choose the best PSC. The experimental validation from 2x to 5x plex PCR demonstrates the reliability of MPprimer. As another example, MPprimer is able to design the multiplex PCR primers for DMD (dystrophin gene which caused Duchenne Muscular Dystrophy), which has 79 exons, for 20x, 20x, 20x, 14x, and 5x plex PCR reactions in five tubes to detect underlying exon deletions.
CONCLUSIONS:
MPprimer is a valuable tool for designing specific, non-dimerizing primer set combinations with constrained amplicons size for multiplex PCR assays.
PMID:

20298595

PMCID:

DOI:
http://blog.sciencenet.cn/blog-40692-1180376.html
上一篇:
三年前的参会内容——基于"菌心说"学说从人菌平衡角度揭示中医"藏象学说"的物质基础
下一篇:
[转载]半保留复制:一种双链脱氧核糖核酸(DNA)的复制模型,其中亲代双链分离后,每条单链均作为新链合成的模板。