06/19/2012 10:56:22
Tanya's Father's Day email entry for a competition gave me such a nice surprise early this morning that I cannot help sharing with you all. This is for a Father's Day competition organized jointly by a local radio station, a literature journal and the BayEcho community organization where Tanya serves as VP for PR/Marketing. She made a super short entry with her unique style and showing signs of her passion for languages too (she is the top student in diagraming sentences in class and she believes that her linguistics is carried from me.)

She listed 7 requirements for Daddy behind each of which is a ton of stories and memories. Note 4) below, that explains why I often have submissions to perforce at 4am and come to office late in the morning 'cause I got a nocturnal daughter who needs company.
---------- Forwarded message ----------

From: Tanya
Date: Tue, Jun 19, 2012 at 5:27 AM
Subject: my father's day entry
Dad, daddy, baba, mis padre de pantalones, friend and confidant,
I've never been a particularly expressive person, whether in person or in writing, and, definitely, I have not properly conveyed to you how important you really are. So, using you as a model, allow me to list down the seven basic requirements of a daddy:
1) Daddy is a person who will hug me when I run to him, no matter how public the place or how old I become.
2) Daddy is the person who offers to piggyback me, even though my 5 foot 4 self is a lot heavier than my 3-year-old counterpart.
3) Daddy is the person who wakes up randomly at 3 am because he knows that I'm still awake and hungry. P.S. He makes me instant ramen.
4) Daddy is the person who's still typing on a computer next to me in the dead of night, he doesn't want me to feel lonely.
5) Daddy is the person who uses the oddest jokes to cheer me up when I'm sad. It's OK, it makes me laugh anyways (though I can't say it's because the joke is funny).
6) Daddy is the person who will always read bedtime stories. (It used to be Winnie the Pooh, now it's Steve Job's biography).
7) Daddy's a doter, daddy's a warrior, and daddy sometimes does too much for me (though not in his opinion).
So, daddy, it's not father's day anymore, and I don't particularly need that day to say anything special to you (hello, market holidays). So, let's get a few things straight, you're my daddy, and you're not old because I said so.
Also, we'll still be eating instant noodles together 20 years from now.

Age 9: Father's Day, 2005
05.06.19 Tanya brought a gift for me today from school: she made this ceramic tile herself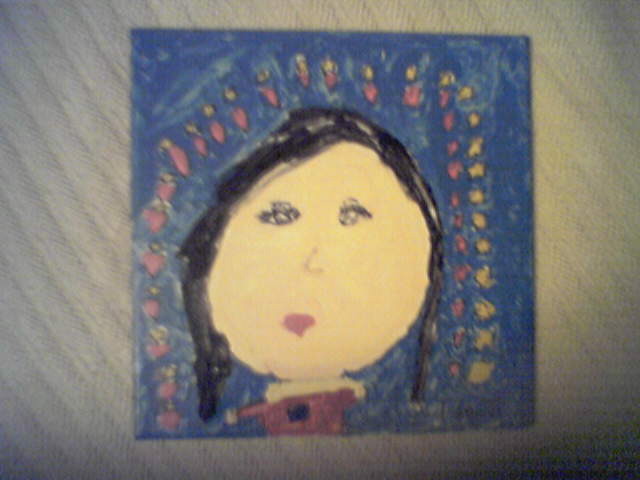 "Who is this little girl?", I asked.
"That's me, don't you see?"
"But she does not look as pretty as my little girl."
This is what Tanya wrote on the card,
My Dad is honest. My Dad is sweet.
My Dad is just like my friend Pete.
My Dad is fun. His temper is none.
He likes to ride in the sun, but really he is #1.


Happy Father's Day!
Age 10: Here is another piece on Dad
of all people in the world my dad is the clueless of all
Date: August 05, 2006

For example: my dad once used lotion and thought it was toothpaste. Another time when he went to get his hair dyed something went seriously wrong cause my dad's hair turned dark red, I called him Red Haired the Weirdo clown until his dye wore off.


One day I went with my dad to go look at fireworks near my house, unfortunaly, my dad forgot to wear a suit, and he went out wearing a 背心和短裤. Good thing is he is my dad though clumsy he's my dad.

Who cares anyway I'm silly too. People keep saying I laugh like I hiccup.

Once at school when I came out of the bathroom my teacher and all my classmates were laughing at me because some toilet paper got stuck to my pants, so it looked like I grew a paper tail. That was my WORST NIGHTMARE.

I only gave you these storys to make you laugh until you forgot how to argue.
Comments:
Absolutely beautiful. Poetic actually. Makes me yearn more for the daughter I never had.

~~~~
I know what you mean. I'm very close to my dad … and now I'm thinking the card I gave him wasn't nearly as special ;) haha.
~~~~~
Very nice and touching. Sounds like you go the extra mile for her.. I hope I get emails like that from my little girls when they are older. Right now I get simple cards and messages that are still very sweet from my kids..
~~~~~
this is absolutely adorable! Thank you for sharing!
she is not your stereotypical Asian-American student. Although she is a brilliant student, she also has a very creative side -- which I absolutely love!
~~~~~