枪手以枪战的形式反战?
下面是一则关于美军某基地的报道
中新网11月6日电 据《纽约时报》报道,美国得州胡德堡陆军基地枪击案凶手马利克-纳达尔-哈桑目前已被逮捕,据悉哈桑一直对将要被派往战场前线的计划十分反感,甚至感到"屈辱"。
  据报道,哈桑出生和成长于弗吉尼亚州,他的父母是从耶路撒冷附近的小城镇移民至美国,他在高中毕业后违背父母的意愿加入了军队。军队培养他成为了一名心理专家。
  但是这名39岁的男子却被指控在胡德堡陆军基地开枪制造了死伤惨重的枪击案,据悉,他在多年前就开始对自己的军队生涯产生疑虑,他曾经告诉自己的家人,因为他是一名穆斯林而常常受到其他士兵骚扰。
  哈桑的表兄介绍说,哈桑对将要被派往伊拉克或阿富汗产生强烈的担忧,他一直为从战场归来的士兵进行心理治疗,他非常了解可怕的战争现实。
  哈桑的表兄还说道,哈桑对被迫要赶赴战场的计划感到"屈辱",每天都有很多人给他讲述战场上看到的恐怖场面。
  哈桑使用两把手枪在人员众多的士兵预备中心开枪射击,造成人员伤亡。即将受派谴和归来的驻伊拉克和驻阿富汗士兵通常在该士兵预备中心接受身体检查。
  美国胡德堡军事基地位于得州中部,占地近900平方公里,是美国陆军现役装甲部队最大的本土基地。该基地于1942年建成投入使用至今,驻扎过美军第一骑兵师、第三装甲骑兵团等部队。今年年初该基地共驻扎5.2万名士兵。
2009年11月06日 18:15 来源:中国新闻网 
  中新网11月6日电 据法新社消息,美国一名女发言人6日称,得克萨斯州胡德堡陆军基地枪击事件造成的死亡人数升至13人,另外有30人受伤。
  当地时间5日下午该军事基地发生骇人听闻的枪击案。开枪扫射的嫌犯是陆军基地的心理专家,即将被派往伊拉克执行任务。枪击案发生后,美国军方已关闭了胡德堡军事基地,奥巴马对遇害者表示哀悼,并强调必须将事件调查到水落石出。
军人和艺人的解决方式不同。中国的艺人想不通了坠楼;美国的军人想不通了,开火。
无独有偶,其他国家,20年前也发生过类似的枪击案件。
从案件可以看出,美军内部矛盾的激化状态。
反人性的结局自然是非人道事件的不可避免。
Military doctor kills 13 in US Fort Hood rampage
FORT HOOD, Texas – A US Army psychiatrist set to be shipped overseas opened fire at the Fort Hood Army post Thursday, authorities said, a rampage that killed 13 people and left 30 wounded in the worst mass shooting ever at a military base in the United States.
The gunman, first said to have been killed, was wounded but alive and in stable condition under military guard, said Lt. Gen. Bob Cone at Fort Hood. "I would say his death is not imminent," Cone said. Col. Ben Danner said the suspect was shot at least four times.
The man was identified as Maj. Nidal Malik Hasan, a 39-year-old, eight-year veteran from Virginia.
The shooting began around 1:30 pm, when shots were fired at the base's Soldier Readiness Center, where soldiers who are about to be deployed or who are returning undergo medical screening, Cone said.
President Barack Obama called the shooting "a horrific outburst of violence." He said it is a tragedy to lose a soldier overseas and even more horrifying when they come under fire at an Army base on American soil.
"We will make sure that we get answers to every single question about this horrible incident," the commander in chief said in Washington. "We are going to stay on this."
Related readings:


12 die, 31 wounded in Fort Hood shooting

Obama calls mass shooting at US army base horrific


US Army: 12 die in Texas military base shooting
There was no official word on motive. Hasan had transferred to Fort Hood in July from Walter Reed Medical Center, where he received a poor performance evaluation, according to an official who spoke on condition of anonymity because he was not authorized to discuss the case publicly.
Sen. Kay Bailey Hutchison, R-Texas, said generals at Fort Hood told her that Hasan was about to deploy overseas. Retired Col. Terry Lee, who said he had worked with Hasan, told Fox News he was being sent to Afghanistan.
Lee said Hasan had hoped Obama would pull troops out of Afghanistan and Iraq and got into frequent arguments with others in the military who supported the wars.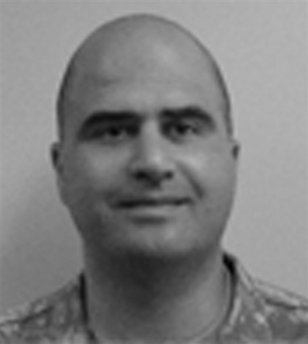 This photo from the Center for the Study of Traumatic Stress Web Site shows Nidal Malik Hasan. Military officials say the suspected shooter at Fort Hood, Texas on Thursday Nov. 5, 2009 was Maj. Nidal Malik Hasan. [Agencies]
The Virginia-born soldier was single with no children. He graduated from Virginia Tech, where he was a member of the ROTC and earned a bachelor's degree in biochemistry in 1997. He received his medical degree from the military's Uniformed Services University of the Health Sciences in Bethesda, Md., in 2001. At Walter Reed, he did his internship, residency and a fellowship.
Officials were investigating whether Hasan was his birth name or if he may have changed his name, possibly as part of a conversion to Islam. However, they were not certain of his religion.
The Soldier Readiness Center holds hundreds of people and is one of the most populated parts of the base, said Steve Moore, a spokesman for III Corps at Fort Hood. Nearby there are barracks and a food center where there are fast food chains. The center is part of the largest active duty armored post in the United States. Covering 339 square miles, the post halfway between Austin and Waco was home to about 52,000 troops as of earlier this year.
A graduation ceremony for soldiers who finished college courses while deployed was going on nearby at the time of the shooting, said Sgt. Rebekah Lampman, a Fort Hood spokeswoman.
Greg Schanepp, Carter's regional director in Texas, was at Fort Hood, said John Stone, a spokesman for US Rep. John Carter, whose district includes the Army post. Schanepp was at a graduation ceremony when a soldier who had been shot in the back came running toward him and alerted him of the shooting, Stone said. The soldier told Schanepp not to go in the direction of the shooter, he said.
Soldiers don't carry weapons with them unless they're doing training exercises, said Spc. Jerry Richard, 27, who works at the building where the shooting happened — though he was not on post at the time.
"Overseas you are ready for it. But here you can't even defend yourself," he said.
Video from the scene showed police patrolling the area with handguns and rifles, ducking behind buildings for cover. Sirens could be heard wailing while a woman's voice on a public-address system urged people to take cover.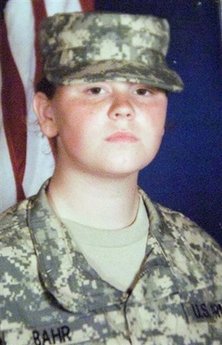 This undated photo provided by her family shows Amber Bahr, who was shot during an attack that left 12 people dead and 31 wounded at the Fort Hood Army base, Texas on Thursday Nov. 5, 2009. Her mother Lisa Pfund says her daughter was shot in the stomach but was in stable condition. [Agencies]
Two other soldiers taken into custody following the deadly rampage have been released, Fort Hood spokesman Christopher Haug said. "They're not believed to be involved in the incident," Haug said. He said a third person was in custody, however.
The wounded were dispersed among hospitals in central Texas, Cone said.
Lisa Pfund of Random Lake, Wis., says her daughter, 19-year-old Amber Bahr, was shot in the stomach but was in stable condition. "We know nothing, just that she was shot in the belly," Pfund told The Associated Press. She couldn't provide more details and only spoke with emergency personnel.
Pfund said Bahr joined the reserves when she was 17 to earn money for school and loved being in the military even though none of her friends were interested in joining the Army.
A Fort Hood spokesman said he could not immediately confirm any identities of the injured.
"I ask that all of you keep these families and these individuals in your prayers today," Texas Gov. Rick Perry said.
The shootings on the Texas military base stirred memories of other recent mass shootings in the United States, including 13 dead at a New York immigrant center in April, 10 killed during a gunman's rampage across Alabama in March and 32 killed in the deadliest mass shooting in modern US history at Virginia Tech in 2007.
The attack happened just down the road from one of the worst mass shootings in US history. On Oct. 16, 1991, George Hennard smashed his pickup truck through a Luby's Cafeteria window in Killeen, Texas, and fired on the lunchtime crowd with a high-powered pistol, killing 22 people and wounding at least 20 others.
No other shooting at a military base in the US has been anywhere near as deadly as Thursday's. In 1993, a gunman at Fort Knox shot five civilian co-workers, killing three, and then fatally shot himself.
Around the country, some bases stepped up security precautions, but no others were locked down.
Covering 339 square miles, Fort Hood is the largest active duty armored post in the United States. Home to about 52,000 troops as of earlier this year, it is located halfway between Austin and Waco.
http://blog.sciencenet.cn/blog-255-269129.html
上一篇:
叹百年易过——改吴敬梓同韵词
下一篇:
被预购的未来与第N次创伤