Firms Back $10 Million Testing Ground for Self-Driving Vehicles
Success could boost Detroit's ability to compete in emerging tech war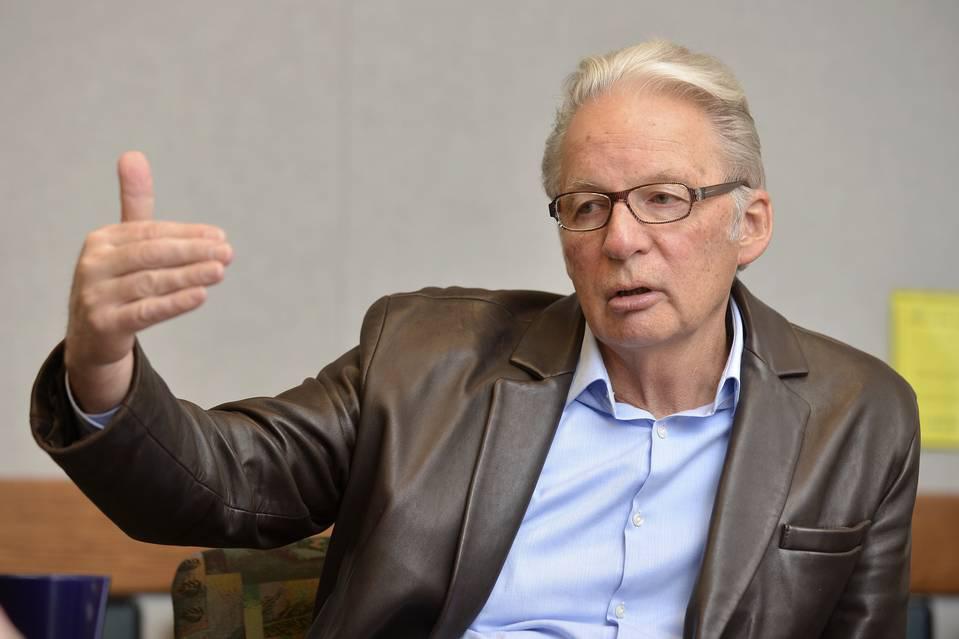 ENLARGE
Peter Sweatman, director of the University of Michigan's Transportation Research Institute, discusses the university's complex for testing automated vehicles in Ann Arbor. PHOTO: BRYAN MITCHELL/BLOOMBERG NEWS
By
MICHAEL RAMSEY
July 19, 2015 7:41 p.m. ET
ANN ARBOR, Mich.— Toyota Motor Corp. and a clutch of other companies are backing a $10 million testing ground at the University of Michigan for self-driving vehicles, an investment that could boost Detroit's ability to compete in the auto industry's emerging tech war.
The 32-acre facility, dubbed Mcity and opening Monday, will give the auto industry a hub that can be used by anyone researching autonomous vehicles.
In addition to being one of the few open-source test centers of its kind anywhere, it is also one of the few situated in a cold climate that could present challenges to self-driving cars.
"There is nothing else like it in the world," said Peter Sweatman, director of the university's Mobility Transformation Center, a public-private research institute that includes the testing area.
The race to provide vehicles with more autonomous features or the capability to operate without driver intervention is one of the auto industry's primary pursuits, requiring billions of dollars in capital and a shift in how products are developed. The trend has attracted new players to the industry, includingGoogle Inc., while boosting the fortunes of companies, such as Israeli components-supplier Mobileye NV, that formerly filled niches.
The clout of Detroit auto makers has faded in recent decades, but Southeast Michigan and the state's biggest university house some of the industry's leading researchers, many corporate technical centers and a network of test facilities. Google's autonomous-vehicle testing activities in California and Texas have attracted a lot of publicity, but much of the development of these vehicles is being done in the Rust Belt by international auto companies with big operations near Detroit.
Ann Arbor, where the University of Michigan is located, is already the testing site for 3,000 vehicles that have been outfitted with transmitters capable of vehicle-to-vehicle and vehicle-to-infrastructure communication, a technology that will hit roads within a year or so on General Motors Co.'s Cadillac models. That test, which began in 2012, is the basis for a Transportation Department effort to push for wide deployment of the technology to reduce traffic and improve safety.
Much of the world's driverless-car research, which is done in facilities in Japan, Sweden, China and other nations, occurs in proprietary environments closed to outsiders. The University of Michigan's effort, which includes about four miles of roadways, is designed to simulate real-world situations as a variety of parties experiment with ideas.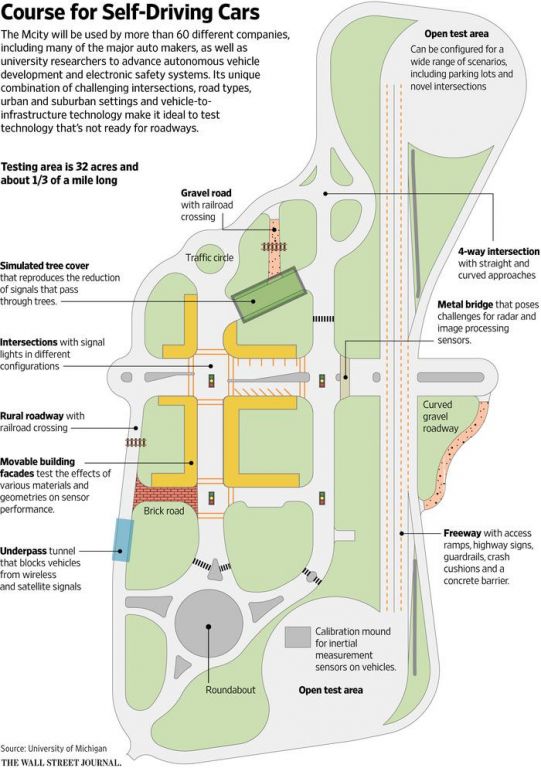 ENLARGE
Toyota has a simulated urban environment in Japan, but it isn't open to other companies or researchers. In the U.S., Toyota has been joined by GM, Honda Motor Co., Delphi Automotive PLC and other auto companies in backing the venture. State Farm Automobile Insurance Co. is also behind the center, an indication that insurers are eager to understand liability issues related to autonomous vehicles.
Toyota, which employs more than 1,500 people at an engineering center near Ann Arbor, sees the facility as a legitimate alternative to testing on public roads.
"We have been using high-speed tracks for a lot of safety testing, but now our focus as an industry is how to cope with traffic accidents at intersections," Hideki Hada, a Toyota manager based in Michigan, said. "We cannot test prototypes on public roads for a variety of reasons."
The companies that have tested driverless cars on public streets have the advantage of gathering real-world data and interacting with other vehicles in a way that's not possible in a closed-course setting. Google has gathered mountains of data by testing autonomous Lexus RX350s on the streets of Palo Alto, but that testing comes with a risk of accidents and damage to costly prototypes.
The Mcity's four miles of roadways include highway on-and-off ramps, roundabouts, railway crossings, underpasses, dirt roads and cobblestones to challenge the vehicles' computer brains. "The philosophy is that you can go very quickly from a downtown block to the freeway," Mr. Sweatman said.
In addition, the track should give researchers a place to test autonomous vehicles in rain or snow without endangering other drivers. Some of the prototypes' components—including Lidar sensors that use lasers to create a rich, localized map essential for steering the vehicle—don't currently function as well in inclement weather.
"To me, the special cases—bad lighting conditions, road conditions, bad weather conditions—are the things we really need to work on," said Raj Rajkumar, a Carnegie Mellon University professor and a developer of software for autonomous vehicles. "Testing at a course like this is how we make these things more reliable."
Write to Michael Ramsey at michael.ramsey@wsj.com
POPULAR ON WSJ
·
The Smartest Way to Take a Vacation ·
Opinion: After Five Years, Dodd-Frank Is a Failure ·
N.Y. Panel Expected to Recommend $15 Fast-Food Wage ·
Opinion: Trump and His Apologists
California State Engineers Investigate Collapsed Bridge
VIDEOS
·
Shark Attacks Surfer Mick Fanning During Competition ·
New Online Retailer Jet Takes on Amazon ·
Trump: McCain Not a 'War Hero' ·
Chris Dodd on Namesake Regulatory Reform Act
Greek Banks Reopen Their Doors
http://blog.sciencenet.cn/blog-2374-906935.html
上一篇:
软件定义的系统与知识自动化: 从牛顿到默顿的平行升华
下一篇:
从激光到激活: 钱学森的情报理念与平行情报体系