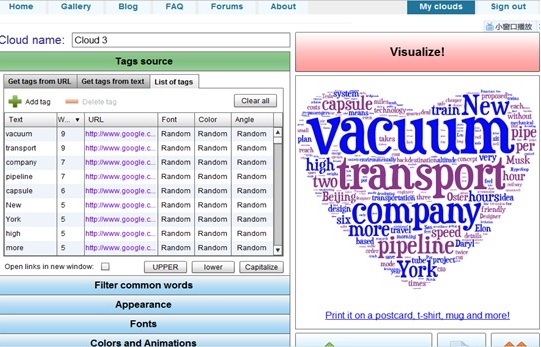 这是用Tagul制作的一个标签云的例子。试用了一下,它只能处理英文文档。
图中的vacuum是"真空",transport是"运输",pipeline是"管道",另外图中还有New York和Beijing。文章的标题是"New York to Beijing in two hours?"。如果再看一下原文内容,觉得标签云中标注的效果还是挺好的。标签云不只是把一些文字以一种特别的方式表现出来,它对于我们理解一些文字内容应该还挺有用的。
下面是用同样的内容不同的工具做的几张图。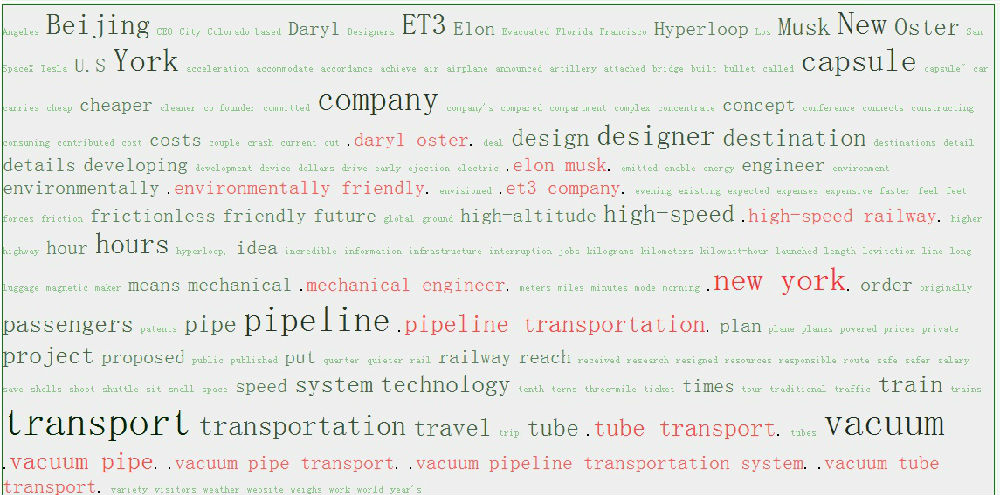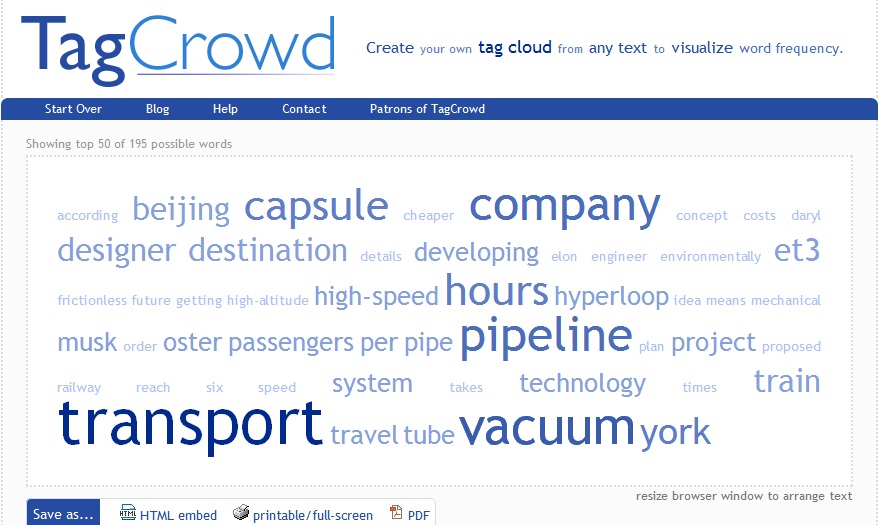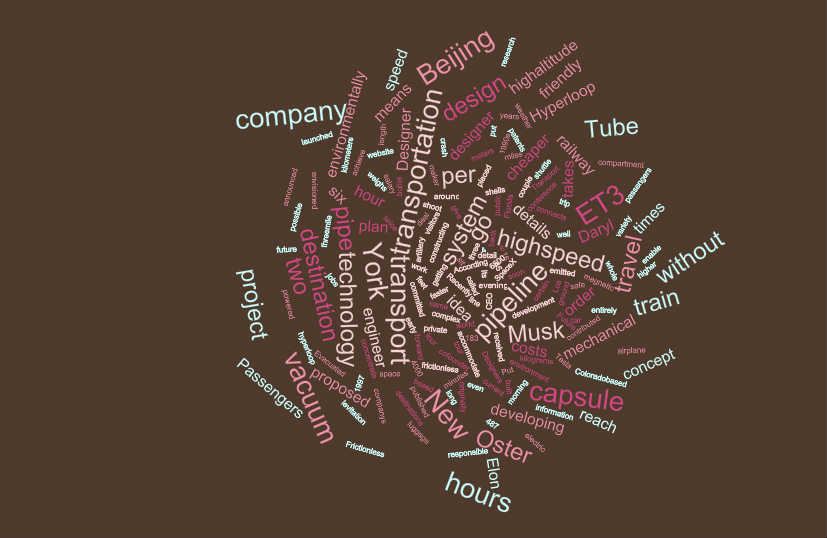 上面的图来自下面方字:(来源:http://english.peopledaily.com.cn/202936/8336090.html)

Future "capsule" Hyperloop
Getting on the train in Beijing early in the morning, and getting off at New York to go to work, and in that evening you can go back to Beijing. This will soon be entirely possible in the future.
A U.S. company is developing a vacuum pipeline transportation system which will enable us to travel from Beijing to New York in only two hours and even around the world in only six hours.
Elon Musk proposed "Hyperloop" concept

The "Evacuated Tube Transport" idea was originally put forward by mechanical engineer Daryl Oster in the 1990s, and in 1997 he received the technology patents.

Elon Musk, the co-founder and CEO of electric car maker Tesla, as well as the private space company SpaceX proposed a "hyperloop," and contributed more design details to the concept of this transport. ET3 company's vacuum pipe transportation project is also based on this idea.

Musk announced the plan in this year's technology conference. He said that the system will not crash and is very safe, and can deal with a variety of complex weather. It's three to four times faster than a bullet train, and can achieve twice the current speed of airplane.

Put visitors in the "capsule" and shoot to destination
Recently, the Colorado-based company called "ET3" is constructing a three-mile long, up to 4,000 miles per hour vacuum pipeline transportation system. Daryl Oster, who is responsible for the detail design, is a mechanical engineer in Florida. In order to concentrate on research and development, the Oster couple resigned from other jobs where they can get a higher salary.

ET3 company is committed to developing a "high-altitude pipeline" project envisioned by the designer. It can reach 6,500 kilometers per hour. Passengers sit in the vacuum line can go from New York to Los Angeles in only 45 minutes; a trip from New York to Beijing only takes two hours, and for a global tour it takes six hours.

According to designer, this high-altitude pipeline transportation is like a "capsule". Each capsule is placed in the pipeline, and launched to the destination as artillery shells.

To give the public more information, the company published more details of the "capsule" design on the website: each "capsule" weighs 183 kilograms, with length of 16 feet (4.87 meters), can accommodate 4 to 6 passengers, and there is luggage compartment. The pipeline that connects the two destinations will be built on the ground, the same as high-speed railway.

Frictionless, cheaper, more environmentally friendly
Designers said the project is powered by magnetic levitation technology. The whole shuttle is in an almost frictionless environment, emitted from a certain ejection device, and drive to the destination without interruption. Although the vacuum pipe transport can reach incredible speed, passengers can only feel a small acceleration forces.

Designer said vacuum tube transport is a mode of transport without air, without friction, safer, cheaper and quieter than trains and planes.

In terms of travel costs, ET3 company said, compared to the expensive plane ticket prices, they are able to cut travel expenses from San Francisco to New York City to 100 U.S. dollars. This is because the cost of the vacuum pipe transport is very cheap, only a quarter of that of highway, and one tenth of that of high-speed rail. In accordance with the expected plan, this pipeline may be "attached" to the existing high-speed railway bridge on the route in order to save resources and infrastructure costs.

This means of transport is cleaner and environmentally friendly. Designer said vacuum tube transport is less energy consuming than any other traditional means of transport, and vacuum tubes transport carries more than 50 times traffic per kilowatt-hour than train.

对标签云有兴趣的话,可以试用一下下面推荐的工具。下文转自:http://www.cnblogs.com/chu888chu888/archive/2012/01/02/2310248.html
我经常看到一些网站有云标签,我也很喜欢这样的云标签,
网上我发现有很多的标签云教程,但是找到理想的并不是太多,这就是为什么我今天共享这几个标签元的原因
Wordle
Wordle是产生"词云:。不同的字体,布局和配色方案,你可以调整你的云。。您可以打印出来,或将它们保存到Wordle画廊与朋友分享。
tagCloud发生器
只需几步下载表格,这可以产生HTML和Flash在线标签云。
ImageChef
您可以创建不同的风格和异形词云,并作为明信片发送给您的朋友等。
ABCya
A字云是一个字频的图形表示。您可以键入或粘贴到自己的主页上显示框的文字和按箭头按钮来查看生成的字云方向。使用云以上的图形按钮,可以改变一个字云的外观。这也很容易保存,打印云,
Tagul
Tagul是专为网络大师们要放置在网页上漂亮的云彩而准备的。Tagul云可以自定义字体,云的形状,颜色等,为您的网站访问者提供更好的用户体验。
字云
ToCloud是一个网上的自由标签云生成器,你可以设置词的长度和频率。因此,页面生成的字云给出了一个快速了解如何优化某些词的页面。ToCloud也非常好用,他能提取短语,是一个比较好的标签云工具之一。
WordItOut
WordItOut让您的文字转换成字云。然后您可以保存和共享,使每个人都可以找到。
Tagxedo
Tagxedo根据自己的喜好进行实时,字云respin,和respin。打印和共享图像保存为字云。使用本地字体或你自己的手绘字体,使用自定义形状的图像等
TagCrowd
TagCrowd是一个Web应用程序的可视化创造字云,云文本或标签云在任何文本的词频。
http://blog.sciencenet.cn/blog-113146-711532.html
上一篇:
[转载]Tableau Public
下一篇:
可视化工具的困惑