2018年第15周小麦文献推荐(4.15)
1 Combined bioaugmentation with anaerobic ruminal fungi and fermentative bacteria to enhance biogas production from wheat straw and mushroom spent straw.
Bioresour Technol. 2018 Apr 3;260:364-373. doi: 10.1016/j.biortech.2018.03.128. PMID:29649729
Author: Ferraro, Alberto; Dottorini, Giulia; Massini, Giulia; Mazzurco Miritana, Valentina; Signorini, Antonella; Lembo, Giuseppe; Fabbricino, Massimiliano;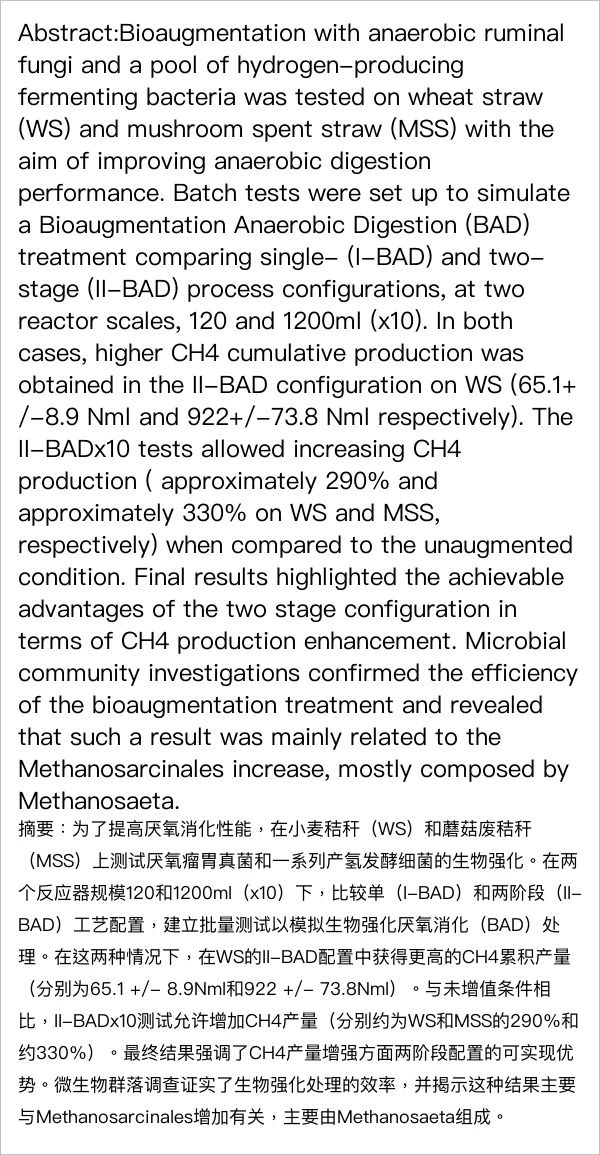 2 Elite UK winter wheat cultivars differ in their ability to support the colonisation of beneficial root-infecting fungi.
J Exp Bot. 2018 Apr 10. pii: 4965911. doi: 10.1093/jxb/ery136. PMID:29648609
Author: Osborne, Sarah-Jane; McMillan, Vanessa; White, Rodger; Hammond-Kosack, Kim E;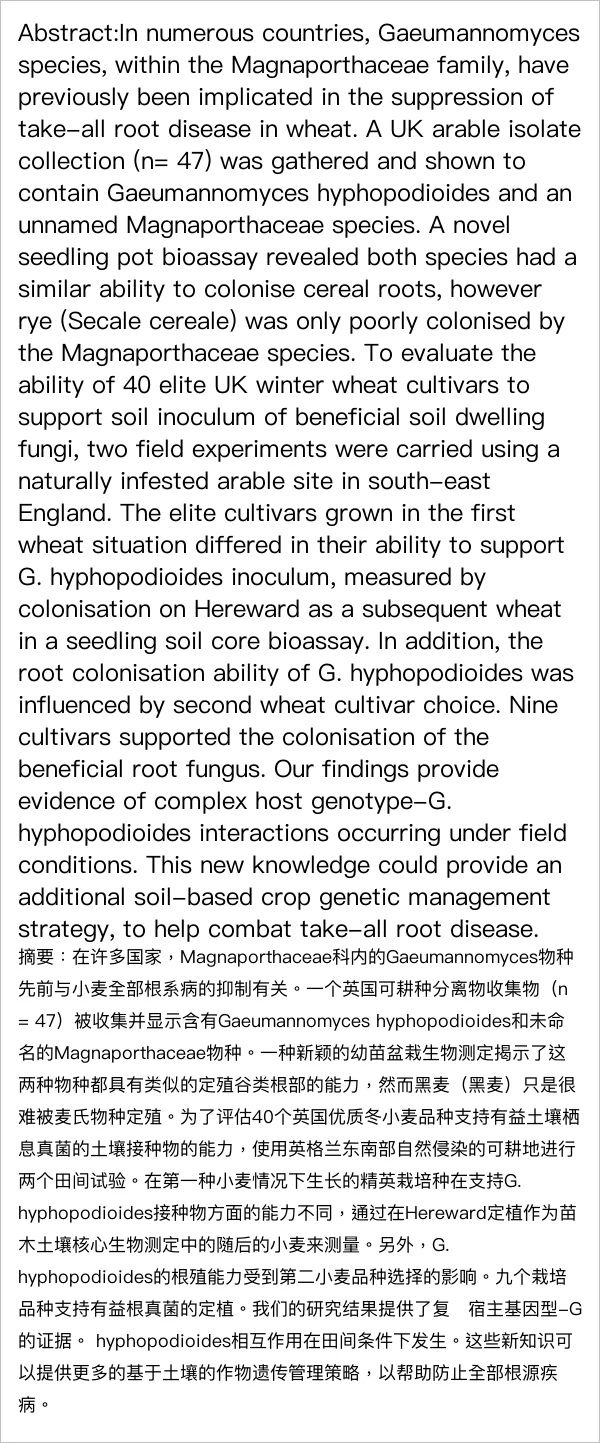 3 A Review of the Interactions between Wheat and Wheat Pathogens: Zymoseptoria tritici, Fusarium spp. and Parastagonospora nodorum.
Int J Mol Sci. 2018 Apr 10;19(4). pii: ijms19041138. doi: 10.3390/ijms19041138. PMID:29642627
Author: Duba, Adrian; Goriewa-Duba, Klaudia; Wachowska, Urszula;

4 Retrieval of Winter Wheat Leaf Area Index from Chinese GF-1 Satellite Data Using the PROSAIL Model.
Sensors (Basel). 2018 Apr 6;18(4). pii: s18041120. doi: 10.3390/s18041120. PMID:29642395
Author: Li, He; Liu, Gaohuan; Liu, Qingsheng; Chen, Zhongxin; Huang, Chong;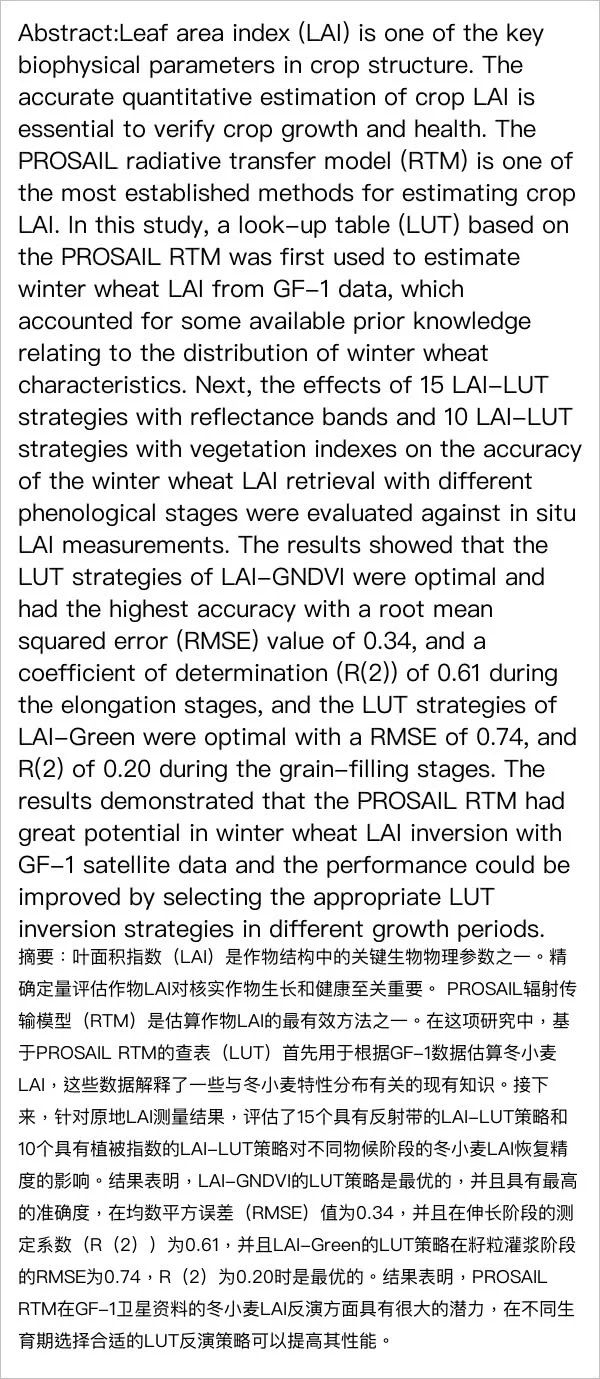 5 The peptidyl-prolyl cis-trans isomerase activity of the wheat cyclophilin, TaCypA-1, is essential for inducing thermotolerance in Escherichia coli.
Biochim Open. 2015 Nov 30;2:9-15. doi: 10.1016/j.biopen.2015.11.003. eCollection 2016 Jun. PMID:29632833
Author: Kaur, Gundeep; Singh, Supreet; Dutta, Tanima; Kaur, Harsimran; Singh, Brinderjit; Pareek, Ashwani; Singh, Prabhjeet;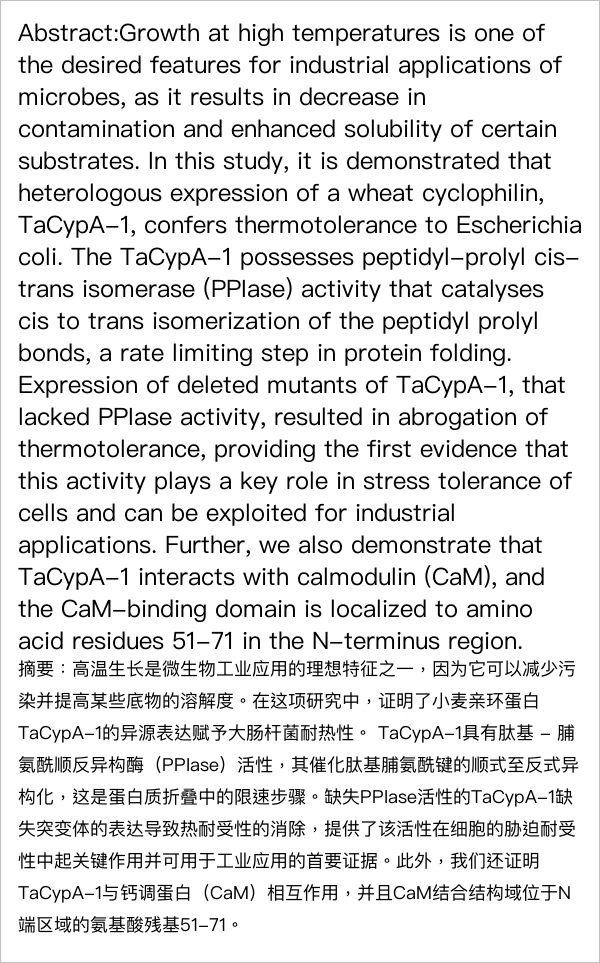 6 Study of cytokinin transport from shoots to roots of wheat plants is informed by a novel method of differential localization of free cytokinin bases or their ribosylated forms by means of their specific fixation.
Protoplasma. 2018 Apr 10. pii: 10.1007/s00709-018-1248-7. doi: 10.1007/s00709-018-1248-7. PMID:29637285
Author: Veselov, Stanislav Yu; Timergalina, Leila N; Akhiyarova, Guzel R; Kudoyarova, Guzel R; Korobova, Alla V; Ivanov, Igor; Arkhipova, Tatiana N; Prinsen, Els;


7 Genome-Wide Association Study for Identification and Validation of Novel SNP Markers for Sr6 Stem Rust Resistance Gene in Bread Wheat.
Front Plant Sci. 2018 Mar 27;9:380. doi: 10.3389/fpls.2018.00380. eCollection 2018. PMID:29636761
Author: Mourad, Amira M I; Sallam, Ahmed; Belamkar, Vikas; Wegulo, Stephen; Bowden, Robert; Jin, Yue; Mahdy, Ezzat; Bakheit, Bahy; El-Wafaa, Atif A; Poland, Jesse; Baenziger, Peter S;


8 Urea plus nitrate pretreatment of rice and wheat straws enhances degradation and reduces methane production in in vitro ruminal culture.
J Sci Food Agric. 2018 Apr 10. doi: 10.1002/jsfa.9056. PMID:29635854
Author: Zhang, Xiumin; Wang, Min; Rong, Wang; Zhiyuan, Ma; Donglei, Long; Hongxiang, Mao; Jiangnan, Wen; Bernard, Lukuyu A; Beauchemin, Karen A; Tan, Zhiliang;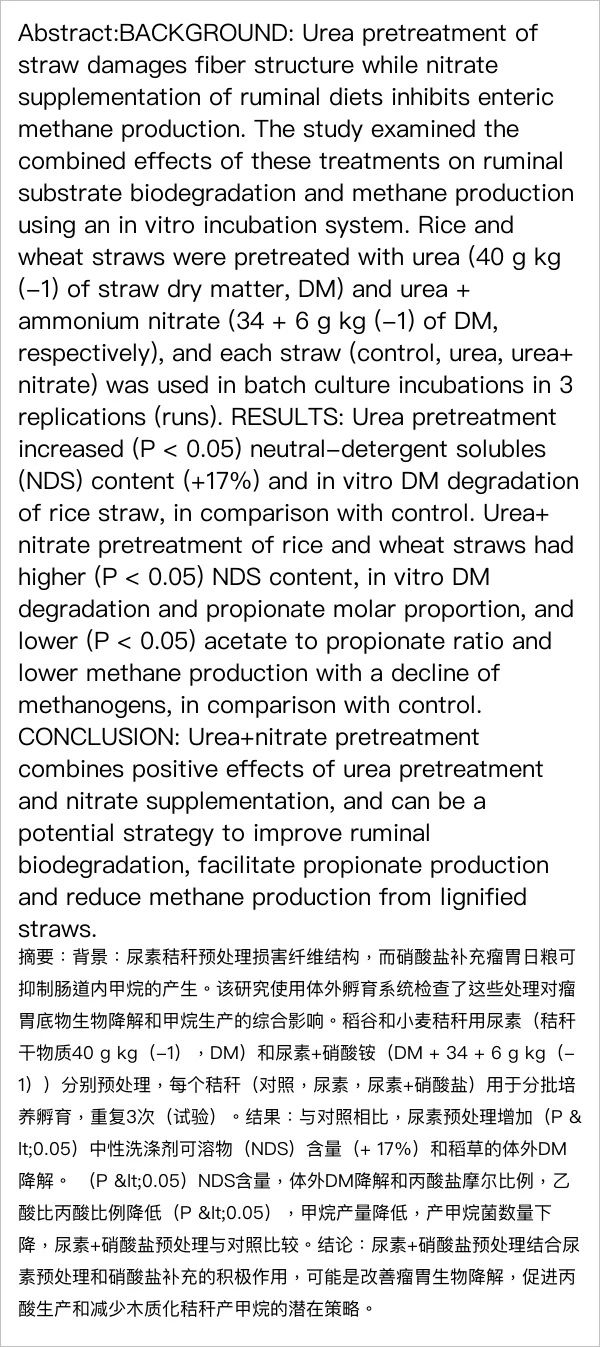 9 Role of Alkyl Silatranes as Plant Growth Regulators: Comparative Substitution effect on Root and Shoot Development of Wheat and Maize.
J Sci Food Agric. 2018 Apr 10. doi: 10.1002/jsfa.9052. PMID:29635793
Author: Singh, Gurjaspreet; Sharma, Geetika; Sanchita; Kalra, Pooja; Batish, Daizy Rani; Verma, Vikas;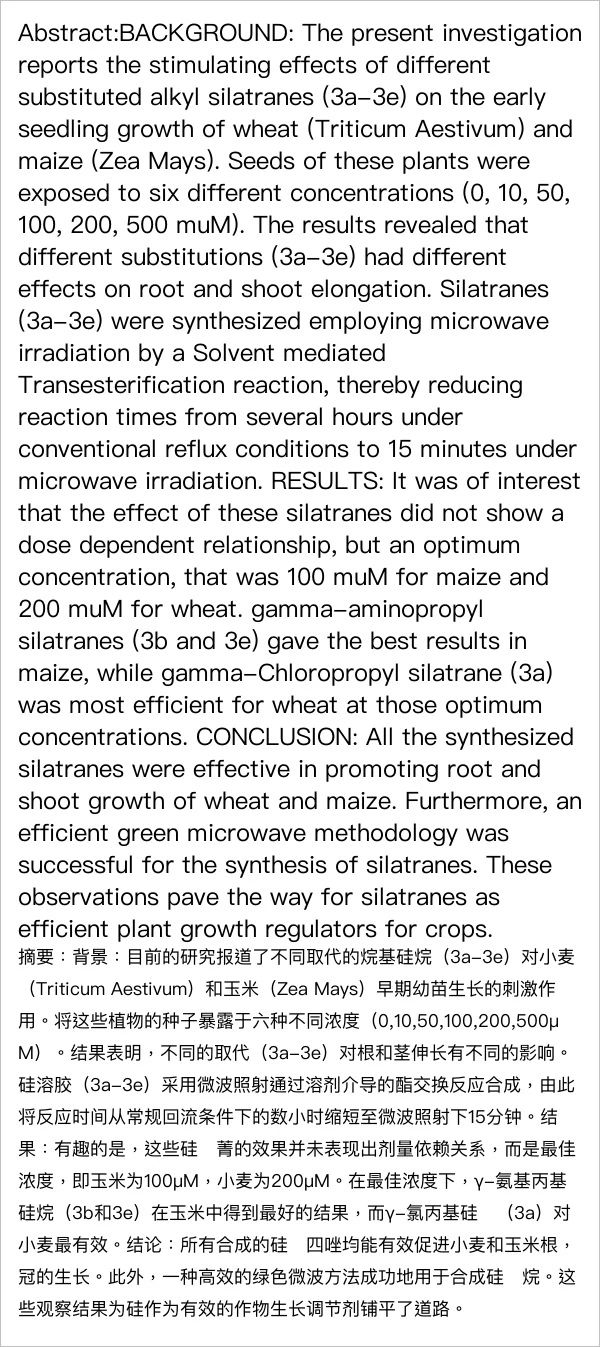 10 Genotypic difference in physiological and biochemical characteristics in response to single and combined stresses of drought and salinity between the two wheat genotypes (Triticum aestivum) differing in salt tolerance.
Physiol Plant. 2018 Apr 10. doi: 10.1111/ppl.12743. PMID:29635753
Author: Dugasa, Mengesha Tesfaye; Cao, Fangbin; Ibrahim, Wasim; Wu, Feibo;


11 Abundance of the arbuscular mycorrhizal fungal taxa associated with the roots and rhizosphere soil of different durum wheat cultivars in the Canadian prairies.
Can J Microbiol. 2018 Apr 10. doi: 10.1139/cjm-2017-0637. PMID:29633625
Author: Ellouze, Walid; Hamel, Chantal; Singh, Asheesh K; Mishra, Vachaspati; DePauw, Ron; Knox, Ron;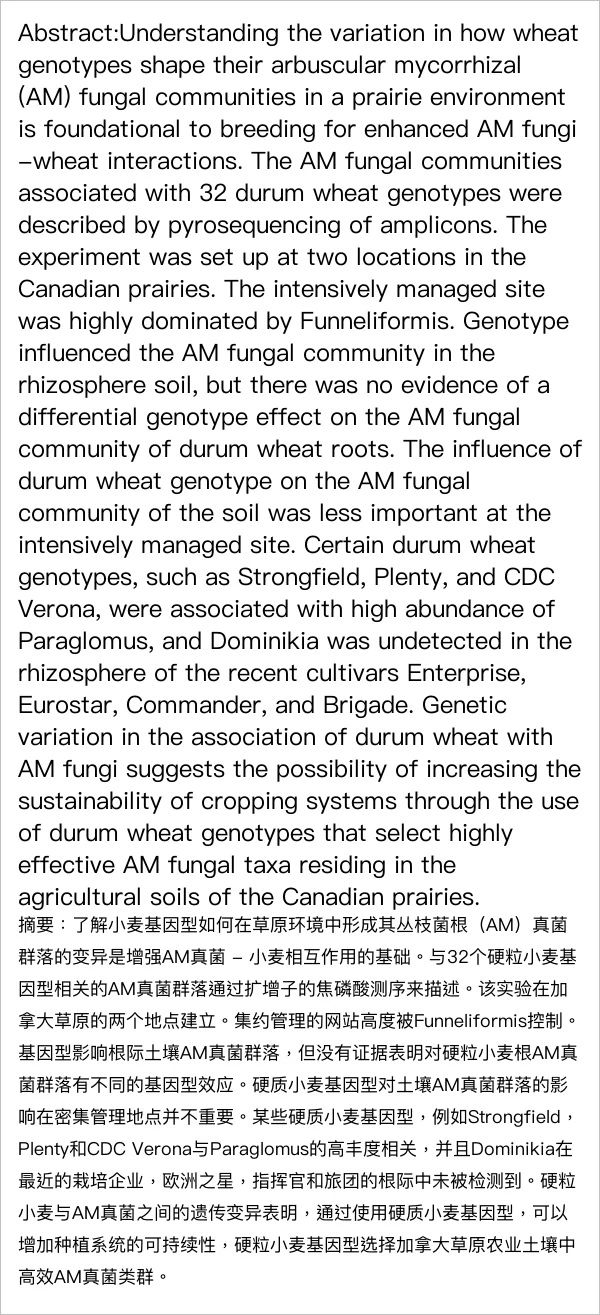 12 Monoclonal Antibody-Based Serological Detection Methods for Wheat Dwarf Virus.
Virol Sin. 2018 Apr 9. pii: 10.1007/s12250-018-0024-3. doi: 10.1007/s12250-018-0024-3. PMID:29633082
Author: Zhang, Minghao; Chen, Rui; Zhou, Xueping; Wu, Jianxiang;


13 Metabolomics and proteomics reveal drought-stress responses of leaf tissues from spring-wheat.
Sci Rep. 2018 Apr 9;8(1):5710. doi: 10.1038/s41598-018-24012-y. PMID:29632386
Author: Michaletti, Anna; Naghavi, Mohammad Reza; Toorchi, Mahmoud; Zolla, Lello; Rinalducci, Sara;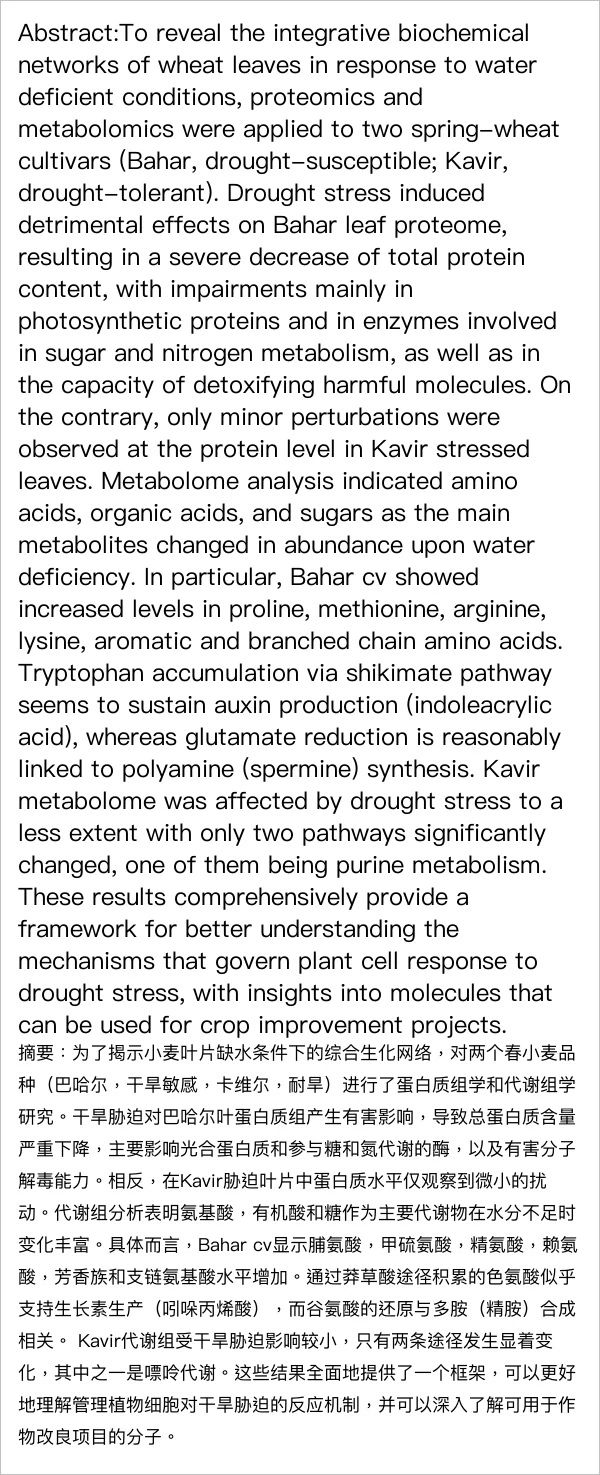 14 Metabolic profiling of sourdough fermented wheat and rye bread.
Sci Rep. 2018 Apr 9;8(1):5684. doi: 10.1038/s41598-018-24149-w. PMID:29632321
Author: Koistinen, Ville M; Mattila, Outi; Katina, Kati; Poutanen, Kaisa; Aura, Anna-Marja; Hanhineva, Kati;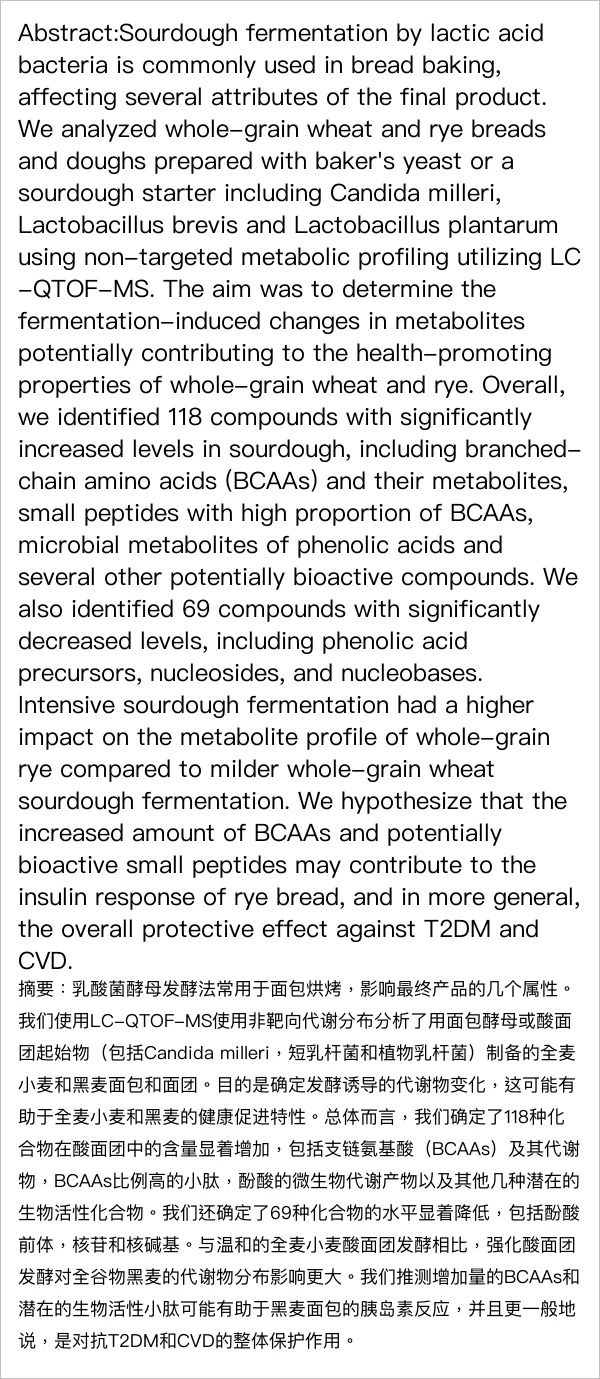 15 Physiological and biochemical responses of durum wheat under mild terminal drought stress.
Cell Mol Biol (Noisy-le-grand). 2018 Mar 31;64(4):59-63. PMID:29631684
Author: Niari Khamssi, Nahid; Najaphy, Abdollah;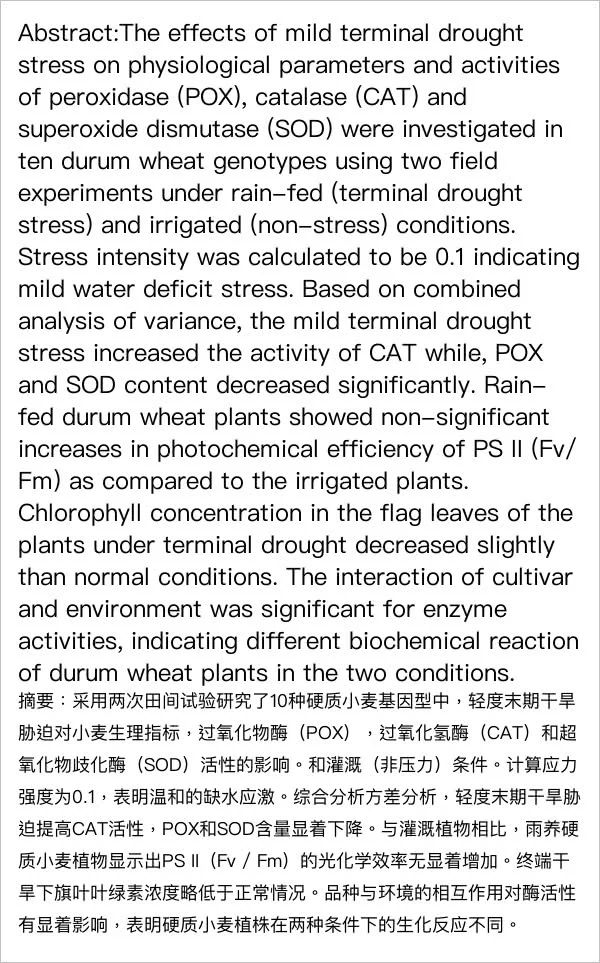 16 Does cyclic water stress damage wheat yield more than a single stress?
PLoS One. 2018 Apr 9;13(4):e0195535. doi: 10.1371/journal.pone.0195535. eCollection 2018. PMID:29630647
Author: Ding, Jinfeng; Huang, Zhengjin; Zhu, Min; Li, Chunyan; Zhu, Xinkai; Guo, Wenshan;


17 Evaluation of Pathogenic Variability Based on Leaf Blotch Disease Development Components of Bipolaris sorokiniana in Triticum aestivum and Agroclimatic Origin.
Plant Pathol J. 2018 Apr;34(2):93-103. doi: 10.5423/PPJ.OA.08.2017.0175. Epub 2018 Apr 1. PMID:29628815
Author: Sultana, Sabiha; Adhikary, Sanjoy Kumar; Islam, Md Monirul; Rahman, Sorder Mohammad Mahbubur;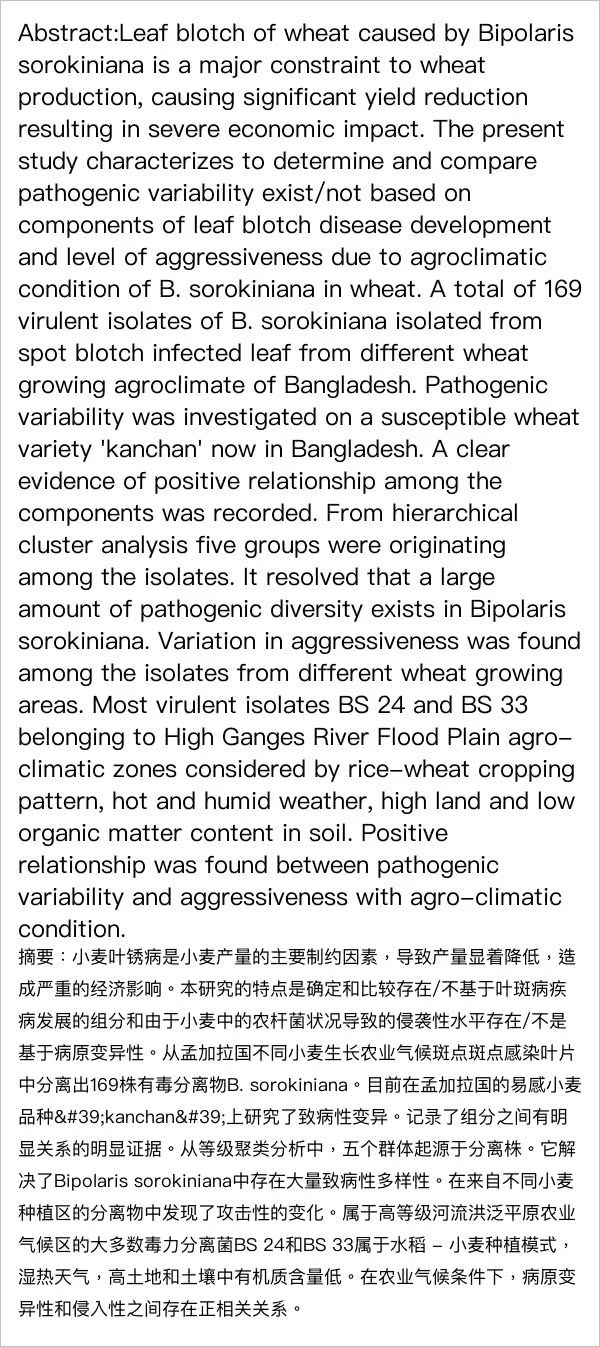 18 A wheat straw cellulose-based hydrogel for Cu (II) removal and preparation copper nanocomposite for reductive degradation of chloramphenicol.
Carbohydr Polym. 2018 Jun 15;190:12-22. doi: 10.1016/j.carbpol.2018.02.032. Epub 2018 Feb 18. PMID:29628228
Author: Ding, Jianzi; Li, Qian; Xu, Xing; Zhang, Xiaojin; Su, Yuan; Yue, Qinyan; Gao, Baoyu;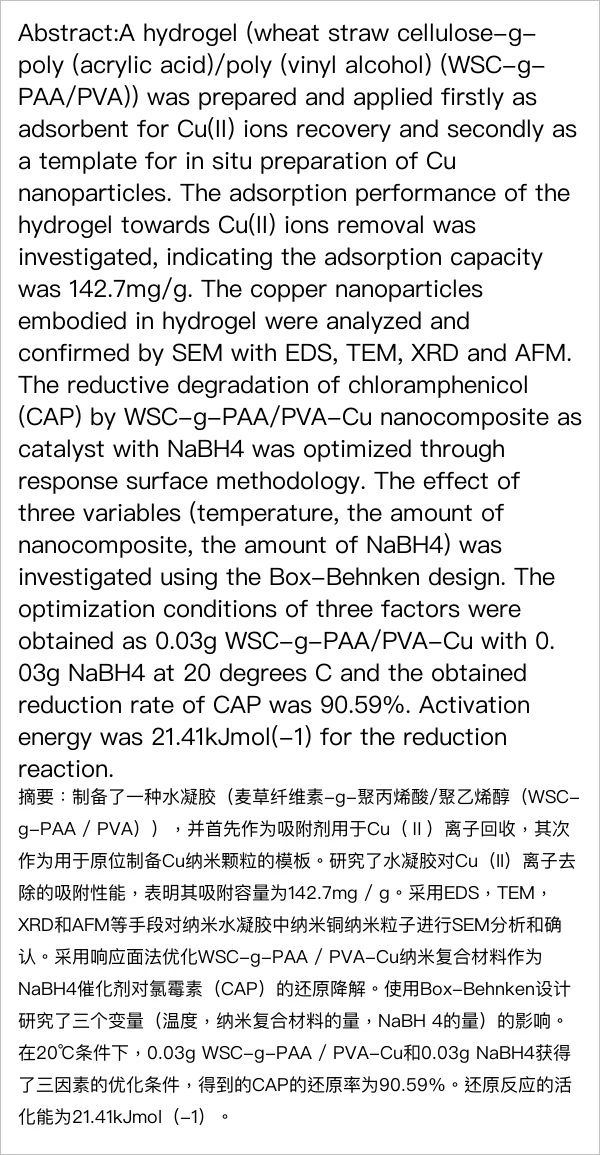 19 Toxic effects of coal fly ash on wheat seedlings.
Environ Geochem Health. 2018 Apr 7. pii: 10.1007/s10653-018-0103-2. doi: 10.1007/s10653-018-0103-2. PMID:29627928
Author: Liao, Zhongbin; Xiao, Xin; Hu, Yingying; Sun, Xiaofei; Wang, Hui; Zhou, Hongxuan; Ma, Yu; Li, James;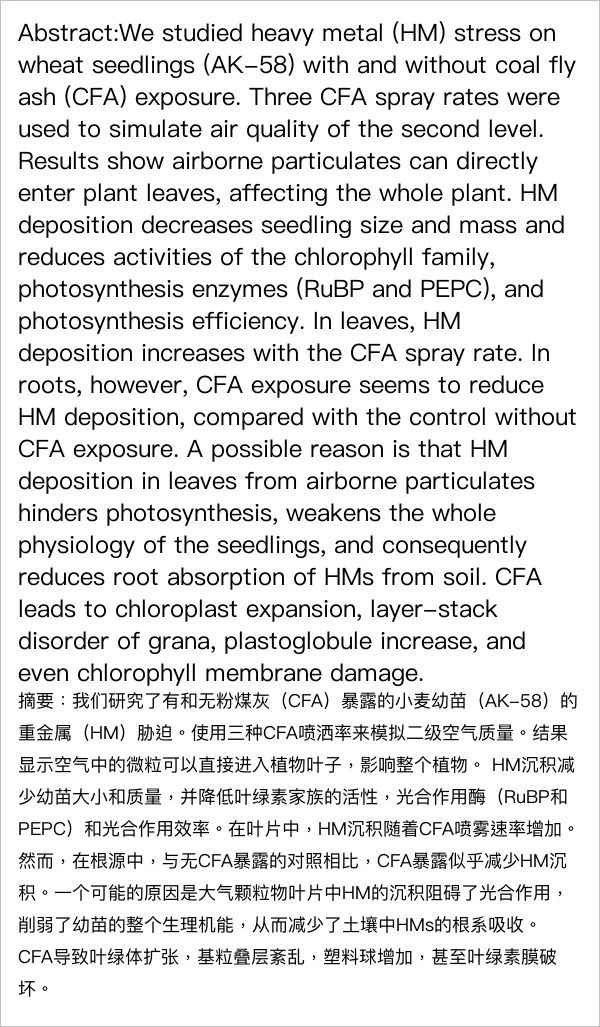 20 Arsenic species in wheat, raw and cooked rice: Exposure and associated health implications.
Sci Total Environ. 2018 Apr 5;634:366-373. doi: 10.1016/j.scitotenv.2018.03.339. PMID:29627560
Author: Rasheed, Hifza; Kay, Paul; Slack, Rebecca; Gong, Yun Yun;


21 Metabolic responses to drought stress in the tissues of drought-tolerant and drought-sensitive wheat genotype seedlings.
AoB Plants. 2018 Mar 1;10(2):ply016. doi: 10.1093/aobpla/ply016. eCollection 2018 Apr. PMID:29623182
Author: Guo, Rui; Shi, LianXuan; Jiao, Yang; Li, MingXia; Zhong, XiuLi; Gu, FengXue; Liu, Qi; Xia, Xu; Li, HaoRu;


22 Decreased photosynthetic rate under high temperature in wheat is due to lipid desaturation, oxidation, acylation, and damage of organelles.
BMC Plant Biol. 2018 Apr 5;18(1):55. doi: 10.1186/s12870-018-1263-z. PMID:29621997
Author: Djanaguiraman, M; Boyle, D L; Welti, R; Jagadish, S V K; Prasad, P V V;